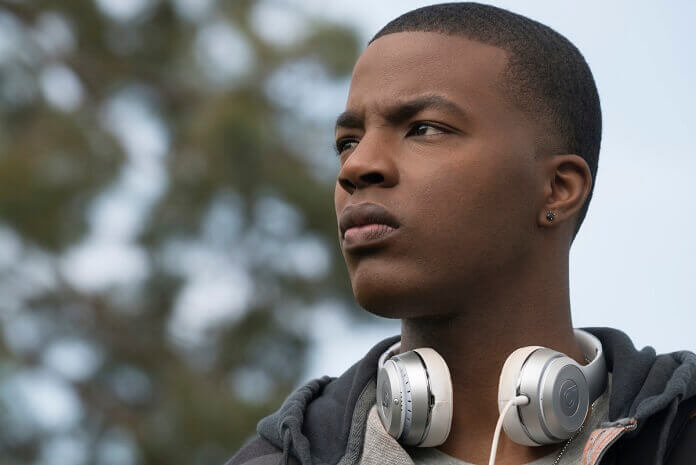 If you've caught the new CW show All American, we have some shocking news for you. Star Daniel Ezra is not American. He is British. Ezra plays Spencer James, a South Central football player recruited to play for a Beverly Hills high school. The real Spencer Paysinger is a consulting producer on All American.
Daniel Ezra spoke with reporters, in his British accent, after a Television Critics Association panel for All American over the summer. All American airs Wednesday nights at 9pm ET/PT on The CW.
How did you become an All American when you're British?
Daniel Ezra: "No one's more aware of the fact that I'm not American than I am. It just makes me work harder. It may be doing things like staying in the accent, carrying footballs around, spending as much time as I could in South Central L.A. and just trying to go above and beyond to make it as authentic as possible."
Is this one of the hardest things you've had to do as an actor?
Daniel Ezra: "Yeah, I mean, theater is a different beast. I'm talking about Shakespeare. This is definitely up there, probably the most demanding job. Again, I've been blessed to have incredibly choice roles. I played a young autistic teenager which again required tons of research and tons of effort to get it right and be sensitive to the material. This has been extremely demanding but in the most fun and enjoyable ways."
Was it a lot of time on the field at football games?
Daniel Ezra: "Yeah, I came out early for the pilot. We trained pretty much every day, myself, Michael [Evans Behling], Cody [Christian], and then I'm on a pretty strict diet and fitness program as well. My dad is a fitness coach so that was a slightly easier thing to do because obviously I know how to do that. For the pilot, I was waking up at 4am to get in the gym before we went to set."
Does every Brit learn an American accent because they'll need it one day?
Daniel Ezra: "The thing about the UK is our industry is a lot smaller than here. It's usually in an actor's best interest to at least know a passable American accent by a certain stage. The most common route for younger actors in the UK is acting school. Most acting schools have a term for a semester where they devote to the American classics. That's where you learn American accents."
Growing up, when did you decide you wanted to be an actor?
Daniel Ezra: "Quite late. It was actually 18. A drama teacher – I was in basketball and soccer – put me on stage very reluctantly and it was the most fun I've had in school, so I decided to take drama. I met an actor. He mentioned I should think about taking this seriously, and two years later I moved to London and spent three years at theater school."
Do you find a parallel between sports and acting?
Daniel Ezra: "The entertainment industry and sports industry are synonymous in a way. Especially the way for kids wanting to get into them, they're both extremely hard. There's only kind of room for 0.1%. So, I know intimately what it is to be a kid with a very unrealistic dream in the same way Spencer is dreaming to get into the NFL. And to have all that background noise of people saying you need to have a backup. You need to have a fallback, you need to have this. Just being able to power through that."
What was your fallback?
Daniel Ezra: "I didn't have one. I was sort of on my way towards physical therapy and following my father into fitness. Once the acting and Shakespearean acting hit, that was it."
How are your football skills now?
Daniel Ezra: "They're okay. I've got to say, for me personally, the real stars of the show are the guys at Game Changing Films. They designed all the plays and they provided all the football plays. Those guys are incredible. They're not just football players. They bring characters and emotions and stuff. I have an unbelievable stunt double by the name of Noel who we work sort of half and half and do the plays. We make the best out of it."
Is it choreography as well?
Daniel Ezra: "Yes. We design it and me, Mike, and Cody meet usually before we shoot. We figure out what the play is and sometimes we get it right and come to set and go, 'This is what happens and this is where you take the hit. This is the camera angle.' Everyone wants the football to be as accurate as we possibly can, so we spend a lot of time in the field."
Were there any accidental injuries?
Daniel Ezra: "Those guys are amazing. They're super professional. They're super patient with me. If I make a mistake, if I've got the inside leg where I'm supposed to have the outside leg, they'll come and say, 'Hey.' They keep me very safe."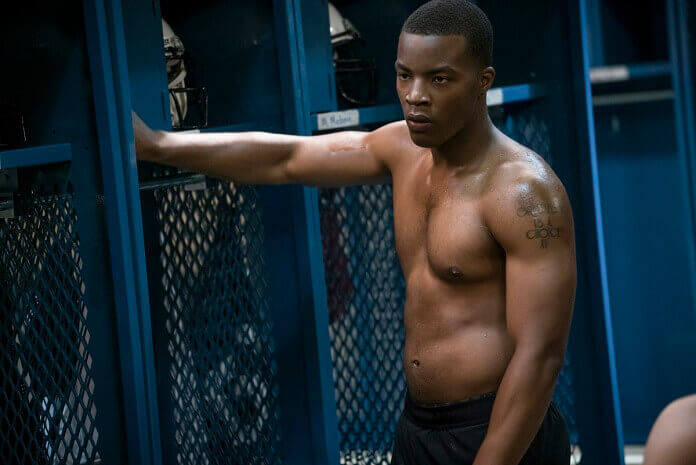 What does your father think of this job?
Daniel Ezra: "He loves it. Again, as a fitness coach, as well as I have to take my top off a lot in this show, so I can't embarrass him."
Is it a great way of marrying your two worlds?
Daniel Ezra: "Absolutely. He loves the sports element. He enjoys sports as well. Again, he's British so it's not American football but he likes seing me play something that's dynamic and with sport and fitness. Fitness is obviously an element to the show, so he loves that."
Would you pick American football over soccer?
Daniel Ezra: "Ooh, that's a good question. I don't want to get in trouble with any of my British friends but I'm starting to fall in love with American football. Spencer promised me he's going to take me to a game pretty soon when the season starts. I'll have a new appreciation for it. We haven't been sucked in just yet. Ask me at the end of the season."
Did you have a specific training regimen?
Daniel Ezra: "Yes, so the pilot happened very fast. I only had like two weeks. When we got the show, I went into my own regimen. It's usually 4am start. I'll eat, I'm vegan actually, so it's very low carb, high protein diet. A lot of weight training. We have an amazing trainer called Scott Benson who just sort of gets me and Mike ready. Monday through Friday, we train with Scott. Saturday, I rest. Sunday is my own weight training and then back to it on Monday."
What do you use for protein?
Daniel Ezra: "At the moment out here I'm using a vegan sport blend which is a blend of protein, hemp seeds. Other than that, a lot of nuts, a lot of vegetables, seeds, legumes. I mean, L.A. is the easiest place to be vegan. There's just vegan restaurants and places everywhere."
What did you ask Spencer about his life?
Daniel Ezra: "I wanted to understand the relationship with his mom. That's a big part of the show, and his little brother. So what family life was generally like, just because you want to be able to feel comfortable and natural. It's a lot of day-to-day home life, the ins and outs of navigating Crenshaw and South Central L.A. especially during that time. How close he came to those dark elements of that world and how he sort of maneuvered that and things like this. It's a lot of those kinds of questions."
How much time did you spend in South Central?
Daniel Ezra: "As much time as I could. There's such a unique vibe and energy to South Central L.A. For me, it's not enough just to get that accent. You want to be able to joke and laugh and understand the slang and the lingo and the energy that they carry and stuff. I spend as much time as I can. 90% of the hair and makeup team were from South Central L.A."
Did it scare you at all?
Daniel Ezra: "I know those kinds of neighborhoods. We have them back home so no, not scary. For me, I only saw the beauty in it. I understand there's issues with those neighborhoods. That's obviously a bigger question. For me it was just a beautiful thing to see. There's a real sense of community there, which I love."