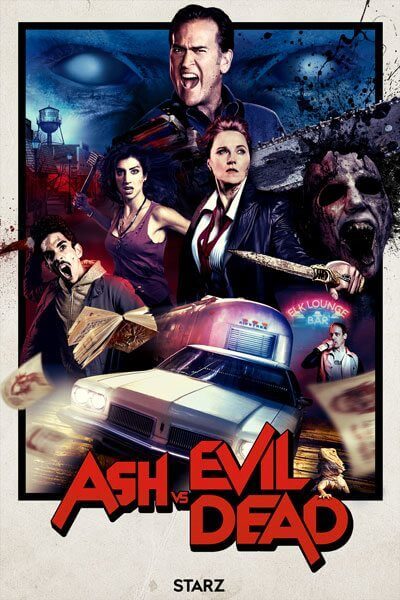 Starz' horror comedy series Ash vs Evil Dead kicks off its second season on September 23, 2016 and the network's just provided a new look at the upcoming season with a two-minute restricted trailer that was apparently too "gory" for Comic Con. They've also released a new poster for season two featuring Bruce Campbell as Ash Williams surrounded by his co-stars. Ash vs Evil Dead is executive produced by Sam Raimi, Rob Tapert, Campbell, Ivan Raimi, and showrunner Craig DiGregorio. In addition to Campbell, the series stars Lucy Lawless as Ruby, Ray Santiago as Pablo Simon Bolivar, Dana DeLorenzo as Kelly, Lee Majors as Ash's father, Ted Raimi as Chet, and Michelle Hurd as Ash's high school love.
For those heading to the San Diego Comic Con, the cast of the series will be presenting a panel on July 23rd at 6:45pm. They'll also participate in an autograph session and the season two premiere will screen at 10pm on July 23rd at the San Diego Convention Center.
The Plot: The second season roars back into action with Ash leaving his beloved Jacksonville and returning to his hometown of Elk Grove, Michigan. There, he confronts Ruby. The former enemies have to form an uneasy alliance as Elk Grove soon becomes the nucleus of evil.
Watch the Ash vs Evil Dead trailer: