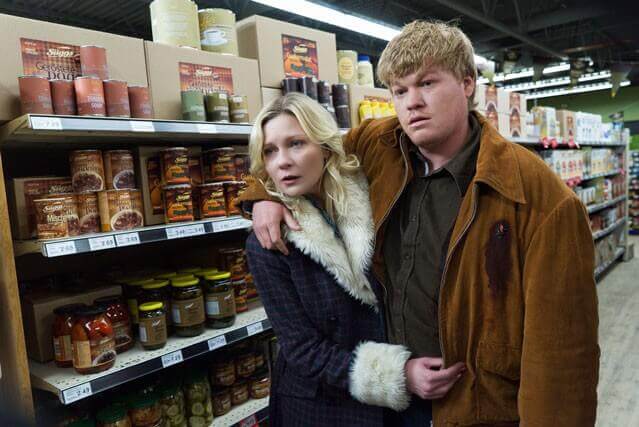 FX's Fargo season two came to a close with the 10th episode titled 'Palindrome' which aired on December 14, 2015. And with the season just finishing up, I'd like to take this opportunity to plead with series writer/creator Noah Hawley for a third season that consists of at the very least 13 episodes. 10 is simply not enough. Story-wise, Hawley's fully capable of telling a fleshed-out character-driven story in 10 episodes but as a viewer it's painful to say goodbye to his characters after spending such a short period of time getting to know them all so well.
Recap of Fargo Season 2 Episode 10:
Flashbacks of dead Gerhardts kick off the final episode of Fargo season two. Next comes a shot of Betsy (Cristin Milioti) and for an instant you think she's dead, but she's not, thankfully. She's in bed with Molly and doesn't look well, but apparently the doctor said she just had a reaction to the pills. Noreen (Emily Haine) says there's no word about her dad or her husband, and tells her the doc said to rest until she gets her strength back.
In a voiceover, Betsy recalls a dream she had about a "magical future" full of wondrous devices and super stores filled with everything. It's a happy world, and yet she sees even further. Season one's Lou Solverson (Keith Carradine) is there as is season one's Molly (Allison Tolman). Gus Grimly (Colin Hanks) and his daughter, Greta (Joey King), are also at the table celebrating a birthday of Molly and Gus' young son. But then she sees chaos; scenes flash by of Lou (Patrick Wilson) being strangled by Bear (Angus Sampson) and her dad shot by Hanzee (Zahn McClarnon).
Cops arrive at the Motor Motel as blocks away Hanzee shoots a man who stops to help out Ed (Jesse Plemons) and Peggy (Kirsten Dunst), also shooting Ed in the chest before they can get in the man's car. Ed and Peggy keep running on foot, with Lou now chasing Hanzee and the Blumquists.
Back at the Gerhardt hoouse, Mike Milligan (Bokeem Woodbine) and Gale Kitchen (Brad Mann) enter the unlocked home. No one has returned from the shoot-out…and no Gerhardt ever will. Mike looks at the old family photos and places a creepy baby photo face down.
Peggy and Ed make it to a convenience store and Peggy tells the clerk to leave. "There's a bad man coming!" she warns. A trail of Ed's blood leads Hanzee to the store, but Lou finds him before he reaches it and shoots his way. Ed and Peggy head to the back of the store while Ed crosses the street to discover that Hanzee's disappeared. Ben Schmidt (Keir O'Donnell) shows up and Lou yells at him for not watching Ed and Peggy. Meanwhile, inside the store Ed and Peggy lock themselves in the freezer.
Ben tells Lou Peggy blindsided him. They agree the whole situation is FUBAR.
Peggy and Ed make it so the door can't be opened from the outside and take a seat among the hanging meat. Peggy examines Ed's wound and tells him he's going to be okay, but Ed doesn't think they're going to make it. Peggy's optimistic but Ed's actually talking about ending their relationship, not that they're dying. He tells her she doesn't need to fix things that aren't broken, and he's tired of that. He loves her and all he wanted was for them to get back to what they had.
The lights in the store blink on and off as Hanzee makes his way down the aisle.
Mike Milligan and Gale Kitchen find the housekeeper slicing apples and cooking in the kitchen. Mike tastes what's on the stove and decrees no more "schnitzel or strudel," only American food from now on. Just then headlights light up the kitchen. It's Ricky from Buffalo returning to the Gerhardts. He walks in, examines the place, and grabs a bag to steal things knowing full well they're all dead. Mike and Gale confront him as he's stealing the silver. He wants to get back in his car and drive away but Mike asks him for the definition of sovereignty, explaining it's absolute power and authority. Ricky asks, "Like a king?" Mike says that's who he is but Ricky cracks wise and says we don't do kings in America, failing to be impressed by the fact Gale has a shotgun pointed at him. Mike believes a new king should start his reign with an act of kindness and an act of cruelty. Mike is going to save Wilma the cook who he gave a car and the money from the cabinet. That means Ricky is the "cruelty" part of the equation. Ricky tries to draw but Gale gets him first. Mike and Gale are going to take a nap before heading back to Kansas City where the bosses might even throw them a parade for wiping out the Gerhardt family.
Hanzee, faced burnt, is outside the freezer. He knows Ed and Peggy are in there and repeatedly tries the door. Peggy sees smoke and knows Hanzee's trying to smoke them out. Peggy asks Ed for help but he doesn't respond. Peggy starts talking about how this is just like the movie she was watching this morning as Ed listens from across the freezer. Peggy is excited because the actors got out, but when she actually looks at Ed he's gone. Ed dies in the meat locker, leaving Peggy alone to fight for her life. She takes the pick out of the door that they'd used to make sure it was locked and lunges out, but it's only Lou and Ben she sees. Hanzee has left but Peggy doesn't believe them (she's lost it) and is threatening Ben and Lou. Lou manages to restrain her and both Ben and Lou say there wasn't any smoke. As Ben goes in to check on Ed, the interior is in fact smoke-free. Lou tells Peggy the Indian got away and was never in the store. Peggy yells at Ed that they're saved, but Ed is actually dead (she didn't imagine that part).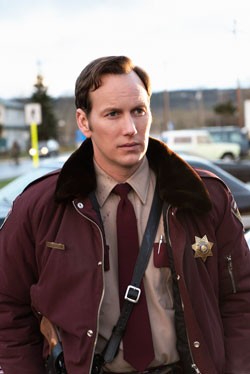 It's daylight now and Peggy sits in the back of the squad car while a manhunt is underway for Hanzee. Ben says Hank (Ted Danson) is in the ICU and everyone is "cautiously optimistic." Meanwhile, Ben's boss and his fellow officers are dead. Lou tells him he'll be okay as Ben gets very emotional. Lou lets Ben know he's taking Peggy back to Minnesota and he doesn't care if anyone has a problem with that decision.
Betsy has been resting and her color looks a little better. She wakes and asks about Lou, but he's not back. Noreen asks if the cancer feels like a hot poker but Betsy says not yet.
Chatting in the squad car, Peggy thinks serving her time in California would be nice and Lou says he'll see what they can do. Lou tells her about his time in the war and rescuing people during the fall of Saigon. He recalls a baby whose mother dropped him onto the ship and one of Lou's men caught him. Lou tells the moving story of a helicopter pilot who did everything possible to save his family before attempting to save himself. He brings the story around so that it ties into when Ed told him he would protect Peggy no matter what. Lou says he knows exactly what Ed was talking about. "It's the rock we all push," says Lou, adding that it's not a burden, it's a privilege. Peggy said she never meant for any of this to happen; she just wanted to be someone. Lou says she's someone now but Peggy explains she didn't want to be defined by someone else. She's angry Rye Gerhardt walked in front of her car and set this all off. Peggy says she's a victim too, a victim before Rye. She tells Lou he wouldn't understand because he's a man. "It's a lie, okay, that you can do it all. Be a wife and a mother and a self-made career woman…like there's 37 hours in a day. And then when you can't, they say it's you. You're faulty, like you're inferior somehow. Like if you could just get your act together…" Lou stops her by reminding her people are dead.
Lou and Peggy cross into Minnesota and he pulls up at the phone booth where he turned around just the day before. He calls Betsy and Noreen answers. She tells him Betsy is fine now but she fell and they've been trying to reach him. Betsy and Molly are asleep now, and Noreen says the doc says Betsy needs rest and needs more tests next week. Noreen will stick around until Lou gets home, and Lou thanks her.
Two kids play catch in a park as Hanzee looks on from the bleachers. A man walks up and sits in the row in front of him and slightly to the side. "And so great empires fall and are forgotten," the stranger says, handing Hanzee a wallet with a new identity. His new last name will be Tripoli. Hanzee says he needs a face graft and the man asks what he'll do then, "Join a new empire?" Hanzee replies, "Maybe start one of my own." Meanwhile we learn the boys on the field playing catch are deaf, and then two older boys walk up and steal their ball. Hanzee isn't going to get revenge on those left in Kansas City, it's all about kill or be killed. As they boys are being beat up, Hanzee charges onto the field.
Back in Kansas City, Mike's boss Hamish Broker (Adam Arkin) praises him and Mike tries to be modest about his actions but Hamish tells him to just accept the praise. Mike wants to handpick some men but Hamish tells him he wants him to remain there at headquarters to help oversee operations, as long as Mike doesn't mind not being out in the field being a grunt. Hamish shows him his office and tells Mike he'll be working with the accounting department looking for ways to cut costs. Hamish wants him to change his wardrobe and hairstyle because these aren't the old days; this is the future. The only business left now is the money business. Mike won't be busting heads anymore. Now it will all be on the up and up, and he'll even have insurance and a 401K plan. As he's leaving Hamish tells Mike he should learn to play golf because it's where all the deals are getting done. Mike attempts to settle into his tiny office (with a view) after Hamish leaves, but he looks extremely uncomfortable with this turn of events.
Hank's healed up enough to visit his daughter and Molly at their home. Noreen's still helping out around the house, and Hank asks for a beer as he settles in to visit. They talk about the alien spaceship and Lou confirms he's going to leave it out of the paperwork. Hanzee's now on the FBI's Most Wanted List but Lou thinks he'll eventually show up. Betsy isn't looking well but she jokes that they're a sad bunch. Hank is just happy they're all sitting there together. Betsy asks about his office and all the drawings. Hanks says after his wife died he took time off to think. Between the war and the violence at home, he thinks miscommunication is the root of it all – the root of conflict and war. He came up with the idea of a universal language of symbols because pictures are clearer than words. He's become obsessed with the idea. Molly takes his hand and tells him he's a good man. Hank's not sure about that but likes to think he has good intentions.
Lou puts Molly to bed and they plan a fishing date for the next day. In bed with Betsy, Lou gives her a kiss and they exchange their nightly ritual of good nights. They drift off to sleep and season two of Fargo comes to a gentle, soothing end after nine episodes of chaos and destruction.
GRADE: A
More on Fargo Season 2: Episode 1 Recap / Episode 2 Recap / Episode 3 Recap / Episode 4 Recap / Episode 5 Recap / Episode 6 Recap / Episode 7 Recap / Episode 8 Recap / Episode 9 Recap