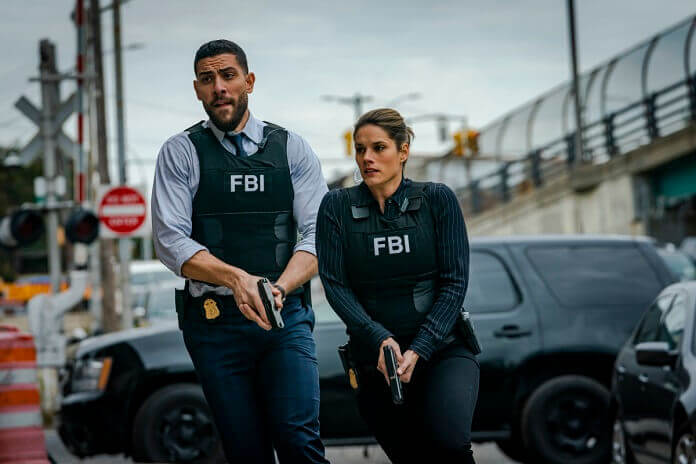 CBS's FBI took a week off after season one episode six and will return with season one episode seven on Tuesday, November 13, 2018 at 9pm ET/PT. Episode seven of the action drama, titled "Cops and Robbers," was directed by Jean De Segonzac from a script by Hadi Nicholas Deeb.
Season one stars Missy Peregrym as Special Agent Maggie Bell, Zeeko Zaki as Special Agent Omar Adom "OA" Zidan, and Ebonée Noel as Kristen Chazal. The cast also includes Jeremy Sisto as Jubal Valentine and Sela Ward as Dana Mosier.
Additional season one guest stars include Dennis Flanagan as Jason Milgrim, Alex Breaux as Nick Salerno, Glenn Fleary as Ryan Jenkins, Jorge Chapa as Jay Hicks, Jeff Adler as Hopper/Mason, Jeremy Landon Hays as Eric Healy, and Peter Karas as Detective Damon Hora. Mike Boland is Jim Dunn, Shannon Thornton is Jill Frey, Ross DeGraw is Mike Vota, Jay Klaitz is Tim Squires, Chris Costa, Carmen Lamar Gonzalez is Special Agent Bomb Tech, Jacqueline Torres is Detective Meija, and Lucas Van Engen is Jack Salerno.
The "Cops and Robbers" Plot: – Maggie and OA hunt down a ruthless group of robbers who are posing as NYPD officers to target armored trucks.
FBI Season 1 Plot:
"From Emmy Award winner Dick Wolf and the team behind the Law & Order franchise, FBI is a fast-paced drama about the inner workings of the New York office of the Federal Bureau of Investigation. This elite unit brings to bear all their talents, intellect and technical expertise on major cases in order to keep New York and the country safe.
Born into a multigenerational law enforcement family, Special Agent Maggie Bell commits deeply to the people she works with as well as those she protects. Her partner is Special Agent Omar Adom 'OA' Zidan, a West Point graduate via Bushwick who spent two years undercover for the DEA before being cherry-picked by the FBI. Overseeing them is Special Agent in Charge, Dana Mosier, who operates under intense pressure 24/7/365 and has undeniable command authority.
The team also includes Assistant Special Agent in Charge Jubal Valentine, the nerve center of the office whose ability to easily relate to and engage with both superiors and subordinates makes him a master motivator. Kristen Chazal is the team's most valued resource, a brilliant analyst recruited straight out of university who can piece together the big picture faster than anyone. These first-class agents tenaciously investigate cases of tremendous magnitude, including terrorism, organized crime and counterintelligence."