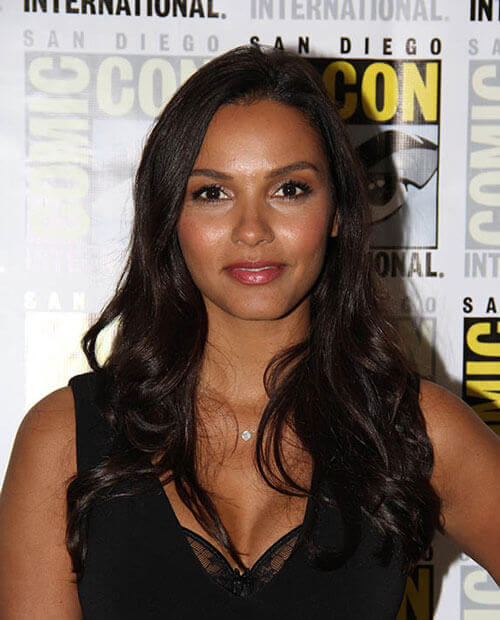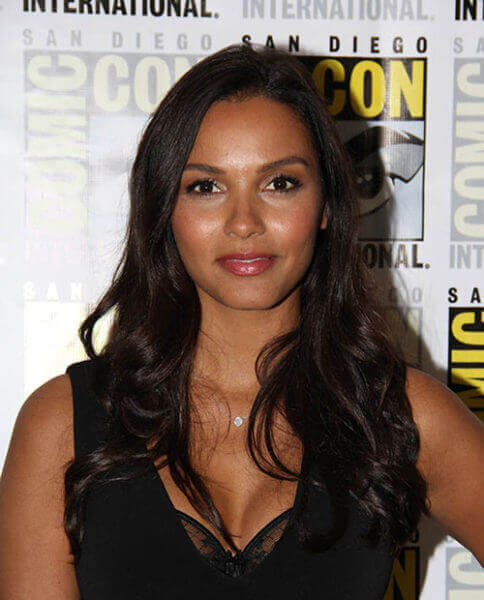 During roundtable interviews at the 2017 San Diego Comic Con, Jessica Lucas was asked if she's had the chance to interact with any of Gotham season four's new villains. They'd only shot two episodes before heading to Comic Con, so the answer was no. However, Lucas teased that she assumes Tabitha will have some interactions with Ra's al Ghul. "I can't tell you why, but I think probably yeah," said Lucas, breaking into a huge smile. "But not Scarecrow. That's in a different world. That's sort of more the Jim Gordon/GCPD world."
Lucas also discussed Tabitha's relationships with Barbara and Selina in our Comic Con interview. Gotham season four is set to premiere on Thursday, September 21, 2017.
Tabitha is going to mentor Selina this season. Have you done any of those scenes yet?
Jessica Lucas: "We're just starting to establish that storyline. When we pick up with season four it's been three months. Three months have passed and so the assumption is that that relationship has already been developing in between the seasons. And so we pick up and she's teaching her, but they have a very sort of – they're fun with each other but she's also really hard on Selina (Camren Bicondova), I would say. She's not really that maternal by nature. She has a hard time expressing her emotions in a way that isn't harsh, I think. And so that's kind of their dynamic. It's like big sister/little sister, maybe almost like dad and daughter, you know? There's quite a toughness there as well as a teaching relationship."
So being a mentor won't soften Tabitha?
Jessica Lucas: "Not yet. Not yet, but we'll see."
Is there any hope of a reconciliation between Tabitha and Barbara because it wasn't looking good in the season three finale?
Jessica Lucas: "Well, Barbara (Erin Richards) killed Butch so… And, Tabitha thinks that Barbara's dead and clearly, as you know by seeing her here today she's not, so that will be equally shocking and upsetting for Tabitha. But Tabitha is in this world and she has no allies; she has no friends and so it will be a question of maybe I need to trust this person again just to really survive in Gotham. Barbara has a really strong pull over Tabitha, so I think it's going to be hard for her to just wipe her hands. I'm sure that relationship will evolve into something new."
Will Ed Nygma's return affect Tabitha?
Jessica Lucas: "We haven't really explored that yet. I mean, she'll still always hold a grudge against him because he cut off her hand. I think they're probably going to be in very different worlds this year and Nygma's going to be a part of a different group in The Narrows, and Tabitha's going to be with Selina and Barbara. I don't know that they'll interact much. We'll have to see. I'm not sure what the writers have in store yet."
Will there be a lot of different storylines that mean you won't get to connect with characters you normally would have worked with?
Jessica Lucas: "Yeah, I think Gotham and that world always operates that way in a sense. I didn't realize this but on the panel John (Stephens) had talked a lot about different families that are going to exist within the world of Gotham this season. I don't know. I'm not sure what they have in mind. They always are really smart and clever about finding ways to make the characters interact in unexpected ways. So, I'm sure that will still happen as well."
Are you glad Tabitha's getting even more involved in the action?
Jessica Lucas: "Yes. I mean, the idea was always to evolve her into Tigress and I don't know when that's going to happen or if that's still the plan. I'm not sure. I think it is. So, I assume whenever that happens that she'll be much more involved in the stunts and now that she's teaching Selina."
More on Gotham Season 4: Erin Richards Interview / Cory Michael Smith Interview
Watch the full Jessica Lucas Gotham interview: