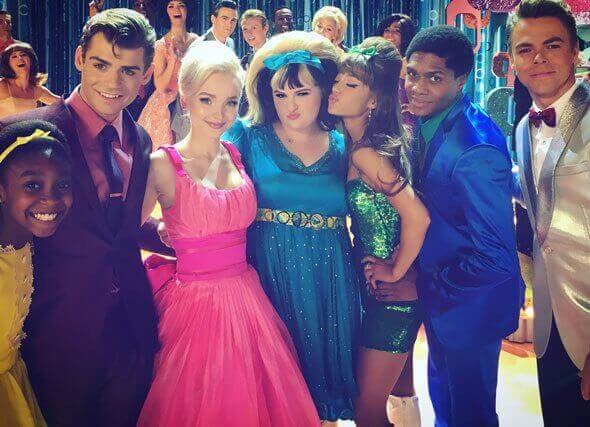 NBC's Hairspray Live! is currently in rehearsals with the ensemble cast hard at work preparing for a live airing of the popular musical on Wednesday, December 7, 2016 at 8pm ET. Hairspray Live! stars a mix of musical theatre veterans and young actors, including newcomer Maddie Baillio who earned the role of Tracy Turnblad at a casting call with over 1,000 hopefuls. With the live musical production just a few weeks away, Baillio joined Dove Cameron ('Amber Von Tussle'), Garrett Clayton ('Link Larkin'), and Ephraim Sykes ('Seaweed') on a conference call to discuss their characters, their co-stars, and why they love being a part of Hairspray Live!.
What is the best part of being cast in Hairspray Live! and what does it mean to you?
Garrett Clayton: "I've always wanted to do the show but I think what's really cool about this – and we've all kind of said it, we really have – I guess we're obsessed with each other as a cast. We're all like super stoked that we get to work with such like fun, awesome, cool people."
Maddie Baillio: "My favorite thing I think about playing Tracy is that she's like the ultimate underdog so everyone can relate to her. So, I'm happy to be that for everyone."
Ephraim Sykes: "I think I'm excited to play Seaweed because he's so close to home to me. Like, my first love has always been music and he also has a mindset that is about everybody's the same, everybody's together, love, and he's able to bridge gaps of hate and misunderstandings and sort of find his way through, bring people together through music and dance. That's what I love to do the most."
Dove Cameron: "I am super stoked to be a part of this production in general, speaking about things that are still extremely relevant in 2016 and more relevant than I think any of us could have even guessed going into this. It became more relevant as production went on, you know, regarding everything going on politically and the way that things are starting to move these days. We're all very pleased and blessed to be able to speak on that in such a positive light in a way that keeps things going with a cast that is bringing the eyes of a younger generation towards that message.
We definitely have a lot of stars in this, but a few younger (ones) that bring a young demographic, which is beautiful. It's always a beautiful thing to pump out a positive message to the generation that will become our new adults in a couple years. That's something that I think all of us are very excited for. And, yes, definitely just in general this cast, I mean you couldn't get any better. We never want to go home at the end of day and we're all excited to be at work at the start of the day. What more could you ask for?"
Maddie, you've had the opportunity to meet with some of the previous actresses who have played Tracy. What advice have they given you?
Maddie Baillio: "Yes, so about a week after I was announced that I got the part of Tracy, I was in New York and Marissa Jaret Winokur, who played Tracy on Broadway and got a Tony for the role, she reached out to me and said that she was in New York watching Matthew Morrison's play. She invited me to come over so we could just chat for a second, and that one second turned into four hours. We just sat on this couch and she just talked and I just soaked it all up. She gave me a lot of advice, actually. One of the best pieces of advice she gave me was that Harvey (Fierstein) is always right; always listen to Harvey. And, she was so true about that. She was like, 'You won't want it to be that way but it is that way. That's just the way it is.'
I spoke with Ricki Lake, who was the original Tracy in the John Waters film. She told me like to always just say yes to everything, to every opportunity. She said that sometimes you'd say yes to things but then, like, she'd wake up the morning of and decide not to do it. She said that really bit her in the butt. So just to always say yes to everything – to everything. They gave me a lot of good advice. And, they're going to make cameos in the show!"
What was the audition process like and how did you hear about Hairspray Live!?
Maddie Baillio: "I was in New York for two years for college and I saw an open casting call ad on Facebook that there was going to be a big open audition for Tracy for Hairspray Live. And this was one of my dream roles, so I really wanted to do it but I was also really, really nervous because it was my first professional audition. It was my first audition outside of school. I decided at 3am the morning of the audition to get up and get ready and go do it. And on the sheet – on the ad – it said that you should also prepare a short portion of 'Good Morning Baltimore,' so I prepared my short portion on the subway ride to Telsey & Company, which is the casting agency where they were holding the audition in New York.
I got there at 6:45 thinking that I was going to be one of the first girls in line because it started at 10am, and I was 343 in line and there were over 1,000 girls there by the end of the day. I sang my short portion of 'Good Morning Baltimore' and I thought I nailed it, and then they asked me to sing the end of the song, which I did not know so I made up a lot of the words. But, they still asked me to do a callback a couple days later. And then four callbacks later, I got the part. So I am living my dream. I'm so thrilled and blessed to be a part of this amazing cast."
Garrett Clayton: "I had been poking and prodding my reps when I found out the show was even happening. I kind of let the notion go that I was not going to be able to audition just because nobody ever thinks they're going to get their dream part. The production asked me to send in a self-tape. It took me about a week to make the tape that I was solid and felt good about sending. And after about two months of hearing that I'm still in the mix, they set up a callback with the whole team behind it that ended up getting cancelled because somebody couldn't make it to LA, so I figured somebody else got the part.
Then about two weeks after that, they e-mailed me the night before and said, 'Can you come to a dance audition?' And it was with Brooke (Engen), the assistant choreographer, and we FaceTimed with Jerry Mitchell, the choreographer. He watched me do a little bit of 'Nicest Kids.' About two weeks later, they offered me the part, which is kind of a little bit surreal because at the time I was…the night I found out I got it I was at A Chorus Line at the Hollywood Bowl. I was just checking my phone on the way to the bathroom and my reps kept freaking out saying, 'Call us,' and 'Kiss Today Goodbye' came on. So me, as the big theater nerd that I am, had a little bit of an emotional moment because I was listening to 'Kiss Today Goodbye' at A Chorus Line at the Hollywood Bowl when I got Link."
Ephraim Sykes: "Mine is not so quite involved. It was really weird. My agent gave me a call, I think it must have been early July or something like that, maybe even late June or so, like very early on saying that they would like you to send in a tape for Seaweed. I was doing Hamilton at the time and I was just like (doing) a bunch of other parts. I thought there was no chance in hell that I'd be cast in this, honestly. I was like (they'd cast a) superstar name because I heard that Ariana Grande was going to be in it. I had heard that Jennifer Hudson was going to be in it, all these other people.
I was like, 'There's no way in this world that this is going to happen for me, and I don't even know if I can sing that high,' because his song's like kind of crazy. So, I actually turned it down at first. I was like, 'No, I think I'll hold off because I'm in the middle of a crazy eight-show-a-week and I don't feel like killing myself for something that I didn't think I would really get. Cut to literally maybe two months later, like early August and I get a call from my agent again saying, 'Hey, Ephraim, casting really would like to see if you'd just send in a tape, just submit. They just want to see and hear you do this.' Because I guess they were having a hard time finding somebody or matching somebody up with tiny Ariana. So I was like, 'Okay, well I guess I'll give it a shot.' So I feel like because they asked me again, they would have to at least consider me or have to at least look at my tape and not just throw it out the window.
So I was in my living room (and) I had one of my best friends come over. I was like, 'Look, man, we've got one take for this because I don't know if I can sing it twice.' I happen to collect records, like old records, and I have them hanging all over my wall. We were going to shoot it in my apartment – badly lit. You guys have to see this audition tape; it's really terrible. So my friend shot it for me. I went ahead and just screamed it out one time. He was like, 'All right man, I think that was it,' one take and sent in my tape with that song and the audition material and sides. And literally like a week later, the day that I stopped doing Hamilton, I found out that I got this part and I collapsed. So, that's what happened."
What have the rehearsals been like and have you had any time to kind of just bond as a cast?
Dove Cameron: "We've had so much time to bond as a cast."
Garrett Clayton: "It's the best. When we decide to do stuff together, it's like wicked fun. It's so exciting."
Maddie Baillio: "Yes, I've been in rehearsals. I did two weeks of rehearsals in New York and this is like my fifth week here, and literally every night after rehearsals for the past couple of weeks we've all gotten together and like watched a movie or had game night. We have had so much cast bonding."
Ephraim Sykes: "I second everything she just said. We like to go to each other's houses and meet people's moms together and play crazy games. We are bonding so much, and truly our actual friendships and relationships are transmitting straight to the stage and to the camera, I think."
Dove Cameron: "Yes, that's definitely something that we've all really remarked on. And then especially because we have such a diverse cast, in terms of sex and age range and background and experience. You know, it's not necessarily something that you would expect from this particular group of people just because it is so diverse. It's not like a sitcom where it's only four or five people and they're all sort of the same age or whatever. It's a very interesting, fun, wide cast, and we've all fallen madly in love with each other. We're FaceTiming each other, dinner every day, sleepovers, all that fun stuff. It's the best. It's exactly what you would want."
Ephraim Sykes: "She's right. And it feels a bit like theatre camp."
Garrett Clayton: "It does. It feels like a really weird drama program where everybody is way too experienced and wicked famous. So we're all kind of having these weird moments where we take a step back, and I've noticed each person kind of like has a moment where they have to catch their breath and realize where they are and who they're with. It's really magical."
Dove Cameron: "Mine for me was when Harvey Fierstein was teaching me how to accurately stuff my bra. You know what? Everybody has their moment in life. That was mine."
If you could take any one prop or costume home, what would it be?
Garrett Clayton: "Maybe my blue suede shoes for 'It Takes Two.'"
Maddie Baillio: "Yes, I would take Garrett's blue suede shoes."
Dove Cameron: "Yes, I think all of us would take Garrett's blue suede shoes."
Ephraim Sykes: "No, I got this crazy, ridiculously extra blue suit that I want to just to hang somewhere like in this suit hall of fame. It's between that and my switchblade."
Dove Cameron: "I want all of Amber's wardrobe because I'm one of those people that would wear strange (outfits). I would go to the supermarket in like full on '50s garb – or '60s garb. So I really love Amber's baby blue dress and her yellow dress and all that. I don't know. I really like all of Corny's wardrobe. I'd probably take Corny's outfits or maybe Ari's gum. I don't know, there's a lot, you know? A lot of good stuff."
More with the Hairspray Live! Cast: Continued on Page 2 – >