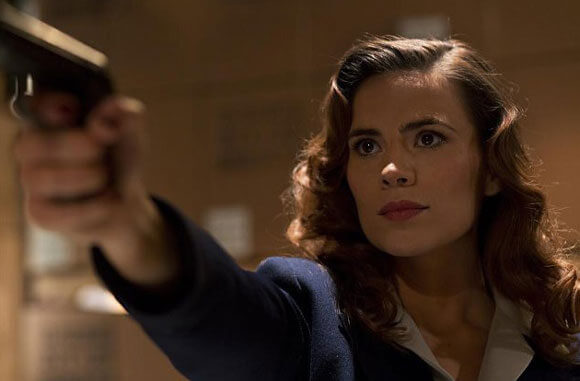 Hayley Atwell's excited to be working on ABC's mid-season replacement series Agent Carter and happy to be able to dig into the character and really give audiences a chance to learn who Peggy Carter is and what makes her tick. At the 2014 San Diego Comic Con, Atwell – who will also be appearing in the season two premiere of Marvel's Agents of S.H.I.E.L.D. – talked about getting the opportunity to fill in more of Peggy's backstory. "We've got glimpses of who she is from the Captain America films and also the One-Shot, but this is now a chance to explore her limitations as a human being and having to go beyond that to save the day. I think there's so much in her that's yet to be shown to the world."
For those not up on their Marvel properties, here's the official plot of the Agent Carter series: "Marvel's Agent Carter follows the story of Peggy Carter. It's 1946, and peace has dealt Peggy Carter a serious blow as she finds herself marginalized when the men return home from fighting abroad. Working for the covert SSR (Strategic Scientific Reserve), Peggy must balance doing administrative work and going on secret missions for Howard Stark all while trying to navigate life as a single woman in America, in the wake of losing the love of her life – Steve Rogers."
Hayley Atwell Agent Carter Interview
It'll be interesting to see her in that time period. What does it mean to you to be able to show what women had to deal with back then?
Hayley Atwell: "I think what's frightening is how we haven't actually come that far. I don't know about the US but in terms of Britain, women are still not paid the same as men. We really haven't come that far since the '50s, unfortunately. I mean, we may have culturally in terms of how we treat each other and how men treat women, but there's still a long way to go. And so I think that this period is something that men and women can still relate to."
Would you have been able to do this show if it had been any more than eight episodes?
Hayley Atwell: "Good question. Probably. I'm so committed to Peggy Carter that I would have done it if it had gone on for 50 episodes."
How great was it to not only get the role in the Marvel movies but then to have them ask you to do a TV series too?
Hayley Atwell: "It's a dream come true really. I had such a great experience doing the first two films and loved working with the Marvel crew and all the filmmakers, so this was just this wonderful extension to be able to revisit something that was a very joyous memory."
How did you feel about the final scene in One-Shot with the men just staring at the women in bikinis? Didn't that sort of undermine the story?
Hayley Atwell: "But they looked like idiots, right? I mean that was the whole point: they made themselves look like idiots. I don't think you'll be seeing much of that in the Agent Carter pilot. If Peggy was there when it happened, I think she would have [slapped] them."
-By Rebecca Murray
Follow Us On: