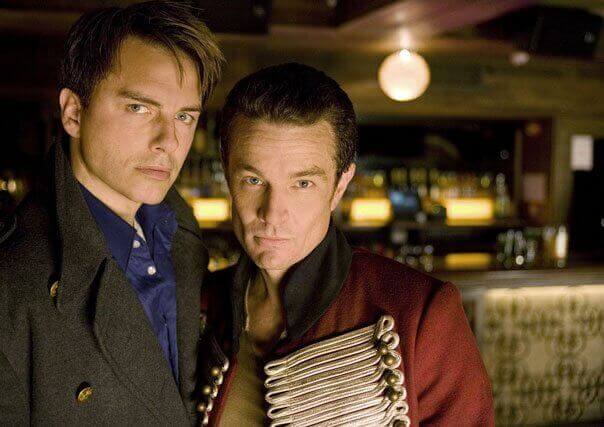 James Marsters got to kiss John Barrowman on Torchwood, the Doctor Who spin-off – which was his one of his favorite moments. "That was one of the finest days I ever had as an actor. It was a wonderful dialogue scene, followed by a wonderful kiss, then a fight scene," he said. "I bit John on the first take and he's like, 'You bit me?' I told him, 'Hey, I haven't seen you in 300 years.'"
Of all the co-stars he's kissed, including Landau and Gellar, Marsters stated Barrowman was his favorite. "I'd kiss John above anybody," he said. "Women like guy-on-guy action. I had no idea. I know we guys like to watch girl-on-girl. But when two guys go at it, it's something some women enjoy very much. My fiancé (Patricia Rahman) was on the set. She was enjoying herself. I'd kiss her and then John. I got more sugar that day than I'd gotten in a long time. We're married now. We've been married for six years. Sometimes I think I should call John and spice it up again, have him come over."
Barrowman, who's openly gay, shared his memories of that shoot with Marsters. He laughed long and hard when he heard that he was Marsters' favorite co-star to kiss. "I have been told that I'm quite good at it. James is not too bad himself. That scene we had together… it's become iconic," said Barrowman. "When we were doing it, what we did was not expected. People didn't expect those two anti-heroes to walk up to each other and just start snogging in the middle of this bar. They snogged it out and then beat the crap out of each other – it was a brilliant piece of writing."
At first, Marsters didn't want to be on Torchwood; he wanted to be on the parent show. However, that changed when he got the script. "When I met with (creator) Russell T. Davies he said Torchwood was his Buffy. I don't understand what he meant by that. Buffy was a subversive show for its time. It was subverting the lie that women can't defend themselves. Russell wanted to do his own subversion; he wanted to subvert the lie that gay people can't be heroes. I like to think of myself as a subversive artist, so I was very proud to be on that show," said Marsters.
Fans would love to see Marsters, Juliet Landau, and Julie Benz reunite with Boreanaz on Bones, which enters its 12th and final season this fall. "That would be fabulous. I would love it," he said. "I haven't heard anything about it."
Besides acting, Marsters is also a musician and plays in the band Ghost of the Robot. He spoke about how Prince, who died April 21, inspired him.
"How could he not? Wow. In 1985, I was doing a version of 'When Doves Cry.' I had two tape-recorders and I figured out how to layer tracks just using two tape-recorders… It worked pretty well except that one tape-recorder's playback was slightly faster than the recordings, just by an imperceptible amount. The finished product sounded like a squirrel was singing," said Marsters, laughing. "It was a comical version of 'When Doves Cry.'"
Prince is one of those artists like Miles Davis who comes along once in a generation and his impact is omnipresent, no matter what musical genre, according to Marsters. "You can't be a musician and get away from Prince, whether you realize it or not," said Marsters.
Currently, he's working on a TV project he can't talk about. He's also adapting Shakespeare's Macbeth into an independent movie. Not only will he be playing the titular character, he's involved in the writing process. "I feel like if you adapt Shakespeare, you have to know what you're changing and why because if you change the wrong thing, you can mess the engine up," said Marsters. "Frankly, Shakespeare is the dirtiest, bloodiest writer I've come in contact with. That man is filthy, especially the comedies if you really understand what those jokes are talking about. They are dirty jokes."
No stranger to voiceover work, Marsters provides the voice of Lex Luthor for DC Universe Online and narrates New York Times best-selling novelist Jim Butcher's The Dresden Files. Butcher's series chronicles the adventures of a hard-boiled wizard named Harry Dresden, which Marsters calls a cross between Harry Potter and Sam Spade.
"I love voiceover work. Frankly, a lot of tools I learned in theater I had to ditch when I came to Hollywood," said Marsters. "Theater is basically hanging words in the air – the proper color, the proper rhythm, the proper speed. The difference between night and day in theater is how the words are handled; the difference in something that is dangerous or something that is humorous – it all depends on how the words are hung in the air. If you do that in film, it looks so fake and so actor-ed, it's such a lie – the camera doesn't buy that stuff in a heartbeat."
He continued: "When you're on stage, your face is very small and your eyes are almost invisible yet you're trying to communicate the inner workings of the human mind to people who are half a football field away. When you're in front of a camera, it's as close as a lover – you don't get that close to anyone unless you're in bed with them. It's very intimate. You don't have to perform anything, you don't have to express anything – you just have to live it. I spent most of my professional career developing tools for stage. You miss using them, so when you're doing voiceover work, you really are hanging words in the air. So I get to pull out those old tools and start using them again."
For Marsters, conventions are plenty of fun for him. He enjoys meeting fans and engaging in conversations about "pretty much anything." A fanboy himself, he's been attending conventions since he was 13, particularly Star Trek conventions where he was dressed as Spock, albeit with a big, blond afro. Sadly, he has no pictures from those days.
During Q&A panels at conventions, he dares fans to try to embarrass him, guaranteeing them they won't. At one convention, a fan asked him if he'd ever host The Bachelor. "Yeah, we'd call it 'James' Crib and Hoes,'" he answered, eliciting laughter from the audience.
Marsters provided his insight on reality TV and why it's so popular. "Mediocrity sells because people are sometimes uncomfortable being touched in a place they don't expect to be touched. Sometimes projects that are surprisingly or brave or more useful tend to not have as much success. Raging Bull didn't get the Oscar. It took people a while to wake up to the fact that it's an awesome film. A lot of times, those really good projects are not the big moneymakers initially. It's only in hindsight that we realize another great piece of art has been given to us. Sometimes that's a badge of honor," he said.
Conventions are one of the last places in society people come together and actually talk, according to Marsters. "We still have movies and concerts, but to actually come together for fun – to talk – is rare, at least in my world… I find that being part of a convention is helping build a community on a level that I was never able to do before (producing theater). I also find that people at conventions tend to be pretty smart. Genre attracts people smarter than the average bear. I tend to meet at least one scientist every time I go to a convention – or a doctor. I have a friend who helped design the MARS Rover… He came dressed as a Wookie. I've met people from NASA, the CIA, the FBI, people who cannot tell me what they do for a living but really enjoy the projects I've been in for over years… This happens every time. I always meet someone with an interesting job, and – frankly – I like to talk to people."