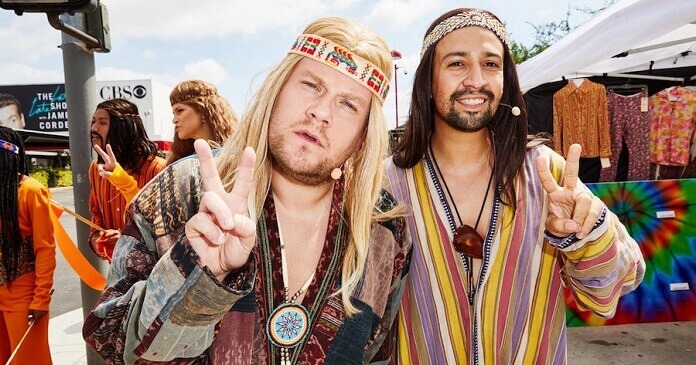 Lin-Manuel Miranda joined James Corden for a special Crosswalk the Musical: Hair performance on Beverly Blvd in Los Angeles. "It's one thing on a stage, air-conditioning, Broadway lights. It's another thing when people are shouting obscenities out of a window at you because they don't get it," said Corden of Miranda's big Crosswalk the Musical debut.
With cars passing by, Miranda broke into "Aquarius" with the backing of James Corden and his Crosswalk performers. That went over well, with Miranda enthusiastically proclaiming this was the best thing he'd ever done. "When it's a red light for the cars, it's a green light for my soul," said Miranda.
Next up was a peppy performance of "Hair" complete with psychedelic backdrops. However, neither "Hair" nor "Aquarius" were able to top Crosswalk the Musical: Hair's rendition of "Let the Sunshine In." "In the original production of Hair, the entire cast got naked. But both CBS and the entire state of California have told us we can't be nude in a crosswalk. Then again, people told me that Alexander Hamilton wasn't a Puerto Rican rapper with beautiful brown eyes," explained Miranda before taking to the streets one more time. Joining James Corden to duet on "Let the Sunshine In," Miranda and Corden stripped off their coats to reveal pretty much everything. Private parts blurred, they belted out the classic tune, with James Corden dancing through the cars and Lin-Manuel Miranda naked and gyrating on a car's hood.
"I've never felt so free!" screamed Miranda on the sidewalk, surrounded by his fellow Crosswalk the Musical cast members.
The nine-minute video ended with Miranda and Corden giddy about the performance. "After performing out here in front of all those cars, I don't know how you'd go back to Broadway. Everything else is boring," said Miranda. Corden replied, "He gets it, you know? He gets it," before linking arms with an equally nude Miranda and walking away with his new naked best friend.