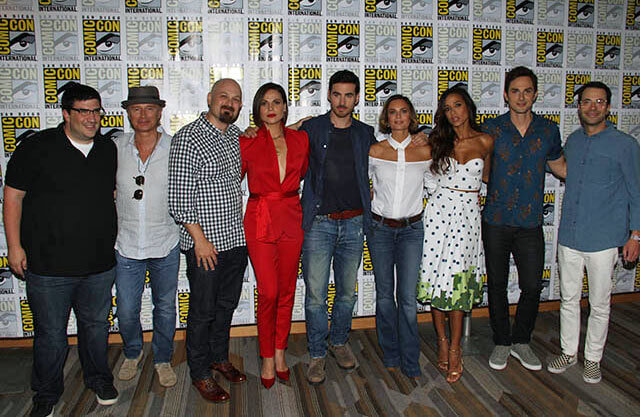 ABC's Once Upon a Time season seven leaves Storybrooke behind, with Regina, Gold, and Hook out in the real world among people who don't believe in magic. Sitting down at the 2017 San Diego Comic Con to discuss the upcoming season, executive producers Adam Horowitz, Edward Kitsis, and David H. Goodman provided details on the new setting, the new characters, and what fans can expect from a much different Once Upon a Time when it premieres on October 6, 2017.
What can fans look forward to with season seven?
Adam Horowitz: "I don't think we'd ever presume to promise you're going to like anything we do. We hope you do. I think what we'd say to them is we love these characters as much or more than you do, so we treat this very seriously. We know how emotionally attached people become to characters, especially after six years, and that's how we feel. We haven't taken anything lightly. We're going to keep the legacy of the show and the history of these characters alive, and that's going to be a really important part of the show as we move forward with this new chapter."
When you were in the writers' room discussing what season seven was going to be like, did it feel like you were getting a facelift or a refresh? How does that feel?
Edward Kitsis: "It felt like a really nice shot of Botox. I will say this: this was an idea we've had for a few years, but when we sat down to write it last year I would say that we felt re-inspired. We felt reinvigorated because we were free from the six years of mythology and things we did before, and we could start going back to what we really loved which is, 'Wouldn't it be cool if we did this? We've never shown this. What's this person's backstory?'
For us, it was great because we got to end the show the way we wanted last year, and we got to continue to have fun telling these stories in new worlds with the characters moving forward."
David H. Goodman: "And it's also the introduction of all the stuff that's new that's giving a wonderful shot in the arm to some of the stuff that was old and that we've been doing for seasons one through six. It's giving us a new chance to tell new stories with these characters that everyone has loved for so long. It's kind of had this ability of bringing what's new and then making what's old new again, which is been really, really neat."
What details can you tease us with on season seven?
Edward Kitsis: "Well, I think the details we can tease is Henry leaves home and he's in a new book. I think the relationship between him and Cinderella I would say is in the vein of the epic romance that Snow and Charming had. I would say that Regina is in a new chapter of her life. I would say that we can tease that we're going to see Tiana. We are going to meet a new Alice in Wonderland. And I think one of the things I'm really excited about is we're leaving Storybrooke and going to Hyperion Heights so we're going from a small town to the big city. For us, the original idea of the show was fairy tales in the real world so for us it's fun to go back to a place that doesn't have magic, you know? So, it isn't magic, magic all the time."
Adam Horowitz: "Where Storybrooke was a small town that was just these fairy tale characters who were cursed and hidden away, Hyperion Heights is a part of Seattle. You have the original characters now mixed with the real world and real people who don't have a magical background, who aren't cursed. So, it's a different vibe and we're excited."
Edward Kitsis: "And I would say that one of the things we can tease is Hyperion Heights, like many neighborhoods, is being gentrified by Lady Tremaine who is an evil developer. I think that in her mind if she pushes the fairy tale people out, then they can't find each other, because maybe that was one of the weaknesses of the first curse. If you keep everybody in the same place, after a while people are going to find each other and remember. If you spread them out and get rid of the neighborhood, then it's a lot harder."
Will this be like season one in that these characters don't remember the last six years?
Adam Horowitz: "I would say without getting too specific about all the details, we're not redoing season one. So, we're sort of taking some of the ideas that are going to echo, but we're going to be going in new directions with them. The rules that maybe you've been used to over the first six seasons might have some twists to them. There might be different things with different affects. This isn't the same curse that we did in season one. These aren't the same characters and it's not being done for the same reason. So, we're going to be hopefully surprising the audience in what our villains are doing. Unlike season one where we saw Regina cast the curse spell, we actually don't see who casts the curse this year. So, that's going to be something that you may not want to take for granted."
What can you say about Adelaide Kane's character?
Edward Kitsis: "She is Drizella. She is a wicked stepdaughter and she is awesome! Adelaide is so wickedly good in this performance."
The name "Hyperion Heights" has some history to it.
Adam Horowitz: "It is a nod to Disney history and the Hyperion Studio where Disney was originally located. In fact, the building we write the show in is from that original Hyperion Studio which is the only building from that studio that was moved to the current Disney lot."
Edward Kitsis: "It's called the Shorts Building. It was literally brought over in two pieces from the original one. We always want to honor Disney."
More on Once Upon a Time Season 7: Colin O'Donoghue and Robert Carlyle Interview / Lana Parrilla and Gabrielle Anwar Interview / Andrew J West and Dania Ramirez Interview
Watch the full Adam Horowitz, Edward Kitsis and David H Goodman Once Upon a Time interview:
(Interview by Alice Balagia. Article by Rebecca Murray.)