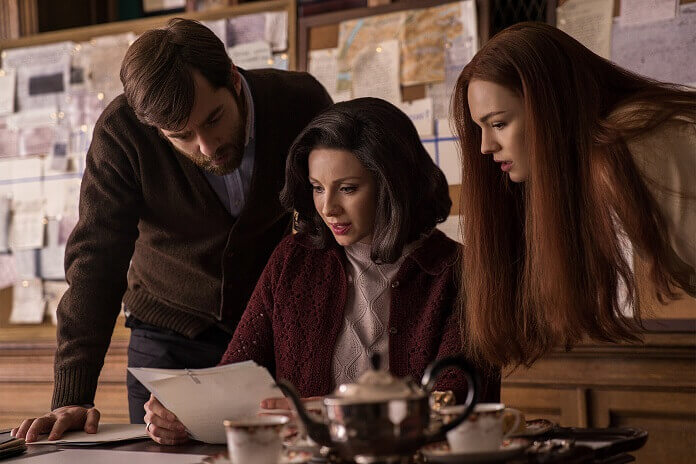 Outlander fans got their first look at Brianna (Sophie Skelton) at the end of season two. Stuck in the present, at the end of a marriage to Frank (Tobias Menzies), Claire (Caitriona Balfe) finally told Bree the truth about her father. Naturally, a modern woman of the '60s did not believe her mother traveled through time to conceive her.
Season three, based on Diana Gabaldon's third book in the Outlander series, Voyager, brings Brianna and Roger (Richard Rankin) fully into the complicated, time-traveling love story. Showbiz Junkies sat down with Skelton at a Television Critics Association party for Starz to talk one-on-one about the new season. Outlander returns September 10, 2017 on Starz.
Did anything or could anything prepare you for how passionate the Outlander fans are?
Sophie Skelton: "No. Luckily, season one had already come out so we sort of had a taste of it just from Caitriona, Sam (Heughan), and Tobias. But no, it's amazing. They are so passionate and it's just wonderful. To meet them at Comic Con was really cool as well. I meet a lot of them on Twitter and Richard and I have a really nice rapport with them on Twitter, so to meet them in person is amazing. Yeah, it's nothing you can really prepare for. It's just wonderful. They're still invested in the show, so it's great to be a part of."
What in person encounter with fans stood out for you?
Sophie Skelton: "It was my first Comic Con. One of the funny ones, a girl came up to Richard and I, we were sort of at the end of the panel. A girl came up when we were signing and she said, 'So who're you two? You cast?' 'No, we're crew. We're not cast.' That was quite funny. Just some amazing people. There are some amazingly talented fans, too. This woman who did a cross-stitch thing of Sam's face and it took her nine months but it was amazing and she brought it with her."
You have the normal reaction when Claire tells you your father is from the 1700s. Does it add a layer to play that normal reaction when you know in the show it's true?
Sophie Skelton: "Yeah, that's the thing. Everything in the show seems so real. The time travel and because it's all rooted in history, it does feel very real. So, I've watched a lot of the show and you have to take yourself out of your own shoes to be in Brianna's shoes. Bree's very stubborn and she's a very logical person. I think if anyone told you that, as you say, that would be your natural reaction. With Brianna, we wanted to make that reaction really strong too in that she says some things that I wouldn't personally say. When she says to Claire, 'I wish you were dead instead of Frank,' but when you're in Brianna's shoes, you really just have to feel how she would react in that moment. You can't ever judge your character. So yeah, sometimes it is kind of hard to play that, especially when we played it slightly differently in the series in that Roger kind of leaves Claire. You just have to get yourself into Brianna's head and completely believe yourself that this element of this story is completely true. Once you're in that mindset, you have to roll with that."
How does Brianna change the dynamic of Frank and Claire's relationship?
Sophie Skelton: "I think Bree is the glue that holds them together. The beautiful thing about Brianna being in their life is that she does make it more bearable for the two of them. I think for Claire she is that reminder of Jamie every day. I'm sure for Frank that was extremely difficult too. There's a line in season three where Bree says, 'Dad had to look at me every day. Did he hate me? I must remind him every day of the man who fathered me.'
There's just a beautiful dynamic between the three of them, too. You see it in the graduation scene. Claire and Frank are genuinely so proud of Bree. I think for Brianna, Frank really, really was her dad. There's so much love and respect and adoration there from Bree in terms of Frank. So, I think it creates a nice family dynamic for the three of them. I think Brianna's really just held them together and made life a little more bearable I think for them, almost helped them bury their past a little bit even though it's so abundantly clear every day because Brianna does resemble Jamie. I think at the same time, she allows them to have a semi happy life. I think that allows Frank to bury what he thought about Claire having an affair."
How different was being in the whole season, not just the one in season one?
Sophie Skelton: "Yeah, it was really nice to be in a little bit more because we come in quite early on. It was nice to commence the season with everyone as opposed to coming in at the end of season two where everyone was ready to drop and here we are bounding in, fresh-faced ready to start. It was really nice. I've read the books and you end up living with the character from season to season anyway so even though there's a long hiatus, you're still prepping on the character, still thinking Brianna all the time. So, it was really nice to just be on set with them for a long time."
You're still playing a character in the past. How do you relate to a girl in the '60s?
Sophie Skelton: "I think for Bree she almost has that Claire element in that she's a woman sort of out of her time. Brianna's very modern for a '60s young woman because she's intellectual like Claire. She's a major in history, a really good university. '60s was kind of that really modern time where people start to experiment with, I'm not saying Brianna did, but drugs and sex and everything. People are really coming out of their shell in the '60s. So, I think it was good to bring a modern element into Brianna anyway but yeah, I did have to look at people in the '60s and how they would act, how they hold themselves. Especially for Bree because she's not your average woman in the '60s. It was rare that women went to university then, so she has a pride about her which I think is a very, very good example of the time, really."
What are some modern words you have to keep out of your vocabulary in the '60s?
Sophie Skelton: "I think also for me, because I have a very different vocabulary to Americans anyway, a lot of the time I'll say things and Americans are just like, 'What on earth are you talking about?' I think for Bree, luckily, so there's nothing you have to think about. There's a nice bit in the series where Claire says f*** or something and that's in the book. At the time, even Bree is sort of, 'Mom, I can't believe you're saying that.' If you look at American girls now, they say 'like' a lot or things like that. I think for Bree, that's not really in her vocabulary."
Is Bree a politically active feminist in the '60s?
Sophie Skelton: "Yeah, I think that's something that's so wonderful about the show. It doesn't preach feminism but it really is a part of it. You have such a strong lead female character and Claire really carries the show. Really then it's put a kind of spin on that. Brianna and Claire are very similar, very stubborn, very strong-minded. Not in an annoying way. It's not too harsh. It's just there. I think that's a really nice thing to be able to play a strong-minded woman like that. She is the female version of Jamie. It's really nice to be able to have that in the show and have that quality.
Caitriona was talking today about sometimes shows either way have a female lead with men being sexualized around them or vice versa, male lead with females being sexualized around them. I think it's really nice that everyone has a central story to their character. It's not just any sort of two-dimensional character. Everyone's really 3D. I think without preaching feminism, that just naturally has the kind of quality in there anyway."
What was the scene you auditioned with?
Sophie Skelton: "Oh wow. The first time around, because I actually first auditioned for Brianna in 2014 and there was a scene that they gave me, dummy sides because it wasn't written yet, from it would've been Voyager actually where Claire, Roger, and Brianna are looking for Jamie through history books and things and they're talking about the Dun Bonnet and Red Jamie and all this. So that was one of my scenes, looking at the map to work out where Red Jamie would've been in the parallel timeline in the 1700s. When the audition came around again a year later, I had a scene with Caitriona from episode 13, season two, the one where Brianna finds out about Jamie. And then I had a couple of scenes with Roger which were dummy scenes from season four in fact."
Do you have anything else coming out?
Sophie Skelton: "I've got a couple of films coming out. They're both Lionsgate with a production company I've worked with before. One of them is a remake of the cult classic Day of the Dead, the 1985 George Romero one. It's written by Mark Tonderai. That's coming out soon and then again with the same production company, I did a film with Nicolas Cage. I play his daughter and it's called 211. It's based on the North Hollywood bank robberies. They're both really strong women, too. Day of the Dead's cool because we changed the story slightly. I play a woman called Zoe and she's the lead of the movie so it's kind of a cool, another strong female character which is really nice."
Is Day of the Dead still a scenario with scientists?
Sophie Skelton: "Yes, she's a med student. It actually starts off, you see her in medical school. She's a med student. She's quite meek. And then it cuts to five years later where's become almost like this army girl and she's still trying to find a vaccine for the zombie virus. That was Millennium Films. They were actually filming Hitman's Bodyguard at the same time we were there so it should be good."
Nicolas Cage is my favorite actor so I'm definitely going to see 211.
Sophie Skelton: "He's a really nice guy. That was a lot of fun. I play his daughter. My character is married to his partner. His partner, they're two cops."
Is it one of his intense performances?
Sophie Skelton: "I'm sure. I'm sure it will be, actually."
More on Outlander Season 3:
– Exclusive Ronald D Moore Interview
– One-on-One with Richard Rankin on Playing Roger
– Caitriona Balfe Interview
– Sam Heughan, Caitriona Balfe and Tobias Menzies Q&A