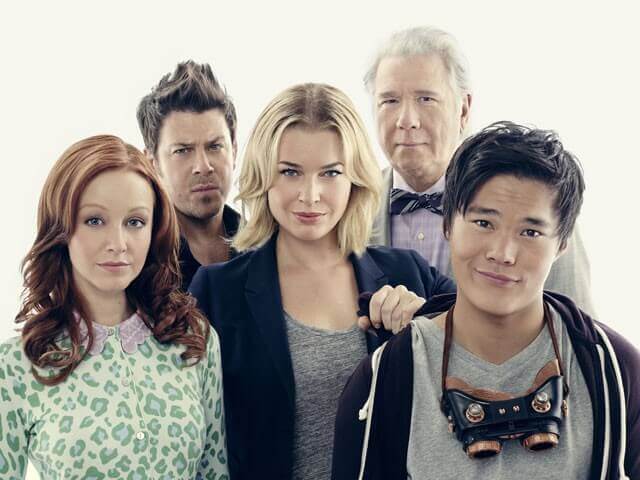 Rebecca Romijn returns to TNT and series TV with The Librarians set to debut on Sunday, December 7, 2014 at 8pm ET/PT. The action adventure series follows Romijn as a former NATO counter-terrorism agent who is thrust into the world of mythical objects when she's recruited to be a Guardian for a top secret group known as The Librarians.
In support of the show's upcoming first season premiere, Romijn took part in a conference call to discuss the appeal of the series, her character, and tackling action scenes.
The Plot [Courtesy of TNT]:
The Librarians centers on an ancient organization hidden beneath the Metropolitan Public Library dedicated to protecting an unknowing world from the secret, magical reality hidden all around. This group solves impossible mysteries, fights supernatural threats and recovers powerful artifacts from around the world. Among the artifacts housed in the Library are the Ark of the Covenant, the Spear of Destiny, the Judas Chalice and Excalibur, to name a few. Only a person with special skills could be responsible for collecting and protecting these artifacts, and more importantly, for preventing them from falling into the wrong hands.
For the past 10 years, Flynn Carsen (Wyle) has served as the Librarian. Prior to taking the job, he was a bookish nerd with 22 academic degrees and absolutely no social skills. As Librarian, however, he managed to use his extraordinary knowledge, successfully recovering ancient artifacts and, in the process, saving the world from unspeakable evil on more than one occasion. Over the last decade he's gone from bookworm to dashing swashbuckler, one of the secret heroes of the hidden world.
As great as Flynn is, the job of Librarian has become more than one person can handle. To aid him in his duties, the Library has recruited four people from around the world to defend the Library from dark magic, including Eve Baird (Romijn), a highly skilled counter-terrorism agent who is responsible for protecting the group and keeping them all alive; Jacob Stone (Christian Kane), an Oklahoma oil worker with an IQ of 190 and an encyclopedic knowledge of art history; Cassandra Cillian (Lindy Booth), a quirky young woman with the special gift of auditory and sensory hallucinations linked to memory retrieval, known as synesthesia; and Ezekiel Jones (John Kim), a master of new technologies and aficionado of old classic crimes who enjoys playing the role of international man of mystery who has sticky fingers.
Overseeing the new team of Librarians is the somewhat cantankerous Jenkins (John Larroquette), an expert in ancient lore who has been working out of the Library's branch office for longer than anyone knows. Together, they must tangle with many adversaries, chief of whom is the Serpent Brotherhood, an ancient cult led by the mysterious immortal Dulaque (Matt Frewer).
Rebecca Romijn The Librarians Interview:
How did you get involved in the series?
Rebecca Romijn: "The script came to me and I initially was really attracted to it because of the genre. I grew up loving Indiana Jones. I had not seen [The Librarians] movies. And so when I watched the movies, I fell even more in love with it because of the comic tone, which I didn't quite understand just on the page. When you ask Noah Wyle if it's like an Indiana Jones action-adventure, he says it's Indiana Jones if Indiana Jones was played by Don Knotts, which I love. So I love this very specific tone that we're going for.
The whole show came together very, very quickly and I knew some of the people in the cast, not everybody. And, it was a love fest. We had such a good time making it. We shot in Portland from April until August, and when you spend 90 hours a week with a group of people, you become like family. We had such a fun time up there."
What does your character Eve think of Noah Wyle's character Flynn Carson? What is her impression of him?
Rebecca Romijn: "First of all I should say that if you have not seen the movies, you're not going to be lost starting with our series. I feel like we've done enough exposition and enough backstory where people will know exactly what's happening from the very beginning of our hour series. I don't think Eve Baird takes him seriously. I think Eve Baird, who's a counter-terrorism expert and comes from this very buttoned up rigid military background – everything for Eve Baird is very black and white and Flynn Carson is every color in between black and white. She doesn't understand that, but once he shows her that magic exists in the world, I think she becomes very intrigued with him."
What do you love most about the series?
Rebecca Romijn: "You know, I guess the genre of it but combined with the comedy. We're not a comic book. We're not a group of comic book characters. We're not super heroes. There's nothing dark or bleak about what we're doing. There are so many fantastic shows on cable now; they're so smart and they have these amazing comic book characters and they're dark, and they're actually the kinds of shows that I love watching. But this hits a different tone that doesn't really exist. And, actually, we're premiering on the tenth anniversary of the first movies airing on cable. We have this Sunday night at 8:00 pm time slot, which traditionally was the Wide World of Disney time slot. As a child of the '80s, I grew up watching that. That was appointment television for me on Sunday nights. So I'd like to think that we're sort of filling in the spirit of the Wide World of Disney Sunday night at 8:00 pm; that we're sort of in the same spirit of that type of entertainment. I'd like to think that we're a great family show."
Can you say anything about some of the legends that are going to be in the first season's episodes?
Rebecca Romijn: "Without spoiling anything, all of our episodes are standalone episodes where we have a different mission in every episode and we have to find a different magical artifact in every episode. And Flynn Carson who bops in and out of our season; he's only in a handful of our episodes because he has another show with TNT called Falling Skies. He is sort of off taking care of a much larger mission. There's a big finale at the end of the season where everything comes together and we have to use all of the artifacts that we found throughout the season to accomplish this one huge final mission at the end of the season.
I've got several favorite magical artifacts but because we use them all together at the end, it's not like I have a favorite one. It's like we have to use them all together. We have the minotaurs. The (thread) of the labyrinth was a favorite one of mine. We get stuck in a labyrinth with a minotaur in one of our episodes. One of my favorite episodes is a fairy tale episode where fairy tales are coming to life in the small town and hurting people and killing people, and we slowly start turning into fairy tale characters. That was another favorite episode of mine.
We have a Christmas episode which is my personal favorite episode. It's the episode where my character's backstory gets explained. It's sort of a Midnight Run episode where my character has to take Santa Claus…we have to drive Santa Claus back up to the North Pole and she doesn't believe in Santa Claus and she's not happy about it."
What is your favorite and least favorite aspects of working in the sci-fi genre?
Rebecca Romijn: "You know, I would say that my least favorite thing is [the effects]. Because in sci-fi when you're working with special effects, usually the effects come in in post-production and so you have to ask the producers and the director exactly what it is that you're looking at so that you know exactly how to react to it. So you're usually reacting to something that's completely imaginary and something you're writing [descriptions' on the page and you don't necessarily know, 'Well, how big is the flame? Is it like a fireball? How close is it to me? Is it up in the sky or is it like right in front of my face? Is it huge? Is it little? How powerful is it?'
So my least favorite thing, which is not knowing exactly what I'm looking at, usually ends up being my favorite thing when you see the final product and I get to watch it just like the audience does and see it all come together and see the final effects all in place. It works out if you've been given the right amount of direction, it usually works out in the end shockingly. But yes, I would say that my least favorite thing is also my favorite thing in the end."
Can you discuss the stunts and working on action sequences?
Rebecca Romijn: "Well, I love shooting action. And especially when you're working long hours in hour long television and you're memorizing 10 pages of dialogue a day, it's nice to put down the script and just run down the street for a few hours and shoot an action sequence. It sort of breaks up your day.
I had just come off of another TNT series called King & Maxwell last year where I played a Secret Service agent, and I had to do a lot of martial arts training and weapons training for that. So, luckily, I got to roll all that training into this character.
I love shooting action sequences. Learning fight choreography is…it's not new but it's something that my brain is still getting used to. I'm really good at memorization – dialogue memorization. Learning fight choreography is kind of like learning a complicated dance. My brain is still getting used to it. But it's really fun once you nail it."
What is it like to play the straight person on this comedic adventure show?
Rebecca Romijn: "I think it's actually sometimes the most fun to play the straight man. I think playing the straight man is kind of the funniest character, personally. I love getting to be the skeptic of the group. I love getting to be the voice of the audience because it's ridiculous. I mean, every single episode the missions that are thrown our way are absolutely ridiculous. I love being the character. It's like, 'What?! Fairy tales are coming to life and killing people?' I love being the straight man. It's so fun. And it's fun to be the voice of the audience."
Why do you think your character was added to the series when she wasn't in the original films?
Rebecca Romijn: "I think the tough female protector of The Librarian has been a character in all three of the movies and now in the series, so I think a different version of this character has existed throughout the franchise. But, yes, this is the first time that Colonel Eve Baird is introduced to the world of The Librarian. It's a fun time in television and movies for female characters who kick butt, and I've been honored to have gotten to play some of them. It's a fun type of character to play and I love John Rogers for including Eve Baird in The Librarians."
What are the challenges your character is going to face this season?
Rebecca Romijn: "I guess the biggest challenges would be spoilers if I talked about them. I don't think that Eve Baird believes that she is equipped for the things that she has to come up against. I think that because she's an investigator and she's a counter-terrorism expert, she approaches each mission as she would approach any investigative job. This is her job and she just does it according to how she's been trained. But because we're dealing with paranormal and things that are in other dimensions, I think she can't even process the fact that she's equipped to deal with the things that she's put up against. And as the saying goes, what doesn't kill you makes you stronger – and that's what happens to Eve Baird in this season."
Since she's a Colonel, will Eve ever call on some of her NATO resources in the first season and maybe bring in some of that full swing military prowess?
Rebecca Romijn: "You know, I would say that the way she approaches every single mission has to do with her NATO training. I think she approaches everything as she always has in the military. I would say that she's all about clearing a room. She's all about making sure everybody's safe. I would say that she always follows military protocol except for that she's in this very, very, very gray world where magic exists. She doesn't necessarily always know how to balance out her military prowess with magic. But she doesn't know anything else except for how to approach everything from her military background."