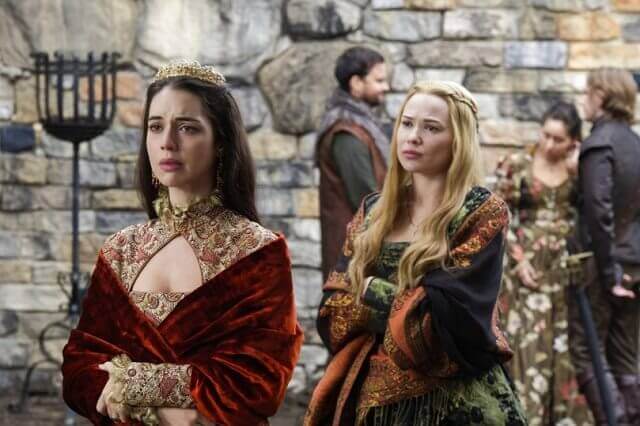 The CW's Reign season four episode nine featured the wedding of Queen Mary and Lord Darnley, the reveal that Mary is pregnant, and Lord Bothwell confessing he's in love with the Queen. Allegiances shifted, Queen Elizabeth was not pleased, and James and Greer kicked their burgeoning relationship up a level.
Up next is season four episode 10 titled 'A Better Man' set to air on April 28, 2017. Dawn Wilkinson directed the episode from a script by John J. Sakmar and Kerry Lenhart.
The season four cast includes Adelaide Kane as Queen Mary, Rachel Skarsten as Queen Elizabeth, Megan Fellows as Queen Catherine, Dan Jeannotte as James, and Will Kemp as Lord Darnley. Ben Geurens, Celina Sinden, Jonathan Goad, Craig Parker, Spencer MacPherson, and Rose Williams also star in Reign's fourth and final season.
The 'A Better Man' Plot: MARY PLOTS TO TAKE OVER ELIZABETH'S THRONE — As Mary (Kane) strategizes ways to take over the English throne, Elizabeth (Skarsten) struggles to find an appropriate suitor to marry. Meanwhile, James (Jeannotte) gets caught up in a scheme orchestrated by John Knox (Jonathan Goad) and has to deal with the tragic aftermath.