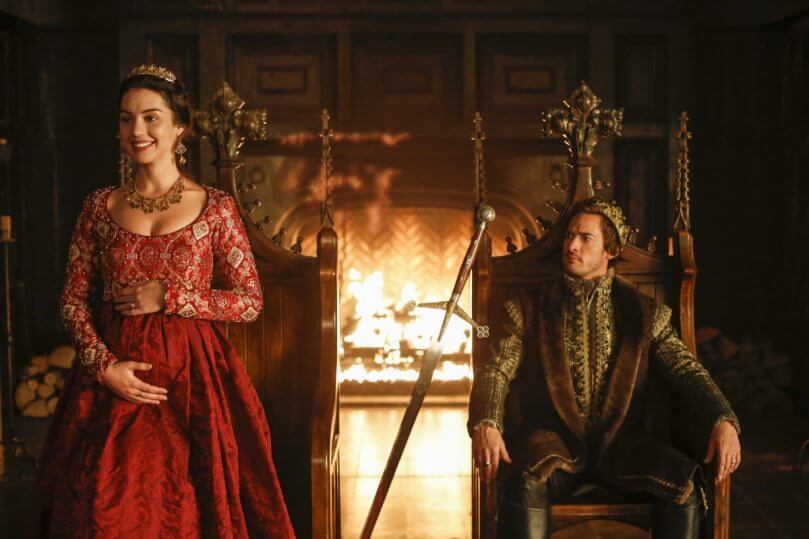 The CW's Reign season four episode 12 found Queen Mary trying to gather funds to help earthquake victims after Lord Darnley stole the emergency fund. Darnley's a traitor who won't go away, but in season four episode 13 it appears Mary's moving closer to solving her Darnley problem. Series star Megan Follows directed episode 13 from a script by John J. Sakmar and Kerry Lenhart. Titled 'Coup de Grace,' episode 13 will air on May 19, 2017.
The season four cast includes Adelaide Kane as Queen Mary, Rachel Skarsten as Queen Elizabeth, Megan Fellows as Queen Catherine, Dan Jeannotte as James, and Will Kemp as Lord Darnley. Ben Geurens, Celina Sinden, Jonathan Goad, Craig Parker, Spencer MacPherson, and Rose Williams also star in Reign's fourth and final season.
The "Coup de Grace" Plot: IT'S HUSBAND AGAINST WIFE AS DARNLEY WORKS TO RUIN MARY — Darnley (Kemp) teams up with John Knox (Goad) to strip Mary (Kane) of her throne, which will leave a close friend of Mary's dead. Elizabeth (Skarsten) must banish Gideon (Geurens) from court at the request of her future husband (guest star Steve Byers), while Charles (MacPherson) takes a bold stance against his brother Henri (guest star Nick Slater).