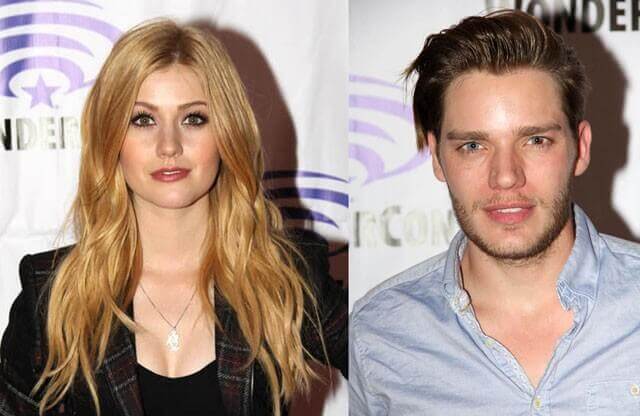 Freeform brought the cast of season one of Shadowhunters to the 2016 WonderCon to participate in a panel with fans and to discuss the new series based on Cassandra Clare's The Mortal Instruments books with journalists. Teaming up to talk about taking on the roles of Jace Wayland and Clary Fray, Dominic Sherwood and Katherine McNamara provided insight into what they've embraced about these particular characters and what it's been like being a part of a series based on such popular bestselling books.
Season one of Shadowhunters airs on Tuesdays at 9pm ET/PT.
Katherine McNamara and Dominic Sherwood Interview:
On the best and the worst aspects of taking on roles in a series with such a passionate fan base:
Dominic Sherwood: "The worst and the best thing for me is the pressure. I'm a firm believer in pressure makes diamonds. It's where you rise to the top and you do some of your best work in whatever aspects of life you've chosen to follow your heart. So for me it's that because there's a lot of pressure to get these characters right. But at the same time, I try and put that to one side and do what we need to do on set. I wasn't hired to be a public icon or a figure in any way; I was hired to be an actor and try and portray this character as best I can, and that's what I do."
Katherine McNamara: "That's sort of the advantage and the disadvantage of having something that comes from a book series is because you have such a rich base from which to draw and there are people out there who are excited about your work. But there are also people who have such strong opinions about what each of us is going to be bringing from our physicality to the way we dress and the way we move, and the way we play these characters emotionally. It's all about finding that balance and be able to honor the books and what people love about them but also bring our own perspective and our own artistic experience to that."
On what Katherine found in Clary that allowed her entry into the character:
Katherine McNamara: "There's something about Clary's spirit and she has this intense passion for whatever she does. It stems from her love of people around her and her moral compass, but also it's this blend of strength and vulnerability that I really latched onto. It's something that I bring from my own experience. She goes back and forth. Every time she thinks she knows what's happening, she thinks she has sure footing, it's ripped out from under her. That's something I could really relate to and something that I tried to inhabit in her."
On their approach to the kiss and living up to expectations:
Dominic Sherwood: "Feel what they feel. My girlfriend's on set most of those days and it's not awkward or it's not uncomfortable because I'm feeling what Jace feels in that moment. They call 'cut' and it's done. It's tough because they released that behind-the-scenes video of the kiss and fans didn't like and it's tough for me to say because we're not in a relationship. And I'm also not half angel. I don't have a sword that glows. I genuinely don't think demons exist. I don't think demons exist. You know what I mean? I'm sorry, I want to keep this romance alive as much as possible but within the show and that's it. That's all it is. I'm an actor. I don't want someone to bump into me on the street and go, 'Oh my god, I can't believe your brother and sister but also jump over this building…' It's not a thing I can do. You know what I mean?"
Katherine McNamara: "Exactly. And we were friends before the show. The ice was already broken. There's already a trust and we know each other so it's fine. And I'm friends with Sarah and everything is all good. But like Dom said, we're actors, we're playing roles, and it's not us."
Dominic Sherwood: "Sorry to everyone who didn't want that to be the case."
On what author Cassandra Clare told them about Jace and Clary:
Dominic Sherwood: "I was very fortunate because I was cast first so Cassie got in touch with me by Twitter and first of all instilled the importance, which I was slowly gathering, the importance of this character to the people she knows love these characters and this book series. But also the importance of me finding the right Clary. I had to come in and I had to read with all the different Clarys and I had to audition with all the different Clarys. So, the importance for me as Jace to feel the right connection with her was big and it was there. I think Clary and Jace are yin and yang. They don't exist without each other. They pave each other's way and they create each other's storylines, so that was really important."
Katherine McNamara: "Cassie and I spoke over email during the beginning of production and it's so interesting to ask her the questions that only she knows the answers to about what makes Clary tick and where it comes from. But it all is a balance as we've said before because the book series is very different our show. And so it shapes the characters in a different way. But it's very important that we do pay respect to what Cassie's done and what the fans love about these characters.
Watch the full interview with Katherine McNamara and Dominic Sherwood: