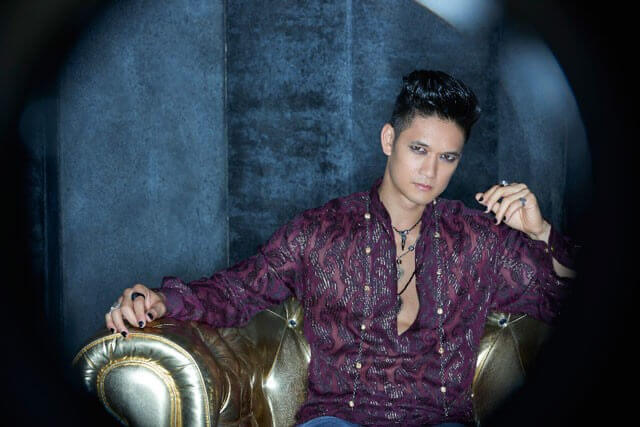 Glee's Harry Shum Jr. returns to series TV with a starring role in Freeform's Shadowhunters, based on Cassandra Clare's The Mortal Instruments bestselling book series. The Mortal Instruments books and Shadowhunters series center around Clary Fray (played by Katherine McNamara), an 18-year-old who learns there are demons on earth and that human-angel hybrids known as Shadowhunters are charged with hunting them down. Harry Shum Jr plays Magnus Bane, a powerful warlock who's well-versed in this supernatural world and very cunning.
Freeform will premiere Shadowhunters on January 12, 2016 at 9pm ET/PT and while promoting the series at the Television Critics Association event in Los Angeles, I had the opportunity to speak with Shum Jr. about his new series and how he approached playing Magnus Bane.
Harry Shum Jr. Interview
Does Magnus have to explain a lot of the mythology in the show?
Harry Shum Jr: "Magnus, obviously he's the wise one. He's seen it all so I wouldn't really call it exposition in the sense that he does have to explain these things to people who haven't been alive to see what's happened, what caused Valentine to be the person that he is. And also what happened to Clary's mom – he's known Clary's mom for a while. So we see a little bit of that in the pilot and I think we're going to see more of that unfold in the future."
Were you ready to do another series as soon as Glee ended?
Harry Shum Jr: "I had some time off. I wind down after the fourth season and [after that] I was making a couple of appearances on Glee. I had some time to do some films and this was something that I really wanted to be a part of, to go back to television."
Was the idea that this was only a 13-episode season appealing?
Harry Shum Jr: "I mean, yeah. You hope that there's enough to tell the story. But I think with the way that TV is going, you can tell a lot in 10 or 13 episodes. For me it is because it frees you up to still explore and to give your all to the show you're working on."
What was one thing that you read in the books that really helped you play Magnus?
Harry Shum Jr: "For me, it was the relationships. The Ragnor relationships, how he was with Ragnor. How he was when he was a detective. You saw the compassionate side of him and to me that was what was really interesting because we always see him as a hedonistic, party, rock star guy that wears makeup and has his hard-shell exterior. But seeing the compassionate side of him, that was really fun when I was reading the Bane Chronicles."
What questions did you have about Magnus for Cassandra Clare?
Harry Shum Jr: When I first met her my question was, 'How old is he really?' And even she wouldn't give me the right answer because I think at the end of the day, even Magnus Bane doesn't know how old he really is."
How old do you think he is?
Harry Shum Jr: "I think it's in a range of four to five hundred years old. It could be anything in between that. He likes to lie about it; he doesn't like to give a straight answer. And, I'm doing the same."
What was a scene from the book that you were most excited to film?
Harry Shum Jr: "There's a quote in there when he talks about the Dead Sea and you can see the sassiness coming from him, the sarcasm. It was also my audition piece as well so it was really fun to shoot it and finally put it on film."
What does Magnus think of letting Simon and Clary into this world?
Harry Shum Jr: "Well I think with Clary he has a soft spot for her. He has a really soft spot for Clary and he wants to help her even though he's not wanting to give in fully to the idea of helping a Shadowhunter. But with her he has a special connection because he did something to her that caused this to happen, to cause this whole thing of her losing her mother and trying to find her and possibly something to do with the Mortal Cup. I think he wants to hold back, but at the end of the day he feels he has to fix his wrongs."
Is there any scene from the next books that you hope to get to film in later seasons?
Harry Shum Jr: "There's so many. I think what the writers have been doing a job of is bringing in elements of the series, of the seven book series, and bringing a lot of things in from the Bane Chronicles. We have a lot of the relationships that came in from Bane Chronicles. Ragnor makes an appearance in the future which I think fans will really love because he's a really fun character that really explains why Magnus is the way he is."
Does your dance background help you with the fight scenes?
Harry Shum Jr: "Absolutely. He's dancing with his hands, he's dancing with his magic, he's dancing with his tongue, and for me it was infusing fluidity to every move that he makes. I think we capture that on screen."
Was there any song you never got to sing on Glee that you really wanted to?
Harry Shum Jr: "I begged Ryan Murphy to do a Justin Timberlake song because the combination of dance, singing, and just swag that Justin had I really wanted to do. But, hey, I don't know, maybe I'll be able to do it some time, some way."
Did anyone do a Justin Timberlake song?
Harry Shum Jr: "No one did."
Was it just too expensive?
Harry Shum Jr: "It came at a time where Justin was about to come out with music and he didn't want anyone licensing his music, so it was a little hard to get his music at the time. When his album came out, the show was winding down already."
More on Shadowhunters: