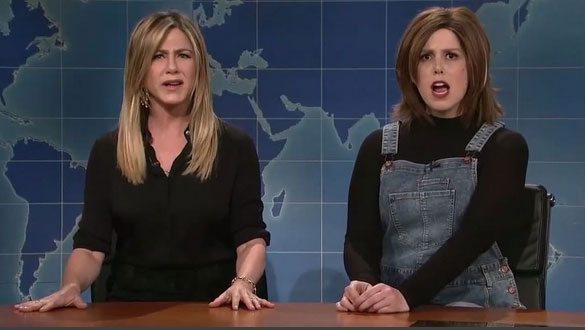 The December 3, 2016 episode of Saturday Night Live hosted by Emma Stone featured a surprise guest showing up for the 'Weekend Update' segment. Vanessa Bayer slipped back into her Rachel from Friends impression, but the real Rachel – Jennifer Aniston – joined Bayer to let her know it's time to put away Rachel and move on. Bayer and Aniston recently worked together in Office Christmas Party, the adult holiday comedy opening on December 9, 2016, and part of the SNL 'Weekend Update' bit also involved Aniston accusing her co-star of texting her too much since they finished working on the movie.
"For the last 12 days, you've been texting me every day to come visit you. Listen, honey, I know that you love Friends and we had such a great time making our movie together, but you've got to really try to stop texting me every day," said Aniston. "You know, Friends was like five million and five years ago, so I think we've just got to move on."
But even with prompting from the real Rachel, Bayer wasn't ready to give up impersonating Aniston. Bayer bragged that does a great bit as Rachel and doesn't want to stop, which prompted Aniston to respond, "Is it a great bit, though? I mean, it kind of just sounds like all you're doing is like, What? Oh, me? Oh wow! No! What?!'" Aniston's question was answered by Bayer and Aniston both doing Rachel, ending with them saying, "Oh, Ross!" simultaneously.
Real Rachel helping fake Rachel! ❤️ pic.twitter.com/xqomX9AvFa

— Vanessa Bayer (@vanessabayer) December 4, 2016