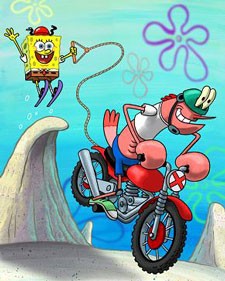 Ready for more SpongeBob? Nicokelodeon's debuting four brand new SpongeBob SquarePants episodes of the animated series on Saturday, July 21st at 8pm. Dubbed "The Super Spongy Square Games," the one-hour show will include the "Squirrel Record," "Demolition Doofus," "Face Freeze," and "Extreme Spots" episodes. The network's also hosting a 12 hour SpongeBob SquarePants marathon beginning at 9am.
The Official Synopses:
During "Extreme Spots," Knoxville lends his voice for Johnny Krill, a member of The Drasticals extreme sports team. When The Drasticals come to town, their new super fans, SpongeBob and Patrick, try to do whatever it takes to join them, no matter how extreme – or dangerous. Whether attempting sand motor biking, hang gliding, seashell surfing or extreme bubble blowing, SpongeBob and Patrick undertake the challenge in an effort to demonstrate they're extreme.
Next in "Squirrel Record," Sandy is determined to break a record number of world records, in record time, so SpongeBob joins her for an action-packed weekend of dangerous record setting! World's longest tooth, spiciest chili gargle and most chainsaws juggled are among the records Sandy is aiming to beat.
In "Demolition Doofus," Mrs. Puff enters SpongeBob into the Demolition Derby, where his bad driving makes him a star, and SpongeBob and Patrick bet who can hold a "funny face" the longest – until their faces freeze that way during "Face Freeze."
Watch the "Extreme Spots" clip:
SpongeBob SquarePants "Extreme Spots" from Jessica Wilson on Vimeo.
Source: Nickelodeon