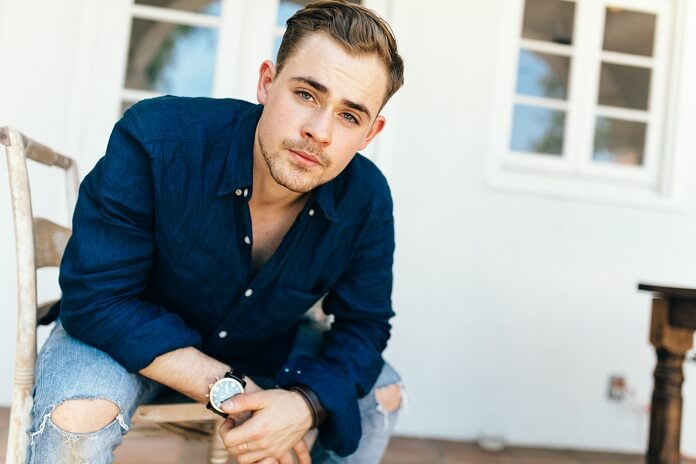 Dacre Montgomery's 2017 finds him following up a starring role in the reboot of the popular Power Rangers franchise by playing a villain in season two of one of the most binge-worthy shows on television, Netflix's Stranger Things. The cast of Netflix's critically acclaimed series made the trek to the 2017 San Diego Comic Con to deliver non-spoilery answers to what's in store for the show's much anticipated second season during a packed Q&A with fans. They also hit the red carpet to discuss season two, with Dacre Montgomery providing a little insight into his character, Billy. Season two will premiere on October 27, 2017.
You got to reboot one of the quintessential '90s franchises earlier this year and now Stranger Things is so embedded in the '80s. Are there any similarities or are they vastly different?
Dacre Montgomery: "I think there's many similarities in the sense that it's a coming of age story just like Power Rangers is. It's about kids going through puberty, growing up, learning things, learning through failure, learning through success. And, ultimately, sort of banding together just like that film is just the same. But I wasn't born in the '80s so I don't know a lot of things about the time to stay authentic to that period. And embodying a villain as well, I play a protagonist in Power Rangers so playing the antagonist has certainly been lots of fun."
How does Billy the antagonist fit in with these kids who are coming of age?
Dacre Montgomery: "I think he ruffles a few feathers. I think it's like that time of life when you're like, 'Whoa, who is that person in my life that sort of messed with me or made me feel weird or bad?' He's a scary character, you know? It's unnerving."
Does Billy have anything to do with the Upside Down?
Dacre Montgomery: (Laughing) "I can't say. Sorry."
Is Billy who he seems at first?
Dacre Montgomery: "No. But there's a lot of sort of exposition in the season where you'll sort of discover more."
What should we know about Billy going in?
Dacre Montgomery: "The Duffers mentioned a lot of Jack Nicholson type stuff, so I'll just leave you with that. I love Jack Nicholson so it's certainly fantastic to sort of play with his kind of presence."
Do you do a good Jack?
Dacre Montgomery: (Laughing) "I don't know. I hope so. I hope that I can find qualities (like that) and make him my own. Somebody who is my own age and discovering myself."
Watch the full Dacre Montgomery Stranger Things interview:
Stranger Things Season 1: A love letter to the '80s classics that captivated a generation, Stranger Things is set in 1983 Indiana, where a young boy vanishes into thin air. As friends, family and local police search for answers, they are drawn into an extraordinary mystery involving top-secret government experiments, terrifying supernatural forces and one very strange little girl.
Stranger Things Season 2: It's 1984 and the citizens of Hawkins, Indiana are still reeling from the horrors of the Demogorgon and the secrets of Hawkins Lab. Will Byers has been rescued from the Upside Down but a bigger, sinister entity still threatens those who survived.
More on Stranger Things Season 2: Natalia Dyer Interview / Duffer Brothers Interview