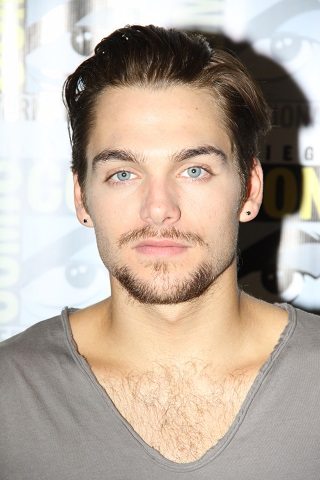 Teen Wolf star Dylan Sprayberry joked that the facial hair he was sporting at the 2016 San Diego Comic Con was all his and had nothing to do with his Teen Wolf character, Liam. "This is Dylan's look. Liam couldn't pull this off. Liam's not that cool!" said Sprayberry, laughing. "He came from prep school – he's pretty clean cut." Sprayberry was one of the Teen Wolf cast members who showed up at Comic Con to talk about the show's sixth and final season, answering questions during roundtable interviews about Liam's relationship with Hayden (played by Victoria Moroles), Scott (Tyler Posey), and Mason (Khylin Rhambo), as well as what we can expect from a more mature Liam.
Dylan Sprayberry Interview:
What is coming up in season six?
Dylan Sprayberry: "There's a lot coming up in season six. We have the Ghost Riders. We have a Nazi werewolf, which is pretty cool…no, they're not pretty cool. Dangerous – you shouldn't talk to them. (Laughing) I'm digging myself in a hole. What we have coming up in season six is a lot of surprises, some new people, some new villains, and a lot of romance and a lot of sweat."
Everyone wants to know about Liam and Hayden. What's going on there?
Dylan Sprayberry: "Layden is great. Liam and Hayden are doing very well. We pick up the next season a little bit further ahead from where we left last season. It just seems like they've grown up, like they've gotten better control of their emotions toward each other and they know how to be in a relationship. It just seems like they've grown up and they've become more mature as individuals and as partners which was really fun to play because that's just what I'm learning as a person is how to be more mature as I'm growing up and how to be in a relationship with someone else and be able to share problems and know how to not be selfish. That seems like the tone of this season."
Hayden has style. Is Liam going to pick up anything from her? Is she going to take him shopping?
Dylan Sprayberry: "Hayden does have style. Oh no, she's dressing him every day. She's telling him what to wear. Don't worry about that. He is looking cooler, but not because of that. He's getting help – lots of help."
If you could give Liam any of your characteristics, what would you give him?
Dylan Sprayberry: "I think the ability to take a joke. I don't think Liam can take a joke. He gets really defensive."
Will he still have anger management issues?
Dylan Sprayberry: "A lot of people ask that and that's a fair question. I think for him with the fact that he's now a werewolf and he has all of these abilities and much bigger problems to worry about, he's learning how to take care of the anger management. But that's always going to be a part of his life and who he was before. That's kind of how everyone is. You know who you came from and you know where you're going, and he knows he has a darker side. That's something he has to deal with and really know how to control. I think for the most part he's able to handle it, but there will be like certain scenes or scenarios this season where some of that does come out, some of that rage does come out. What's Liam without a little bit of anger? A little bit of yelling?"
What's going on with the relationship between Liam and Scott?
Dylan Sprayberry: "I think as Liam's growing, it seems like he's becoming more of a young adult as well. He's getting smarter, he's not as naive and easily tricked. I think that Scott sees that Liam's really trying to put in the effort to show him that he can be a leader one day. It seems like they're almost working together a little bit more. It's like when the young protégé kind of figures his stuff out and then the teacher acknowledges it. Now they're kind of like working together instead of one's up here and one's down here."
After everything they went through last season, how is the friendship between Liam and Mason?
Dylan Sprayberry: "We do pick up a little bit later on. It's already been a while since all that happened. I think the idea is that if you're going to be a werewolf, you're going to have to learn how to deal with this kind of stuff. So, he's accepted that all that happened. They worked it out and it just made them closer as friends. They figured it all out. Everything's out in the open. Everyone knows what happened and they've really become close because of it."
Watch the full Dylan Sprayberry interview:
(Interview by Fred Topel. Article by Rebecca Murray.)