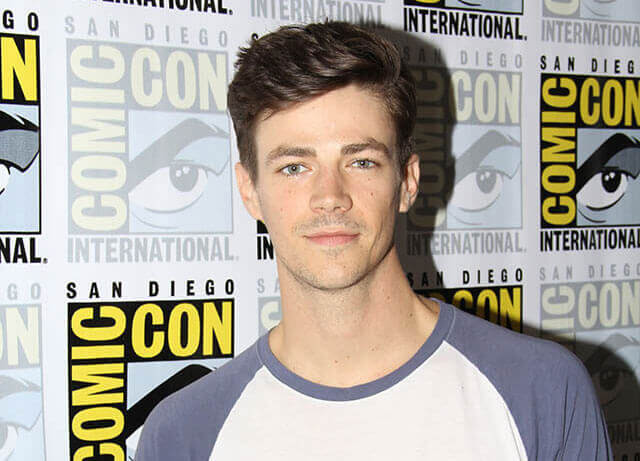 The CW's The Flash star Grant Gustin promises a much lighter tone for season four of the comic book-inspired series. The fourth season of the popular series is set to premiere on October 10, 2017 and during the San Diego Comic Con, Gustin provided a little insight into what fans can expect from the upcoming season. Gustin also talked about Barry's return from the Speed Force and how his absence affected #TeamFlash.
What can you say about where we're going next season?
Grant Gustin: "When we pick it up, Barry's still in the Speed Force. He sacrificed himself in the finale and it's been six months. I think in all honesty it's been harder for #TeamFlash because they've kind of had to pick up the pieces and move forward. Barry's been stuck in purgatory. I think this time in the Speed Force it's not like when we've seen him in the Speed Force and people in his life will embody the Speed Force and kind of talk him through the experience. This time I think he's more or less been left on his own to just kind of reflect. I think he's been experiencing his entire life from start to finish again and again and again, so when he comes out everything's a little jumbled for him. He's a little messed up, but at the root of it I think he's kind of had an awakening.
The first episode's called 'Reborn' and we're going to see Barry get back to his old optimistic self. He's going to appreciate his powers again. He's let go of some of the hardship and whatnot that he's had to deal with, the loss. He'll be able to move forward, kind of get back to the Barry that I think everybody wants to see."
What's new for you playing Barry? You've gotten to play a lot of different variations of him, so what's new in the upcoming season?
Grant Gustin: "Well, I got to do something in the first episode that I can't talk about too much because it's the first time that we see Barry when he comes out. It's unlike anything else I've gotten to do but it's kind of a one-off. It's not like what Barry will be like for the rest of the season, but I had a lot of fun with that. And then moving forward from there I think it'll be back to the roots and the more fun Barry Allen, but it's more mature than we've ever seen him. I think he's owned up to the mistakes he made last year that sent the team down the dark road that it went down. He's been able to let go of that loss of Nora and Henry that he was never really able to let go of. We're going to see a lighter Barry Allen, which will be a lot more fun for me."
The Flash got pretty dark in season three.
Grant Gustin: "It was dark last year. We're going to go back to more season one where we're going to have more fun, there's going to be more comedy. But, I think the cast has come a long way. I think we're all better actors, honestly, than we were season one. The first two scripts are really funny. We're in the process of shooting two right now and it's really funny. We're laughing a lot on set. I think the fans are going to love it. It's going to be kind of a relief to see our characters in the position we find them in."
Where do we pick up with Barry's relationship with Iris?
Grant Gustin: "Iris, she's been having to deal with the heartbreak of Barry leaving her behind and having to understand that the sacrifice he made had nothing to do with their relationship, and not take it personally. It was about the whole city, Central City, and the responsibility Barry feels to take care of his city and his people. I think the only thing that would have kept him from leaving is if Iris would have said, 'Don't leave.' I think he would have probably not really been able to if he had sat down and really talked to her about it. But Barry is, you know, he's happy to be home with his fiancée. They're looking forward to the wedding. It'll mostly be on Iris to find a way to forgive him and to understand why he left, and for them to move forward together."
How does Barry feel about Iris taking over as the leader of Team Flash? Will he step back up and take over?
Grant Gustin: "I think he just naturally just kind of steps up. I think he's a little oblivious to the dynamic at first, to be honest. He'll put his foot in his mouth a couple of times, but I don't think he's being hardheaded about, 'You're not the leader. I'm the leader.' It's more like, 'Oh, this is the dynamic now.' So, we definitely in the first and second episodes see him adjusting to the new dynamic. But, he's cool with it. I think we really are going to see a more mature, open Barry than we've seen. He's not going to be quite as hardheaded and stubborn with his friends."
What's his dynamic with the new big bad?
Grant Gustin: "I don't know yet. We haven't interacted yet. I don't know much about DeVoe, The Thinker from the comics. But it's not a speedster so he will be the fastest man alive for real. It'll definitely be a different kind of dynamic."
What kind of crossover would you like to see this year?
Grant Gustin: "I want to just see us have more fun with our crossovers. Maybe not an alien invasion. I always reference the scene in the karaoke bar with Caitlin and Barry, just because it was fun and it was different than anything else we've done. We had the bowling alley scene that was fun in season one. I'd like to see that, like all of our characters get together in all of the shows and have it not be because the world is about to come to an end."
More on The Flash Season 4:
– Danielle Panabaker Interview
– Tom Cavanagh Interview
– Candice Patton Interview
– Keiynan Lonsdale Interview
– Todd Helbing Interview
Watch the full Grant Gustin The Flash interview: