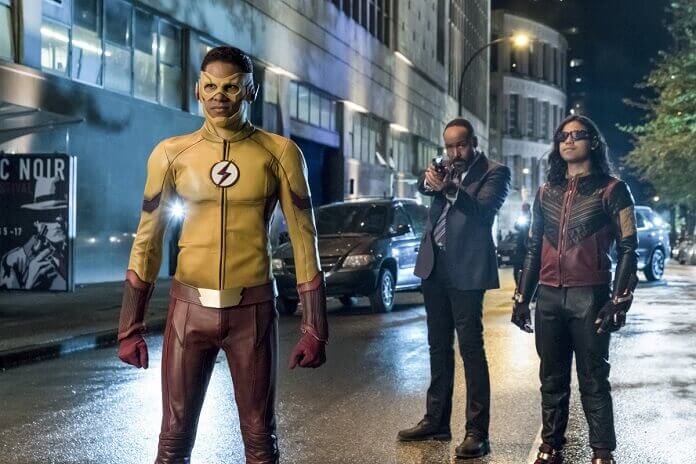 Fans of The CW's The Flash can expect to see #TeamFlash members stepping up to take on expanded roles while Barry Allen/The Flash (Grant Gustin) is out of the picture. Keiynan Lonsdale's Kid Flash has big shoes to fill, taking over as the lead speedster as the team continues to attempt to keep Central City safe. Sitting down for roundtable interviews at the San Diego Comic Con, Lonsdale talked about Kid Flash's place in the team, Wally's relationship with Iris, and the lighter tone of The Flash's fourth season.
The Flash season four debuts on October 10, 2017.
So, it's up to him to save the world at this point?
Keiynan Lonsdale: "Wally? (Laughing) It's up to everyone. Yeah, I think that's probably one thing that we all expected was, 'Okay, now Kid Flash really has to step forward and fill in those shoes.' But, how it sort of organically worked out is that the team has become a unit and everyone has got their place to make the machine run smoothly. So, it's less like a step forward and more a step up, and I think he's enjoying that. There's less pressure in that role. I don't know if Wally would be at the place where he could have all the weight on his shoulders because he's not there yet. And so this has been quite good for the team to sort of be thrust into this situation that is sad but also helps them be stronger."
Since Kid Flash has been the speedster since Barry's been gone, how does he react when Barry returns and takes his place back?
Keiynan Lonsdale: "I think he's trying to figure out how he feels because Wally would be so excited about Barry being back for everyone involved, himself included. But, there's also a sense of freedom and independence that he's really found these past six months. I think he's got to figure out, 'Well, does he have less independence and less freedom? Is he less of a Flash with the return of Barry?' I think those are the questions running through his head and something he's got to try and figure out."
Are you looking forward to a lighter tone this year?
Keiynan Lonsdale: "I think it's less trying to get away from the darkness and more just finding the light within the terrible situations. That's what's happening. There's still heavy stuff going on; there's still heart-wrenching moments. There's still villains out there and crime to fight. But at the same time, I think when we make mistakes, we're not as down on yourselves about making those mistakes. It's sort of just funny, like finding the light in those situations. I know Wally is, for sure. He's enjoying all of this. He has a good energy. The whole thing feels more comic book-y like that."
Which of Wally's relationships are focused on early in the season?
Keiynan Lonsdale: "Maybe all of them. Wally really feels like right there in the team when we kick off, and so I definitely feel like Wally and Iris (Candice Patton) have really solidified their relationship. They know each other so well that even if they're not saying anything to each other, they've got each other which is very helpful for a situation when you're out fighting crime and whatnot. And, it's cool to see. That's not where they started. Wally was very defensive and didn't feel secure in the family. So, it's really fun to see that transition and see that change."
So, he's okay with Iris being in charge of the group at this point?
Keiynan Lonsdale: "Of course. I think Wally is in a place where… Everyone has a space and a place to be that can make this work. We're used to having this amazing superhero, Barry Allen, leading the fight. And with him gone, there's literally no other choice but for us to band together. We haven't been the leaders, so this is where Iris' strong points can really come in and blossom which is really cool because maybe we haven't seen her as much in the journalism side but it's like using her brain in a whole different way. It's cool and I think Wally loves to see that."
More on The Flash Season 4:
– Grant Gustin Interview
– Danielle Panabaker Interview
– Candice Patton Interview
– Todd Helbing Interview
– Tom Cavanagh Interview