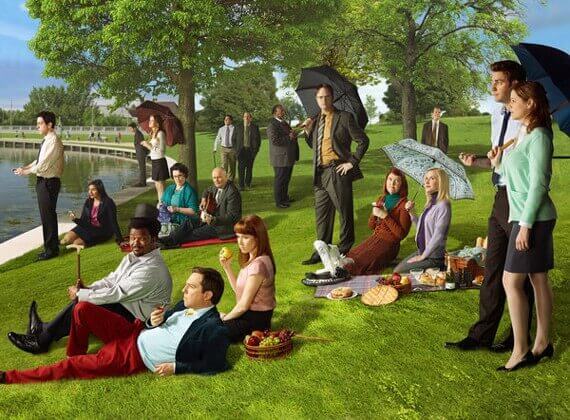 Starring: Rainn Wilson, John Krasinski, and Jenna Fischer [full cast list under the 'Cast' tab] Series Premiere: March 24, 2005
Season 2 Debuted: September 20, 2005
Season 3 Debuted: September 21, 2006
Season 4 Debuted: September 27, 2007
Season 5 Debuted: September 25, 2008
Season 6 Debuted: September 17, 2009
Season 7 Debuted: September 23, 2010
Season 8 Debuted: September 22, 2011
Season 9 Debuted: September 20, 2012
Genre: Comedy
Running Time: 30 minutes
Network: NBC
Inspired By: The British series of the same name starring Ricky Gervais
News: NBC passes on The Office spin-off
The Synopsis: A fly-on-the-wall "docu-reality" parody about modern American office life, The Office delves into the lives of the workers at Dunder Mifflin paper supply company in Scranton, Pennsylvania. Regional manager Michael Scott (Steve Carell thru season 7) is a single, middle-aged man who is the boastful tour guide for the documentary. With unshaken enthusiasm, Michael believes he is the office funnyman, a fountain of business wisdom and his employees' cool friend. He has no clue that his employees tolerate his inappropriate behavior only because he signs their paychecks. Painstakingly trying to be liked and to look cool, Michael comes off alternately absurd and pathetic. His prize possession is his "World's Greatest Boss" mug — which he had to buy for himself.
Pam Beesly (Jenna Fischer) is former office receptionist now saleswoman.  Pam's office romance with Jim Halpert (John Krasinski) quickly evolved into marriage followed by the birth of their daughter.
Jim shares his working space with Dwight Schrute (Rainn Wilson), the arrogant assistant to the regional manager. Dwight is intensely irritating to normal people while Jim spends a lot of time finding new, interesting ways to drive Dwight crazy.  Ryan Howard (B.J. Novak) is the young, smart, former temp, who's fall from grace as a Dunder Mifflin executive quickly landed him back at the bottom of the food chain in Scranton.
[tabs style="default" title="'The Office' Resources"] [tab title="Cast"] Rainn Wilson – 'Dwight Schrute'
John Krasinski – 'Jim Halpert'
Jenna Fischer – 'Pam Beesly'
Ed Helms – 'Andy Bernard'
BJ Novak – 'Ryan Howard'
Leslie David Baker – 'Stanley Hudson'
Brian Baumgartner – 'Kevin Malone'
Angela Kinsey – 'Angela Martin'
Phyllis Smith – 'Phyllis Vance'
Kate Flannery – 'Meredith Palmer'
Mindy Kaling – 'Kelley Kapoor'
Creed Bratton – 'Creed Bratton'
Oscar Nunez – 'Oscar Martinez'
Paul Lieberstein – 'Toby Flenderson'
Ed Helms – 'Andy Bernard'
Craig Robinson – 'Darryl Philbin'
Ellie Kemper – 'Kelly Erin Hannon'
Steve Carell – 'Michael Scott' (left after the 2010/2011 season)
[/tab] [tab title="Videos"]

[/tab] [tab title="Photos"]Coming Soon
[/tab] [/tabs]