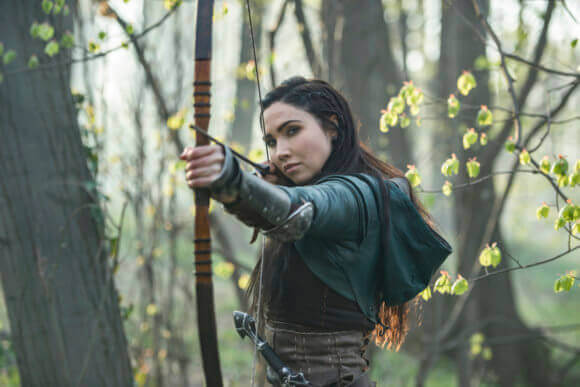 Season two of The CW's The Outpost continues with episode six titled "Because She's Worth It." The episode was directed by Orsi Nagypal from a script by Jason Faller and Kynan Griffin and will debut on August 15, 2019.
New episodes of season two air on Thursdays at 9pm ET/PT.
The season two cast is led by Jessica Green as Talon. Imogen Waterhouse plays Gwynn, Anand Desai-Barochia is Janzo, Jake Stormoen is Captain Garret Spears, Philip Brodie is Everit Dred, Robyn Malcolm is The Mistress, and Andrew Howard plays Marshal Withers.
Jason Faller and Kynan Griffin created the series and serve as executive producers with Marc Roskin and Rachel Olschan-Wilson. Jennifer Griffin and Jonathan English produce.
"Because She's Worth It" Plot: SECRETS AND LIES – Talon (Green) and Zed (guest star Reece Ritchie) leave on a quest to Talon's childhood home. Meanwhile, Tobin (guest star Aaron Fontaine) proves his worth to Gwynn (Waterhouse). Janzo (Desai-Barochia) experiments with plaguelings and Naya's (guest star Amita Suman) Prime Order connections return to haunt her.
The Outpost Plot:
"Having defeated Dred and retaken the Outpost, Talon (Green) and Gwynn prepare for war. Talon delves deeper into demon summoning, while Gwynn (Waterhouse) recruits allies. The Prime Order trinity known as "The Three" reveal mysterious powers as they send spies, assassins, and a devastating weapon to the Outpost. As Talon uncovers the legacy of her people, she must decide who to trust, and separate her real friends from her enemies before the Prime Order attacks."