Fox is set to premiere the new sci-fi drama The Passage on January 14, 2019. The series is based on Justin Cronin's best-selling trilogy and stars Mark-Paul Gosselaar, Saniyya Sidney, Henry Ian Cusick, Caroline Chikezie, Brianne Howey, and Jamie McShane. The series involves the spread of a virus and the creation of a new race of beings, with Mark-Paul Gosselaar playing a Federal Agent who goes on the run with a young girl, Amy Bellafonte (Sidney), scientists have chosen as a test subject.
The series' pedigree behind the scenes includes Oscar nominee Ridley Scott and writer/director Matt Reeves (Dawn of the Planet of the Apes, Cloverfield) as executive producers. Friday Night Lights' Liz Heldens writes and executive produces, and executive producer Jason Ensler (The Exorcist) directed the first episode.
Mark-Paul Gosselaar and Saniyya Sidney were paired up for roundtable interviews at the 2018 San Diego Comic Con. Gosselaar and Sidney's characters' storylines are intertwined, and in our interview they discussed preparation for the roles and their knowledge of Cronin's popular novels.
Did you know the books prior to the series?
Mark-Paul Gosselaar: "Yes. I read the script first and knew that they were based on the trilogy. The minute I knew there was interest in me playing the character, I did the research and read all three books, much to the chagrin of my wife because it literally consumed every moment of my day."
What did you find about your character that you could really latch onto?
Mark-Paul Gosselaar: "It was relatable for me because I had a 12-year-old daughter. I have young kids and I could relate to how Brad could morally and ethically make the decision that he does in the pilot. And then just being a fan outside of my character, I thought the characters Justin Cronin develops and the worlds that he creates and the adjectives that he uses, I just became a fanboy of the books."
Did you speak with Justin about your character?
Mark-Paul Gosselaar: "No because the books are pretty much a blueprint for us as actors as well as the writers. I did meet him and, like I said, I was like a fanboy meeting this guy. I remember him coming to set. We were filming a scene at the carnival which is actually in the book where Brad takes Amy. I was just picking his brain – not about my character. I was talking about Peter and Alicia and what happens in the future. He sort of signed off on me and said, 'You're a perfect Wolgast.' Off I went and felt really good about that compliment."
Complete validation.
Mark-Paul Gosselaar: "Complete validation."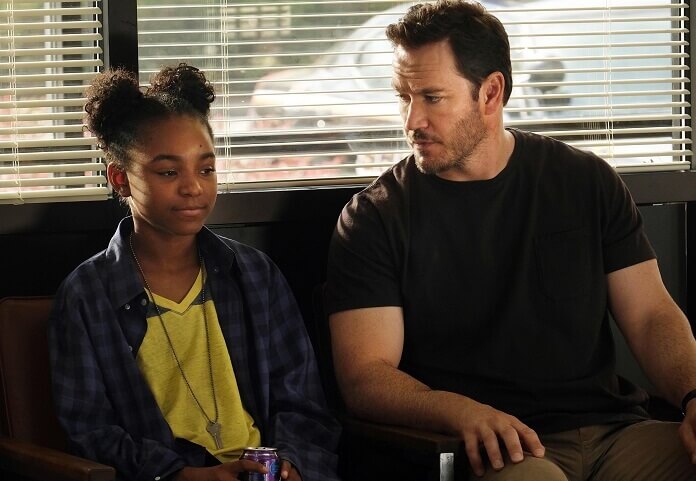 How would you describe Brad's emotional journey over the course of the first season?
Mark-Paul Gosselaar: "I don't want to give too much away but my character isn't around a lot in subsequent books. A lot of what happens to my character shapes what will end up happening in the future. What I've been told – and I'm being super cryptic about this – is that we will go into the backstory of my character and flash back to his relationship with this ex-wife and their daughter and why he feels the way he does in the pilot."
What did you find so intriguing about the books?
Mark-Paul Gosselaar: "He has an amazing ability to leave every single chapter on a cliffhanger, in a way, which makes you then want to read the first three pages of the next chapter. You find yourself reading that whole chapter and then the cycle continues. These characters were so rich and so well developed. I felt like everybody in every single one of his books would come back in some way or another. They would seem insignificant in one and then chapters later they'd be a pillar in another.
I just fell in love with his writing. I fell in love with the characters. They sort of live with you as you're reading the books and beyond, which makes you want to pick up the second book and the third book. (Laughing) After the third book I went to rehab."
Did you do anything special to bond for this surrogate father/daughter relationship?
Saniyya Sidney: "I don't know. Did we?"
Mark-Paul Gosselaar: "Not really because the story starts off with her being very skeptical and very guarded towards any authority figure."
Saniyya Sidney: "Which I did when I first met him."
Mark-Paul Gosselaar: "So, it sort of played. We were very fortunate to shoot it in a sort of linear fashion, so we were able to develop our relationship as the story developed as well."
Saniyya Sidney: "Now I can say he's one of my best friends, even though he's a grown up."
Mark-Paul Gosselaar: "BFF."
Saniyya Sidney: "BFF. You're a BFF."
How would you describe Amy?
Saniyya Sidney: "Amy Bellafonte, as I always say I can describe her in three words. She's a bad girl, she's a little girl, and it's up to her to save the world. That's what I'm all about."
Mark-Paul Gosselaar: (Smiling) "That's a lot more than three words."
Did you read the books?
Saniyya Sidney: "I actually read some. My dad read all three."
Mark-Paul Gosselaar: "Her dad and I would actually geek out about the books. While we were filming the pilot he'd say, 'Did you get to that chapter yet where this and this happens?' I'm like, 'Yeah, I'm past that.' He's like, 'What happens?' I'm like, 'I'm not going to tell you!'
Her dad was feeding her information."
Saniyya Sidney: "Pretty much. But I'm waiting to read the books, so I can be surprised what happens to the character…"
Mark-Paul Gosselaar: "You'll be surprised."
Saniyya Sidney: "…and just see where this journey takes us."
What makes Amy so special?
Saniyya Sidney: "It takes this one girl to save the world. One top of that, I don't know how to describe it. Imagine one of you guys having to save all of humanity and it's up to you. No pressure! But at the same time, she goes through a lot. It's just up to her. It's a crazy journey for her and she goes through so much. Over time you can see that she's matured. She's not a follower; she's a leader."