Is there an obvious Oscar Best Picture winner among 2018's theatrical releases? Roma, Green Book, and The Favourite have certainly increased their odds of snagging an Oscar statuette as they add critics groups nominations/wins to their résumés. However, there's a lot of jockeying for position among the next 15-20 films thought to be in contention.
My list of 2018's best movies is all over the place genre-wise. A captivating, timely thriller and a film that builds tension without the use of dialogue made this Top 15 list, along with a Marvel superhero film that not only broke box office records but was culturally significant. The return of a magical nanny, the latest remake of A Star is Born, and a journey into space with Neil Armstrong occupy spots on this year's best movies list.
A quiet, character-driven tale set in the world of rodeo riders and the heart-wrenching story about gay conversion therapy (that shouldn't be timely but is) lingered long past the final credits. Christian Bale channels one of the most despicable American politicians in Vice, and this year served up an impressively authentic R-rated coming-of-age tale.
The true story of a writer who turned to forgery to pay her bills and a so-crazy-it-couldn't-possibly-be-true-but-it-is cop drama entertained while shining the spotlight on two intriguing real stories. Another true story, this time of a jazz pianist and the Italian American bouncer who drove him to concert stops in the deep South during the 1960s, showcased the incredible talents of Mahershala Ali and Viggo Mortensen.
My annual disclaimer: This 'Best Of' list, with main cast lists and official plot descriptions, represents my personal favorite films of the year. Since it's a matter of personal taste, your list will most likely be very different from mine. Each of the movies on my Top 15 list sparked conversations or debates, and many introduced a new talent either in front of or behind the camera.
15. First Man starring Ryan Gosling, Claire Foy, Jason Clarke, Kyle Chandler, Patrick Fugit, Ciaran Hinds, Ethan Embry, Shea Whigham, Corey Stoll, and Pablo Schreiber
The Plot: On the heels of their six-time Academy Award-winning smash, La La Land, Oscar-winning director Damien Chazelle and star Ryan Gosling reteam for Universal Pictures' First Man, the riveting story behind the first manned mission to the moon, focusing on Neil Armstrong and the decade leading to the historic Apollo 11 flight. A visceral and intimate account told from Armstrong's perspective, based on the book by James R. Hansen, the film explores the triumphs and the cost—on Armstrong, his family, his colleagues and the nation itself—of one of the most dangerous missions in history.
14. Eighth Grade starring Elsie Fisher, Josh Hamilton, Emily Robinson, and Jake Ryan
The Plot: Thirteen-year-old Kayla endures the tidal wave of contemporary suburban adolescence as she makes her way through the last week of middle school—the end of her thus far disastrous eighth grade year—before she begins high school.
13. A Star is Born starring Bradley Cooper, Lady Gaga, Andrew Dice Clay, Dave Chappelle, and Sam Elliott
The Plot: In this new take on the tragic love story, he plays seasoned musician Jackson Maine, who discovers—and falls in love with—struggling artist Ally (Gaga). She has just about given up on her dream to make it big as a singer… until Jack coaxes her into the spotlight. But even as Ally's career takes off, the personal side of their relationship is breaking down, as Jack fights an ongoing battle with his own internal demons.
12. Mary Poppins Returns starring Emily Blunt, Lin-Manuel Miranda, Ben Whishaw, Emily Mortimer, Julie Walters, and Colin Firth
The Plot: The film is set in 1930s depression-era London (the time period of the original novels) and is drawn from the wealth of material in PL Travers' additional seven books. In the story, Michael (Whishaw) and Jane (Mortimer) are now grown up, with Michael, his three children and their housekeeper, Ellen (Walters), living on Cherry Tree Lane. After Michael suffers a personal loss, the enigmatic nanny Mary Poppins (Blunt) re-enters the lives of the Banks family, and, along with the optimistic street lamplighter Jack (Miranda), uses her unique magical skills to help the family rediscover the joy and wonder missing in their lives.
11. Can You Ever Forgive Me? starring Melissa McCarthy, Richard E. Grant, Dolly Wells, Jane Curtin, Ben Falcone, Anna Deavere Smith, and Stephen Spinella
The Plot: Melissa McCarthy stars in the adaptation of the memoir Can You Ever Forgive Me?, the true story of best-selling celebrity biographer (and friend to cats) Lee Israel who made her living in the 1970s and '80s profiling the likes of Katharine Hepburn, Tallulah Bankhead, Estee Lauder and journalist Dorothy Kilgallen. When Lee is no longer able to get published because she has fallen out of step with current tastes, she turns her art form to deception, abetted by her loyal friend Jack (Grant).
10. Vice Christian Bale, Steve Carell, Amy Adams, and Sam Rockwell
The Plot: Spanning a half-century, Cheney's (Bale) complex journey from rural Wyoming electrical worker to de facto President of the United States is a darkly comic and often unsettling inside look at the use and misuse of institutional power. In Adam McKay's capable hands, the dichotomy between Cheney, the dedicated family man and political puppet master, is related with intimacy, wit and narrative daring.
Guided by his formidable and unfailingly loyal wife, Lynne (Adams) and mentored by the brusque and blustery Donald Rumsfeld (Carell), Cheney insinuated himself into the Washington D.C. fabric beginning with the Nixon administration, becoming White House Chief of Staff under Gerald Ford, and after five terms in Congress, Secretary of Defense for George H.W. Bush. In 2000, he left his position as C.E.O. of Halliburton to run as Vice President to George W. Bush (Rockwell) with the implicit understanding that he would exercise almost unchecked control, a co-president in all but name.
Cheney's cunning and furtive political maneuvering have altered the American political landscape in ways that will continue to reverberate for decades to come. But it is clear there is more than one Dick Cheney, a man whose reputation in the public Spector belies his private life and obvious devotion to his family.
9. BlacKkKlansman starring Adam Driver, John David Washington, Topher Grace, Corey Hawkins, Laura Harrier, Paul Walter Hauser, Jasper Pääkkönen, Ryan Eggold, Ashlie Atkinson, and Harry Belafonte
The Plot: From visionary director Spike Lee comes the provocative story based on Ron Stallworth's real life as Colorado Springs's first African-American police officer who went undercover to infiltrate the Ku Klux Klan. Unbelievably, Detective Stallworth (Washington) and his partner Flip Zimmerman (Driver) penetrate the KKK at its highest levels to thwart its attempt to take over the city.
8. Boy Erased starring Nicole Kidman, Lucas Hedges, Russell Crowe, Cherry Jones, Michael "Flea" Balzary, Xavier Dolan, Troye Sivan, Emily Hinkler, Jesse LaTourette, David Joseph Craig, Théodore Pellerin, and Britton Sear
The Plot: The film will tell the story of Jared, the son of a Baptist pastor in a small American town, who is outed to his parents at age 19. Jared is faced with an ultimatum: attend a gay conversion therapy program – or be permanently exiled and shunned by his family, friends, and faith. Boy Erased is the true story of one young man's struggle to find himself while being forced to question every aspect of his identity.
7. A Quiet Place starring Emily Blunt, John Krasinski, Noah Jupe, and Millicent Simmonds
The Plot: In the modern horror thriller A Quiet Place, a family of four must navigate their lives in silence after mysterious creatures that hunt by sound threaten their survival. If they hear you, they hunt you.
6. Black Panther starring Chadwick Boseman, Michael B. Jordan, Lupita Nyong'o, Danai Gurira, Martin Freeman, Daniel Kaluuya, Letitia Wright, Winston Duke, Angela Bassett, and Forest Whitaker
The Plot: Marvel Studios' Black Panther follows T'Challa (Boseman) who, after the death of his father, the King of Wakanda, returns home to the isolated, technologically advanced African nation to succeed to the throne and take his rightful place as king. But when a powerful old enemy reappears, T'Challa's mettle as king—and Black Panther—is tested when he is drawn into a formidable conflict that puts the fate of Wakanda and the entire world at risk. Faced with treachery and danger, the young king must rally his allies and release the full power of Black Panther to defeat his foes and secure the safety of his people and their way of life.
5. The Rider
starring Brady Jandreau, Tim Jandreau, Lilly Jandrea, Lane Scott, and Cat Clifford
The Plot: After a tragic riding accident, young cowboy Brady, once a rising star of the rodeo circuit, is warned that his competition days are over. Back home, Brady finds himself wondering what he has to live for when he can no longer do what gives him a sense of purpose: to ride and compete. In an attempt to regain control of his fate, Brade undertakes a search for new identity and tries to redefine his idea of what it means to be a man in the heartland of America.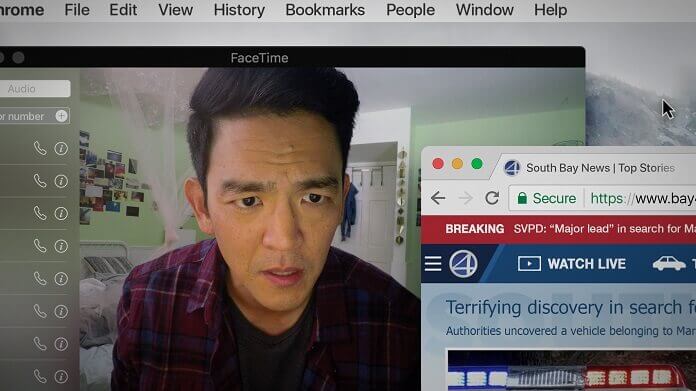 4. Searching
starring John Cho, Debra Messing, and Michelle La
The Plot: After David Kim's 16-year-old daughter goes missing, a local investigation is opened and a detective is assigned to the case. But 37 hours later and without a single lead, David decides to search the one place no one has looked yet, where all secrets are kept today: his daughter's laptop. In a hyper-modern thriller told via the technology devices we use every day to communicate, David must trace his daughter's digital footprints before she disappears forever.
3. Green Book starring Viggo Mortensen, Linda Cardellini, Sebastian Maniscalco, Dimiter D. Marinov, and P.J. Byrne
The Plot: When Tony Lip, a bouncer from an Italian-American neighborhood in the Bronx, is hired to drive Dr. Don Shirley, a world-class Black pianist, on a concert tour from Manhattan to the Deep South, they must rely on "The Green Book" to guide them to the few establishments that were then safe for African-Americans. Confronted with racism, danger-as well as unexpected humanity and humor-they are forced to set aside differences to survive and thrive on the journey of a lifetime.
2. The Favourite
starring Olivia Colman, Rachel Weisz, Emma Stone, and Nicholas Hoult
The Plot: Early 18th century. England is at war with the French. Nevertheless, duck racing and pineapple eating are thriving. A frail Queen Anne occupies the throne and her close friend Lady Sarah governs the country in her stead while tending to Anne's ill health and mercurial temper. When a new servant Abigail arrives, her charm endears her to Sarah. Sarah takes Abigail under her wing and Abigail sees a chance at a return to her aristocratic roots.
As the politics of war become quite time consuming for Sarah, Abigail steps into the breach to fill in as the Queen's companion. Their burgeoning friendship gives her a chance to fulfil her ambitions and she will not let woman, man, politics or rabbit stand in her way.
1. Roma
starring Marina de Tavira and Yalitza Aparicio
The Plot: Roma follows Cleo, a young domestic worker for a family in the middle-class neighborhood of Roma in Mexico City. Delivering an artful love letter to the women who raised him, Cuarón draws on his own childhood to create a vivid and emotional portrait of domestic strife and social hierarchy amidst political turmoil of the 1970s.