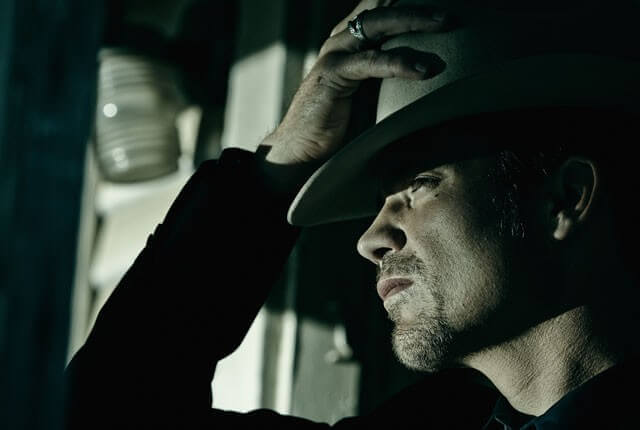 FX has already said goodbye to Sons of Anarchy this year and now critically series Justified is about to begin its final season on the network, which means fans of the dramatic series based on Elmore Leonard's short story "Fire in the Hole" only have a little over a dozen new episodes left to watch before it's all over. Season six is set to premiere on January 20, 2015 with Timothy Olyphant back in the lead role of U.S. Marshal Raylan Givens, and at FX's TCA winter press event executive producer/writer Graham Yost and Olyphant talked about this final season of the show.
Asked what Olyphant should do next after finishing his run on Justified, Yost replied, "You know one of the things that made Tim, Raylan, and why Elmore loved him so much and felt that he was the best embodiment of any of his characters is that he can do the scary, he can do the romantic, and he can be incredibly funny. And I just hope someone writes something for him that lets him use all the stuff that he's been able to do on Justified."
It was announced months ago that season six will be the end of Justified, and according to executive producer/writer Graham Yost there's a solid reason why the show needed to wrap up this year. "Tim and I started talking about this, and we also discussed it with Michael [Dinner] and Fred [Golan] and Sarah Timberman and Carl Beverly in season four, and we just sort of felt like if this chapter of Raylan's life was about Raylan and Boyd, that we can only take that story so far. And, yeah, that was basically it. We didn't want to outstay our welcome."
Timothy Olyphant and Graham Yost Q&A

When did you decide how you wanted the show to actually end and was it early enough that you were able to tell Elmore?


Graham Yost: "No, we weren't able to tell Elmore. He passed away the summer before we started a fifth season, and I can't remember the last time I spoke with him. […]You know, Fred and I have been talking about how to end the thing probably since about season three and it changes every year."

You've got all these heartbreaking scenes of Raylan missing his daughter and it's possible you're setting us up for a big fall because it's hard to picture Raylan moving and being a dad. Is there anything you can tell us about the upcoming season?

Timothy Olyphant: [Joking] "Yeah, it's going to be depressing."
Graham Yost: "It's going to be totally depressing."
Timothy Olyphant: "There's going to be a big…we are setting you up. It's going to be sad. We thought Elmore would like it that way."


Graham Yost: "That's what Elmore liked was really depressing."
Timothy Olyphant: "We are like, 'You know, he's never ended one of his books really where you are crying,' and we thought that's what we'll do."


Graham Yost: "That's what he was thinking of doing for his 46th book. No. Yeah, you'll pay to find that out, or not pay because it's free. It's on FX."
Assuming Raylan doesn't kick it before or during the finale, where do you see Raylan 20 years from now, personally and professionally?
Timothy Olyphant: "On FX."


Graham Yost: "Tim has been pitching for a long time…"


Timothy Olyphant: "…a movie of the week."


Graham Yost: "That Raylan go out to Hollywood, work as a technical advisor on a martian show. So we've had a lot of fun over the years with Charlie Almanza, our advisor who was the chief deputy at the OA office and other offices. So maybe that's what he'll do if he survives."

Are there any plans to bring back past adversaries or unusual characters just as sort of an homage to the series and a wink to the past?


Graham Yost: "No. I mean, if the story presents itself, there are characters that we are bringing back. That was one of the talks we had between me, Fred, the other writers, Tim and FX and Sony, too, which is we didn't want this to be 'The Greatest Hits.' But, that said, there are characters who will come in because they are a part of that world. So it doesn't feel to us like we are just, you know, checking that box even though Neal McDonough sent me a couple of emails saying, 'You know, we don't know if Quarles is dead or not, a one-armed man.' And, yeah, so we are not doing that."

For you as an actor, building into this final season, how emotionally different is it to prepare for the ending of a series rather than just being 'Deadwooded'?


Graham Yost: "Wow, that's now a term. That's a mean term. You mean just being canceled?"



Timothy Olyphant: "I will say that it is nice[…]to have an opportunity to know the end is coming. Usually, when things end, I'm not the first person to find out. So, that's been lovely. And I think it's been wonderful to just be able to see the finish line and enjoy it.
All I'm prepared for is that I'm unemployed in a few weeks, and I'm going to have to say yes to some sh**ty-a**, f**king jobs. [Laughing] All the jobs I've said no to in the last five years, I'm going to say yes to them in about six weeks."
We've been seeing a trailer that shows Raylan and Boyd shooting at each other and Ava apparently burning down the house with them in it. Now, is this a metaphor for the sort of things that are happening in the coming season or is that actual action?
Graham Yost: "No. When we saw that trailer ourselves, we said, 'Well, now we can't do the episode where she burns them to death,' and that was very disappointing. It was just a notion of her frustration, I think, and her being caught in the middle. But that's not the story."
Endings are really tough, but did it come to you very naturally and organically or was this something that you really had to hash-out in the writers' room and bounce off the walls and come up with something that you all felt worked well?
Graham Yost: "Yeah. We don't have the ending yet. We're shooting number 10 now and we got a script for 11. We're going to be banging on that for the next week, and we're also breaking in and outlining 12, and then we're getting into 13. Now, that doesn't mean we haven't been thinking about the ending, and Michael and Fred and I and Tim, everyone, and Sarah, we've all been talking about the ending. But Elmore didn't outline and he'd just start writing, and then he would, if he didn't like where it was going, he would just throw out the pages and start again. Can't do that when you're doing a television show, except to the degree that when you're going toward the ending, that we've got a certain amount of flexibility. We are going to have to do it pretty quickly in the next few weeks, but we absolutely don't know exactly how this is going to end yet.
Not with Ava burning them down in a house. But other than that, everything's pretty much open."
You have a pretty large cast of secondary characters. How much emphasis are you going to be able to put on crafting endings for some of the secondary players, particularly Tim [Jacob Pitts], Rachel [Erica Tazel], and Art [Nick Searcy], who have been there from the beginning?
Graham Yost: "You know, that was one of the targets for this last season was to use more Rachel and more Tim and to do something a little different with Art. They're a big part of the world, and so that's been fun. There's just a lot of fun in seeing Rachel and Tim giving Raylan sh*t. That's one of our go-to things. We always enjoy writing those scenes and they really have a great time doing it, it seems."
Sam Elliott is about as iconic a Western actor as is alive today. Is getting someone like Mr. Elliott something you would have done in the non-final season or is does this sort of up the stakes symbolically?
[Producer Michael Dinner responds: "We're thrilled that Sam came to join us. We've been lucky to have great actors come in and join us every season, and we're huge fans of his work. He just felt like this character, so to come in at the end, I don't think it was a conscious thought of 'Let's get an iconic actor to play this role.' We just love his work and when you see the work, as you see the episodes come out, it's fantastic."]
Timothy Olyphant: "Only I'm f**ked now because I've been stealing from him for years, and now I'm actually standing right next to him and it's obvious. It really looks bad. Like, he does the authentic thing, and then they cut to my coverage where I'm stealing the authentic thing. It's not good. Everyone says, 'Oh, I get it. You're doing Sam Elliott only not as cool.' You'll see."
– By Fred Topel
Follow Us On: