Tupac Shakur was killed on September 13, 1996 and Christopher "The Notorious B.I.G." Wallace's murder followed six months later on March 9, 1997. Two decades after their slayings neither murder has been solved. USA Network examines the two major police investigations into Tupac and Biggie Smalls' murders with the new series, Unsolved: The Murders of Tupac and The Notorious B.I.G.
Premiering on February 27, 2018, the 10-episode true crime limited series was created by Kyle Long (Suits), with Long writing and executive producer Anthony Hemingway (Shameless, Underground), Kate Woods (Agents of S.H.I.E.L.D.), Ernest R. Dickerson (Bosch), Darren Grant (Saints & Sinners), and Erica Watson directing. Marcc Rose (Straight Outta Compton) plays Tupac Shakur and Wavvy Jonez is Biggie Smalls, with the newcomers leading a talented ensemble of veteran actors and delivering two terrific performances in USA Network's riveting new anthology series.
Unsolved: The Murders of Tupac and The Notorious B.I.G. uses three distinct timelines to explore the events leading up to the murders as well as the subsequent police investigations. All three timelines are seamlessly woven into each episode, and it's easy to keep up with the different stories as the series progresses.
The key timeline begins in 1993 and follows Tupac and Biggie as they meet, become friends, and then ultimately part as the East Coast / West Coast rap rivalry draws distinct lines in the sand. Timeline two takes place in 1997 when Los Angeles Police Detective Russell Poole (Jimmi Simpson) is handed the job of leading the investigation into Biggie's murder. The third timeline is set in 2006 and features Josh Duhamel as LAPD Detective Greg Kading, the head of a task force assigned to re-examine the evidence and track down Biggie's killer.
Director Hemingway (episodes one, two, four, eight, and 10) found an interesting way to differentiate the timelines, opting to use different color palettes for each of the storylines. Viewers can't get lost or mix up the timelines, thanks to Hemingway's visual cues. The change in colors compliments each timeline's tone and production design, and sets each timeline apart from the others.
It's no small feat that Marcc Rose and Wavvy Jonez are able to transform into larger-than-life rap legends, Tupac and Biggie. Rose and Jonez are completely convincing as the hip hop legends who were shot down in their mid-20s. Rose also portrayed Tupac in Straight Outta Compton, and both he and Jonez bear striking resemblances to the slain rappers. The series touches on their intersecting lives and careers, reminding (or informing) viewers that when the rappers first met, Tupac had already made a name for himself while Biggie was at the beginning of what would be a short-but-substantial career.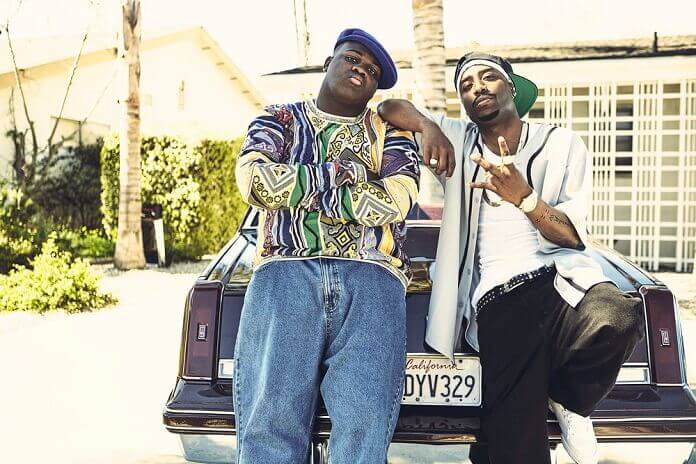 The series lays out how Tupac was a mentor to Biggie until Tupac was shot and nearly killed at a recording studio. He blamed Biggie and his crew for setting him up, and the East Coast / West Coast rivalry was born, backed by Bad Boy Records and Sean "Puffy" Combs (played by Luke James) and Death Row Records and Suge Knight (played by Dominic L. Santana who also played Knight in All Eyez on Me). It's a fascinating reconstruction of the two rappers' journeys leading up to their deaths, with key supporting players' roles in the rivalry delved into in varying degrees of detail during the 1997 and 2006 police investigations segments.
The 1996 investigation led by Detective Poole revealed corruption within the Los Angeles Police Department and the possibility that officers were involved in, or had knowledge of, what went down at Death Row Records. Poole's attempt to get at the truth were thwarted by those who wanted to protect the department. Although he believed he was close to uncovering the actual murderer, Poole wasn't able to complete his very thorough investigation.
Flash-forward to 2006 and Biggie's case is reopened and given to Greg Kading to investigate with fresh eyes. Kading's allowed to put together his own task force, which includes Detective Daryn Dupree (Bokeem Woodbine), and the new team wades through Poole's voluminous records to attempt to find overlooked clues.
Both the 1997 and 2006 investigations focus on the murder of Christopher "The Notorious B.I.G." Wallace because his death occurred in Los Angeles. Tupac's murder is obviously related and thus is part of both investigations.
Throughout the years, various players have emerged as possible suspects, however 21 years after the killings no one has been arrested. The series exposes possible triggermen, puts forth different possible motives behind the slayings, and provides details that make for a gripping crime thriller even for audiences who have little or no knowledge of the events surrounding the murders.
Unsolved: The Murders of Tupac and The Notorious B.I.G. singles out key characters as the focus of the investigations and offers a fascinating peek into the world of Tupac and Biggie as well as their entourages and business associates. Equally fascinating is the reveal of how many police officers were involved as security at Death Row Records in the months prior to Tupac's murder.
Series creator Kyle Long assembled a first-rate cast, topped by Jimmi Simpson, Josh Duhamel, Bokeem Woodbine, Wavyy Jonez, and Marcc Rose, to explore the unsolved murder cases. The result is an intriguing and entertaining exploration into a world of shifting alliances, jealousy, loyalty, and murder.
* * * * * * * *
The series is based on former LAPD detective Greg Kading's bestselling Murder Rap: The Untold Story of Biggie Smalls & Tupac Shakur and Kading was involved as a co-executive producer. Unsolved: The Murders of Tupac and The Notorious B.I.G. will air on Tuesdays at 10pm ET/PT.
GRADE: B+
Running Time: 1 hour episodes
Additional Cast: Aisha Hinds, Scott Michael Campbell, Michael Harney, Jamie McShane, Camille Chen, Laurie Fortier, and Spencer Garrett