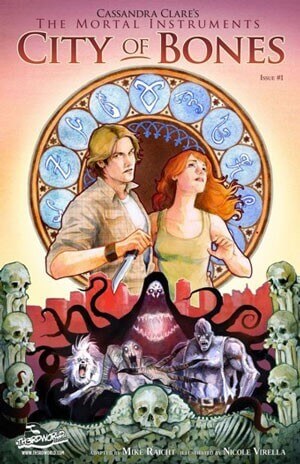 Cassandra Clare's bestselling The Mortal Instruments book trilogy is not only getting the big screen treatment with a feature film currently in production, it's also the source material for a graphic novel series from comiXology and Th3rd World Studios. The fist issue – City of Bones – was released today and will be followed by eight more graphic novel adaptations.
The series will be released one issue per month, and they'll be available exclusively on digital platforms including iPhone, iPad, Android, Kindle Fire, Windows 8 and internet.
Th3rd World Co-Publisher Jon Conkling stated: "The Mortal Instruments series has a passionate fan-base who care greatly about this wonderful series, so we have been working hard to remain as faithful to the source material as possible."
The Plot:
In City of Bones, the handsome Jace introduces fifteen-year-old Clary Fray to the world of the Shadowhunters, a secret cadre of warriors dedicated to driving demons out of our world. She is sure that Valentine, the evil and powerful Shadowhunter, is responsible for her mother's disappearance, but she's about to discover much more.
Source: comiXology and Th3rd World Studios