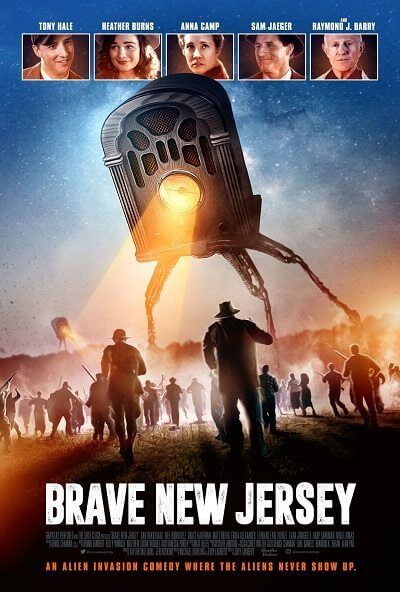 Gravitas Ventures has unveiled a new trailer and poster for the comedy film Brave New Jersey about a small New Jersey town that fell for the War of the Worlds hoax. Jody Lambert (People Like Us) co-wrote the script with Michael Dowling (Law & Order) and directed the alien invasion comedy starring Tony Hale (Veep), Anna Camp (Pitch Perfect), Sam Jaeger (Parenthood), Heather Burns (Manchester by the Sea), Dan Bakkedahl (Life in Pieces), Raymond J. Barry (Gotham), Erika Alexander (Last Man Standing), and Mel Rodriguez (The Last Man on Earth).
Brave New Jersey is set to open in theaters on August 4, 2017.
The Plot: It was the original Fake News story. In a small New Jersey town on the night of Orson Welles's legendary 1938 "War of the Worlds" radio broadcast, the hoax that terrified millions into believing Martians were invading America, citizens face what they think is their last night on Earth. The over-worked town's mayor Clark (Hale) will take a chance on love. The neglected housewife, Lorraine (Burns) will break free from her big-cheese husband (Jaeger). The demure schoolteacher Peg (Camp) will become a warrior. The aimless reverend (Bakkedahl) will rediscover his faith. The scared Sheriff (Rodriguez) will find his courage. And the reclusive war veteran (Barry) will become a hero as he convinces the town to fight the aliens. All these characters join forces for a final "battle" that leads to a surprising and hilarious outcome. An alien invasion comedy where the aliens never show up.