The first real look at writer/director Guillermo del Toro's upcoming supernatural mystery Crimson Peak has arrived with a trailer featuring clips of the gothic tale's stars Charlie Hunnam, Tom Hiddleston, Jessica Chastain, Mia Wasikowska, and Jim Beaver, along with a poster and three new photos. The new trailer proclaims Crimson Peak is del Toro's "ultimate masterpiece" and, hopefully, the horror story can live up to that declaration.
"Between darkness and desire, mystery and madness, lies the peak of fear"
Universal Pictures and Legendary Pictures are releasing Crimson Peak in theaters on October 16, 2015.
The Plot:
In the aftermath of a family tragedy, an aspiring author is torn between love for her childhood friend and the temptation of a mysterious outsider. Trying to escape the ghosts of her past, she is swept away to a house that breathes, bleeds…and remembers.
Watch the trailer: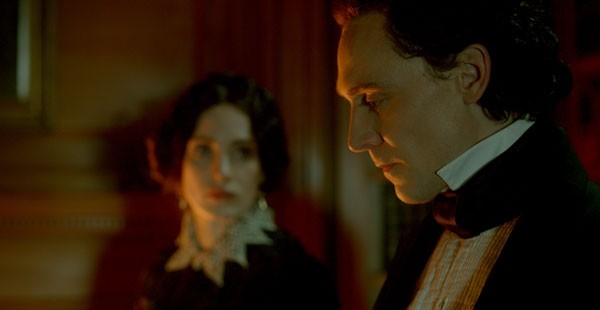 -By Rebecca Murray
Follow Us On: