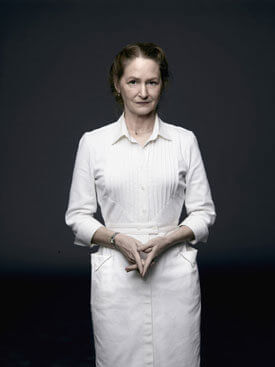 Producer M. Night Shyamalan gathered an impressive, award-winning cast for Fox's event series Wayward Pines, with Oscar winner Melissa Leo (The Fighter) and Emmy, BAFTA, and Screen Actors Guild nominee Toby Jones among the big names who have pivotal roles in the thriller. While the series is still months off from airing on Fox, cast members including Leo and Jones were among those promoting the show at the 2014 San Diego Comic Con. In addition to participating in a panel with Comic Con attendees, Leo and Jones teamed up to discuss the project in a roundtable interview in which they talked about their characters and why they signed on to Wayward Pines in the first place.
Melissa Leo and Toby Jones Wayward Pines Interview
Was it the character, the script, or M. Night Shyamalan? What was the initial appeal?
Melissa Leo: "Mostly I really love working, so when something is done, I'm always looking for something else. Night is really the thing that made me even practically sight unseen go down and do it. I had a really wonderful conversation with him in deciding to do it, more so than the script itself. The notion that the character that I would play would have an integral involvement in the storytelling and not simply be an interesting character there because she's interesting but there for a reason…when I heard that from him, I completely signed on to do it. To work with Matt [Dillon], and it just kept getting sweeter as they hired more and more actors to come in and join up – Toby Jones. And after we began shooting, Hope Davis came and joined us. It was incredible."
Did you know exactly what was going to happen over the course of the series or just the first episode?
Toby Jones: "I think it was different for different people. I didn't know the books so I just was told the arc of the whole story. And then they told me who was involved and it was really the combination of this shattering twist in the show that no one can talk about, and the quality of the actors involved, goes without saying. So that was the thing that brought me on board."
Does it also help that it's a short run of 10 episodes?
Toby Jones: "Yeah, it really does. It's a big thing. Particularly coming from the UK, you've got family back home. Do you move everyone over? So the fact that it's contained, it's very, very short."
And you're both so busy as actors.
Toby Jones: "We're all superstitious about saying we've got very busy movie careers. It's true that both of us have done many different kinds of projects. I don't know about Melissa, but I thrive on contrast. I don't want to be stuck in one thing."
Can you talk about putting on the nurse's uniform? What kind of nurse she is and how that changes your performance?
Melissa Leo: "Yeah, costuming is always extremely important to me and I knew that I was going to be playing a nurse. I had lovely conversations with our amazing costume designer, Mary Vogt. We were so much on the same page. There's a whole mystery to be unraveled about when our story is taking place and there was something about a style, of a period of clothing that, quite frankly, looks well on me. So Mary and I decided the sort of '40ish informed style of the nurse's uniform, very specific about things with her that she responded amazingly to me. I prefer clothing that has a weight to it and that it not be too gossamer; that wasn't going to help me be her. So the fabric even that the nurse's uniform is made of is a really important part of who Nurse Pam is."
Toby, what helped you get into the character?
Toby Jones: [Laughing] "It's always music to your ears when you hear that your character is wealthy."
How did the different directors for each episode affect you?
Toby Jones: "I found that very challenging. It's not what I am used to, because in a way then the actor is responsible for the character. Now, normally it's the actor and the director responsible. The director really is responsible for making a coherent episode in this country. I found that a big change and it took a while to get used to the fact that I have to put my own input in. 'I really don't think that's a good idea,' or 'That's a great idea,' like that."
Melissa Leo: "The director also, I don't even know that directors realize this as completely as someone who's worked on television with different directors for every episode, basically all the television I've ever done. So very rarely, maybe, a director will do two or three episodes of a season, but not that one person. The director is the captain of the ship without a question, and no matter what their talent or energy level is at, everyone on the crew, all eyes to the captain. So if they come in going, 'I don't know, maybe we'll do this, maybe we'll do that,' you've got 10 days to shoot sort of going you're not sure what you're doing. Then you'll get another director come in and they go, 'Okay, this is so exciting. We're gonna…' And everybody, even the grips and electricians, get a little more excited. So the flow of the shooting day changes with the director, almost even more in my opinion than the look of the show."
-By Rebecca Murray
Follow Us On: