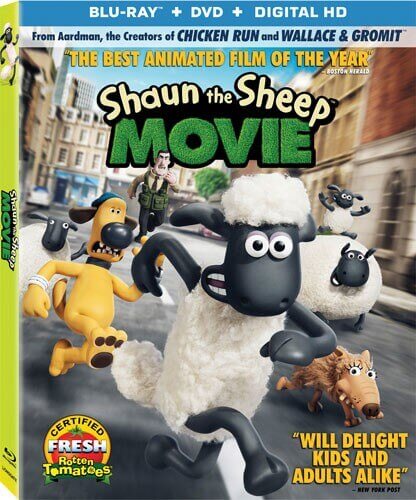 The adorable Shaun the Sheep Movie will be released on November 24, 2015 on Blu-ray and DVD. The stop-motion sheep-filled film comes from the Aardman team, the people behind Wallace & Gromit and Chicken Run, and is one of the best animated movies of 2015. The animated comedy earned a PG rating for "rude humor," but it actually plays well to the entire family, appealing to all age groups as it weaves an entertaining tale of a flock of sheep learn the grass isn't always greener on the other side of the fence.
Shaun the Sheep Movie follows Shaun (a sheep, obviously) who lives a pretty boring life on a little farm. He's grown bored of the same old routine and decides to play a trick on the farmer which, of course, backfires and Shaun and his fellow flock members – plus the farm's dog – have to head into the big city where they get into all sorts of trouble. It's one slapstick moment after another as the farm animals are like fish out of water in the big city, quickly realizing they're better off living their humdrum lives back at Mossy Bottom Farm.
Gorgeously animated, Shaun the Sheep Movie plays out without any dialogue. It's all about the visuals in this old-school stop-motion film that's fast-paced and charming. As an added bonus, Shaun the Sheep Movie touches on the importance of adopting shelter animals and explores father and son relationships.
The Shaun the Sheep Movie Bonus Features:
– Making the Shaun Movie Featurette: This 12 minute featurette explores the sets, the animation process, the use of music in the film, and the biggest challenges faced by the creative team led by directors Mark Burton and Richard Starzak.
– Meet the Characters Featurette: A four minute video that focuses on a few of the main characters including Shaun, Slip, Timmy, and Trumper.
– Join Shaun Behind the Scenes Featurette: A look at the stop-motion animation process.
– Meet the Crew Featurette: The producers and directors discuss their work on the Shaun film.
– Parody Poster Gallery.