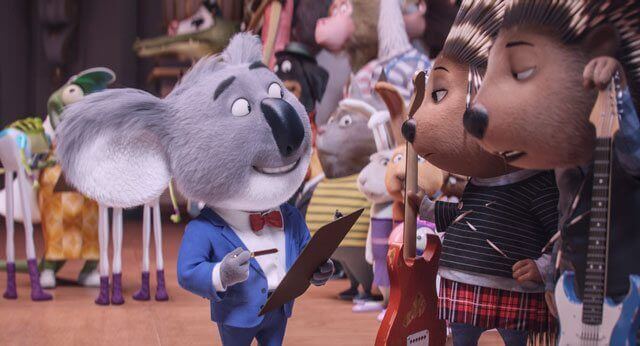 Think American Idol but animated with animals and you've got Illumination Entertainment and Universal Pictures' Sing. The animated musical comedy features more than 60 songs and dozens of different animated critters ranging from a mouse with a monster voice to an elephant who can sing like an angel. The film's fast pace, colorful creatures, and catchy, recognizable pop tunes should hold the attention of younger audiences while the story and songs will play well to the older crowd looking for a little year-end escapism.
The ringmaster in Sing is a koala named Buster Moon (voiced by Matthew McConaughey) who owns a theatre that's fallen on hard times. With the bank and creditors relentlessly hounding him, Buster decides the answer to all his financial woes is to host a singing competition. However, when his loyal but not-too-efficient iguana secretary, Mrs. Crawly, prints up flyers advertising a $100,000 grand prize instead of the $1,000 prize Buster had in mind, things get a little complicated. But no worries, Buster's an eternal optimist with big dreams and a knack for landing on his little furry feet.
The singing competition pulls in a wide variety of furry, feathered, and scaly creatures, all of whom dream of being the next big singing sensation. Buster's able to narrow the finalists down to a mouse (voiced by Seth MacFarlane) who models himself after Frank Sinatra and has a gambling problem; a talented, songwriting porcupine (voiced by Scarlett Johansson) who shoots quills when she's nervous; an overworked, underappreciated momma piggie (voiced by Reese Witherspoon); a disco-loving, spandex-wearing, danceaholic hog (voiced by Nick Kroll); a brooding teenage gorilla (voiced by Taron Egerton) with a mobster dad and a killer voice; and a timid elephant (Tori Kelly) who suffers from stage fright and a lack of self-confidence.
The adorable cast of anthropomorphic animal characters also includes a video game-playing sheep named Eddie (voiced by John C. Reilly) who's Buster's best friend and who happens to come from an extremely wealthy family. Eddie's grandmother, Nana Noodleman (Jennifer Saunders, with Jennifer Hudson as the singing voice of a young Nana), was once a musical theatre star and could quite possibly save Buster's music hall if he can impress her with his singing competition.
In addition to the plot revolving around Buster's efforts to raise money to save his theatre, Sing delves into the lives of each of the contestants. Mike the mouse is on the run from mobsters while Ash the porcupine is dealing with trying to stay true to herself and let her talent shine through. Rosita the pig wants to be thought of as a person apart from being a loving wife and mom. Johnny the gorilla doesn't want anything to do with his dad's gang of criminals and instead wants to make his mark in the world of music. And Meena the elephant is struggling to build up her confidence and let the world see just how talented she is and all that she has to offer.
Sing's voice cast is topnotch, with Matthew McConaughey leading the cast and delivering an infectious, spirited vocal performance as Buster the theatre-loving koala. The actors, including Scarlett Johansson, Reese Witherspoon, Seth MacFarlane, and Taron Egerton, all do their own singing which definitely works to the film's benefit.
The colorful palette pulls you in and the music keeps you engaged throughout the swift 108-minute running time. Sing's also full of positive, believe in yourself-type messages, but it's not pushy about getting any particular point across. Sing, which has the honor of being the final animated film to be released in 2016, is joyous, uplifting, and surprisingly relatable. It's fine family fun, complete with a catchy soundtrack and lovable animal characters.
GRADE: B+
Written By: Garth Jennings
Directed By: Garth Jennings and Christophe Lourdelet
Release Date: December 21, 2016
MPAA Rating: PG for some rude humor and mild peril
Watch the Sing trailer: