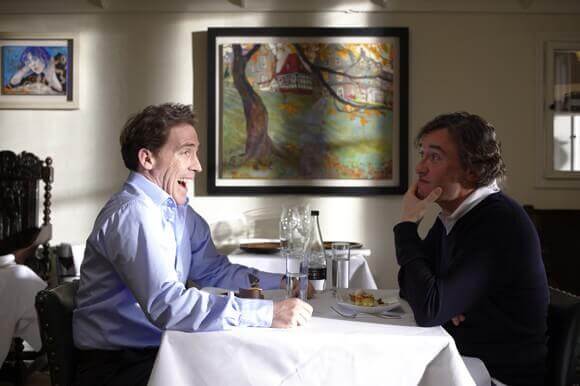 A small spattering of Americans trekked out to one of 51 theaters that showed Tristram Shandy back in 2006.
Directed by Michael Winterbottom, it took the approach of being a film about making a film, wherein actors Steve Coogan and Rob Brydon play exaggerated versions of themselves and British wit ensues. For those who enjoy productions from across the pond that are more about the wordplay than high concept plots, it was a small gem that never got a lot of promotional push.
I bring this up because Winterbottom, Coogan, and Brydon are now back with the same "characters" in The Trip. This time around, Coogan has been asked by the London Observer to review a few posh restaurants in the north of England, way off the beaten path. He was originally going to go with his girlfriend but a bump in the relationship led to him reluctantly asking Brydon to tag along.
The beauty of the film is watching their Odd Couple relationship; with Coogan as the insecure, status-obsessed, narcissist and Brydon the grounded, self-assured, accommodator. Their interplay is brilliant and one could imagine a future series of misadventures with these two, allowing us to enjoy seeing the pair bicker, joke, and debate, again and again.
Probably the most entertaining of their interactions revolve around their impressions. Each feels the need to show that they're better at capturing the vocal stylings of Michael Caine, Sean Connery, Woody Allen, Liam Neeson, Al Pacino, and more. It's a running gag that never gets old.
Perhaps even odder than the notion of watching these actors portray themselves,
only they're not themselves
, is that this was originally a BBC televisionproduction. The footage has been cut down from 180 minutes into 107 and edited into one continuous film. I'd be curious to see what elements were cut out, but there's a clear beginning, middle, and end; and the focus was squarely on Coogan and Brydon so, more than likely, the supporting players were the ones to suffer most from the editing process.
And although this is a comedy, at its heart, the story is about seeing Coogan grow up a bit. He's obsessed with fame and maintaining the image of an actor who still parties like a rock star. As the story develops, we see Brydon's influence on him and a few reflective moments that allow Coogan to reevaluate his priorities. One such nudge in the maturation process even comes from a dream sequence with
Ben Stiller
giving him a bit of the fake Hollywood treatment.
For those who didn't see
Tristram Shandy
(which, judging by the box office is the majority), the only other thing you really need to know is that some of the humor is decidedly British – not just in its dry wit but in specific references that may pass over the heads of those not privy to their pop culture. However, it's also nice to know that the restaurants they visit are real and you can go to them, should you be in the area (they're also situated in some very picturesque locales and a list can be found at the end of this review).
As a fan of their previous collaboration, I greatly enjoyed
The Trip
. Even with its television roots, it feels very much like an independent feature production and the pairing of Coogan and Brydon is a lot of fun to watch. It too will only get a limited run in America but if the premise intrigues you and it's playing in your area, make sure to get to it.
GRADE: B
The Trip
Restaurant List:
Be advised, an article I read in The Guardian mentioned their business has skyrocketed since the BBC aired the show so plan ahead if you're going.
The Inn at Whitewell
Near Clitheroe, Lancashire.
www.theinnatwhitewell.com
L'Enclume
Cartmel, Nr Grange over Sands, Cumbria
www.lenclume.co.uk
Holbeck Ghyll
Windermere , Cumbria
www.holbeckghyll.com
Hipping Hall
Kirkby Lonsdale, Cumbria
www.hippinghall.com
The Yorke Arms
Near Harrogate, North Yorkshire
www.yorke-arms.co.uk
The Angel at Hetton
Hetton, Near Skipton, North Yorkshire
www.angelhetton.co.uk