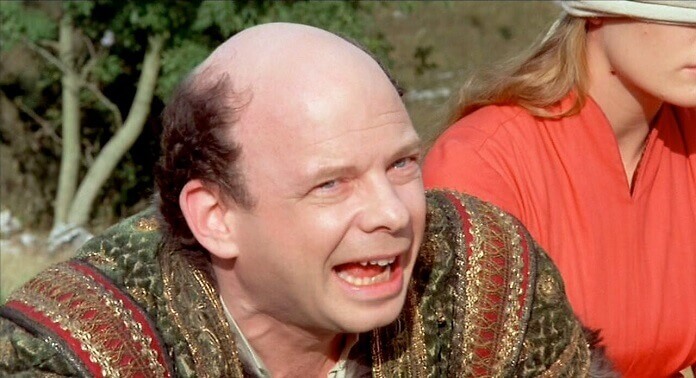 Inconceivable! That word is one of the most famous lines in the oft-quoted, beloved 1987 classic The Princess Bride, directed by Rob Reiner.
It was uttered many times in the high-pitched yet distinctive rapid-fire cadence of Wallace Shawn.
It's inconceivable (or is it?) that Shawn, 74, will no longer say it. In fact, he took this vow of silence more than 20 years ago.
"No one knew that The Princess Bride would become such a beloved film. At first, when people would ask me to say it, it was amusing at the time. At a certain point, though, people thought that's my catchphrase, but that isn't how I really see myself… I have a broader view of myself – although that's probably sheer vanity or sheer narcissism on my part," explained Shawn. "There's something about a catchphrase after a certain point that is limiting to the individual – just as many women don't like to be praised for their breasts, for example. It's in a way flattering – if you look at it that way – but they didn't really create their breasts and I didn't write that line. I was just doing my job saying that line, which was written for the character."
Shawn will attend the Motor City Comic Con in Novi, MI the weekend of May 18-20, 2018, alongside Tom Welling (Smallville, Lucifer), Stephen Amell (Arrow), Summer Glau (Firefly), Val Kilmer (Batman Forever), Jenna Elfman (Fear the Walking Dead), William Zabka (Cobra Kai), among others.
"As an actor, who's much less popular now then I was in the 1980s, I'm paid better to sign my name than I am to be an actor," said Shawn. "It seems I can just meet people for hours on end and I'm still enjoying it – that's very fascinating."
A lifelong New Yorker, Shawn is the eldest of three. During elementary school, Shawn did several plays. He liked it so much that he started writing his own.
"My brother and I did some rather ambitious puppet shows," he recalled.
Shawn earned his undergraduate degree in history at Harvard College. From there, he studied philosophy, politics, economics, and Latin at Magdalen College, Oxford. During his time in England, he saw an announcement about a playwriting contest, where the winner's play would be produced and performed.
"That was very exciting," he said. "So I wrote a play called Four Meals in May. When I finished writing it, I thought, 'This was great. They'll be putting statues of me up in London.' I didn't win, but the die was cast. I felt that I want to do this. I felt I could do this forever. Weirdly, whether out of pigheadedness or I don't know what, I stuck to my plan for some reason and wrote plays."
Understanding that his plays weren't for everyone, Shawn began acting in them.
"I realized at a certain point, I could no longer keep borrowing money from friends as a profession. Eventually, I would have to earn money on my own, but I didn't have a plan for that; all I really wanted to do was write plays. A friend offered me a part in a play that I had translated by Machiavelli called The Mandrake and (paid) me $125/week to be in it. It was a big success. It played the whole season at The Public Theater in New York City."
Juliet Taylor – long-time casting director of Oscar-winning actor/producer/writer/director Woody Allen – attended a performance. She asked Shawn to meet with Allen, who then cast him in 1979's Manhattan.
"I began to realize – not immediately – as I was put into other movies, that there was something funny about me. I was funny. It's hard to define what that means. Apparently, you could make a living off that. So I stopped trying to think of other ways to make a living and accepted that maybe I could keep this going for a little while to support myself as an odd playwright – which it has," explained Shawn.
Playing an exaggerated version of himself in 1981's My Dinner with Andre opened many doors for Shawn. Reiner and casting director Janet Hirshenson saw the film. Both were so fond of Shawn's delivery of the word "inconceivable," it eventually led to his role as Vizzini, the short, bald-headed leader of a trio who kidnap Princess Buttercup (Robin Wright) in The Princess Bride. Vizzini matches wits and wills with swashbuckling swordsman Westley (Cary Elwes), resulting in his death after drinking poison in yet another oft-quoted scene.
"People found me funny or amusing and – also – people always say I have an unusual voice. It's not unusual to me because it's my own voice," said Shawn. "It was only commented on in high school when the chorus director said that he wished that I could blend in more, that my voice didn't blend in with the other voices. That was a hint something was odd about my voice – first I'd heard of it. Then 20 years pass, I become an actor at 35, and people say, 'Oh, you've got an unusual voice.'"
While it was a modest success at the box office, The Princess Bride received critical acclaim and achieved a massive following on home video. The movie also earned many awards, including a 97% Certified Fresh score on Rotten Tomatoes and inclusion in the National Film Registry. Shawn is recognized for this role more than any other.
Still, he wasn't Reiner's first choice to play Vizzini.
"Danny DeVito was the first choice. I might've been the 400th choice, I really don't know. Danny couldn't do it for one reason or another. They eventually had me in for a meeting. I suppose I read for them – I don't remember – but I must've and I got the part," he said.
Shawn cannot answer why this fantasy-drama based on William Goldman's 1973 novel is still a big hit after 31 years.
"I can't explain that," he said. "I do ask people about that, but their answers are vague. I say it fulfills a need for a lot of people the way Mozart's operas do for other people… Popularity is very hard to analyze and explain."
Another notable role is Wendell Hall in 1995's Clueless, a modern-day retelling of Jane Austen's Emma. He'd reprise this role on the Clueless TV series, which was based on the movie.
"Of the Hollywood films I've done, it's the one I feel the greatest affection for," said Shawn. "I like things charming and benign towards humanity. If compassion, kindness, and charm can be defined, that's rather thrilling."
Shawn's appeared on many TV series. He's had recurring roles on Gossip Girl, Family Guy, Crossing Jordan, The Good Wife, Star Trek: Deep Space Nine, Young Sheldon, et al. On DS9, Shawn played Grand Nagus Zek, the leader of the Ferengi, an alien race bent on profit.
"It was arduous, the hair and makeup – it took three hours! But it was thrilling. It was an amazing gift," he recalled. "It made acting very easy. If you looked in the mirror, you saw you looked very, very different. I had this anonymity; I was very free and could do what I wanted. It was fun."
Armin Shimerman, alias Quark, enjoyed working with Wallace Shawn.
"Working with Wallace on (DS9) was always a treat. His bonhomie, talent, and superbly dry wit just made the long days shorter," said Shimerman. "When he wasn't educating me about something wonderful, he was giving me a master's class in comic acting. No one does it better."
Toy Story director John Lasseter cast him as Rex the dinosaur after seeing Andre, according to Shawn. This beloved franchise, headlined by two-time Oscar winner Tom Hanks and Tim Allen, boasts three movies and several TV specials.
"Once they made the first one, they were stuck with me, really," he said. "Soon, there'll be a fourth movie."
Shawn reunited with Clueless director Amy Heckerling and star Alicia Silverstone in 2012's Vamps, a vampire comedy co-starring Krysten Ritter and Oscar nominee Sigourney Weaver. It was filmed in Detroit.
"I had a rather thrilling time in Detroit," said Shawn. "I was there for some time making that movie."
With Vamps, Shawn joined the ranks of many Hollywood greats – Edward Van Sloan, Peter Cushing, Laurence Olivier, Anthony Hopkins, Christopher Plummer, Hugh Jackman – to play the fearless vampire hunter Van Helsing. He laughed at being in such prestigious company.
"I absolutely loved playing Van Helsing. I think mine is a frighteningly neglected version," Shawn deadpanned.
He's looking forward to returning to Michigan this weekend.
"I really do have a big appetite – at least so far – for meeting people. I always enjoy meeting strangers. This is in a nice setting. It's not always enjoyable to have strangers approach you as you're taking a big bite of a sloppy sandwich in an airport. But this is a very controlled way to meet strangers," said Shawn. "I find they're, of course, predisposed to be friendly and they've paid money to meet me. Generally, people don't come up and say they hated my performances and despise the way I act. They're usually friendly, in contrast, for example, to the reception I had for many of my plays where people have expressed utter contempt. For me, it's quite nice. I'm paid to do this, so that's very agreeable."