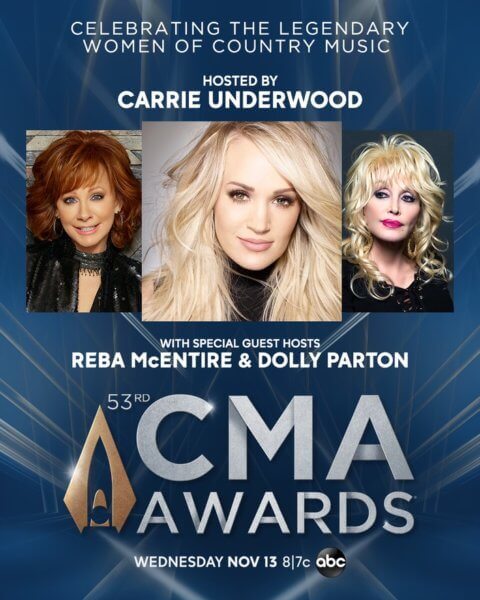 The 2019 CMA Awards will be recognizing three of Country music's most popular stars with special gigs. Not only will Carrie Underwood host this year's awards show, she'll be joined by Reba McEntire and Dolly Parton as special guest hosts.
Underwood has guided the CMA Awards as co-host since 2008. This year will mark the first time in more than a decade that Underwood hasn't shared the stage as co-host with Brad Paisley.
"It's an incredible honor to welcome Carrie, Reba and Dolly to the CMA Awards stage this year," says Sarah Trahern, CMA Chief Executive Officer. "In addition to awarding the year's best and brightest in the genre, The 53rd Annual CMA Awards will celebrate the legacy of women within Country Music, and we couldn't think of a more dynamic group of women to host the show."
Carrie Underwood, Dolly Parton, and Reba McEntire have 124 CMA Awards nominations with 22 total combined wins. 11 of those 22 wins came in the Female Vocalist of the Year category. 14 nominations were in the Entertainer of the Year category, according to CMA.
Underwood's collected seven CMA Awards wins and has sold more than 64 million records. Four of Underwood's CMA Awards wins came in the Female Vocalist of the Year category.
The 2019 nominees will be announced on Wednesday, August 28th during ABC's Good Morning America. The 53rd Annual CMA Awards will take place on Wednesday, November 13, 2019 and will be broadcast live from the Bridgestone Arena in Nashville on ABC beginning at 8pm ET.
This year's awards show will be directed by Alex Rudzinski, with David Wild as the head writer. Robert Deaton is executive producing.