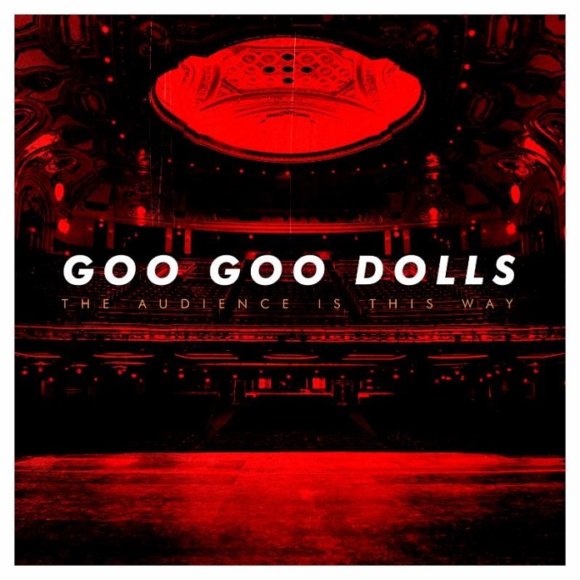 The four-time Grammy Award nominated Goo Goo Dolls will be releasing a new live album with tracks from their recent tours. The 10-track album is titled The Audience is This Way and will be released for streaming and digital download on August 24, 2018.
A special black vinyl limited edition of the album will be available at select indie retail stores on July 21, 2018 as part of the Record Store Day Crawl. According to the band, only 3,000 copies of the black vinyl edition will be available.
The live album includes the band's hits "Iris," "Slide," and "So Alive." John Schimke recorded The Audience is This Way and John Rzeznik, Chris Szczech and Brad Fernquist produced and mixed the 2018 album.
Goo Goo Dolls will be hitting the road for the "SiriusXM Presents: Goo Goo Dolls – Dizzy Up The Girl 20th Anniversary Tour" beginning September 30, 2018 in Phoenix, AZ. Stops will include Atlanta, Toronto, Detroit, Seattle, and Los Angeles. The tour will wrap up on November 18th in Las Vegas, Nevada.
Goo Goo Dolls' The Audience is This Way Track List:
Side One:
1. Long Way Down
2. Slide
3. Home
4. The Pin
5. January Friend

Side Two:
1. Big Machine
2. So Alive
3. Better Days
4. Iris
5. Broadway
Complete Tour Date Schedule
About Goo Goo Dolls, Courtesy of BB Gun Press:
Goo Goo Dolls uphold an unbreakable connection to countless fans fortified by a catalog replete with unforgettable smashes such as "Name," "Iris," "Slide," "Black Balloon," and many more. To date, they've sold 12 million albums worldwide, earned four GRAMMY® Award nominations, and made history by notching 14 Top 10 hits at Hot AC – "the most of any artist in history."
Notably, "Iris" dominated the Hot 100 at #1 for 18 straight weeks. Among eleven full-length records, A Boy Named Goo [1995] went double-platinum, Dizzy Up The Girl went quadruple-platinum, and Gutterflower [2002] and Let Love In [2006] both went gold as Something for the Rest of Us [2010] and Magnetic [2013] bowed in the Top 10 of the Billboard Top 200.
2016's Boxes attracted the praise of People and Huffington Post as Noisey, Consequence of Sound, and more featured them. In 2017, the You Should Be Happy EP spawned another anthem in the form of "Use Me," which quickly generated 3 million-plus Spotify streams. Their music has been covered by everyone from Taylor Swift to Leona Lewis. Additionally, they've performed for millions at sold out shows everywhere. That connection grows stronger in 2018 with the 20th anniversary tour celebrating Dizzy Up The Girl and more new music on the horizon.