The New Line Cinema horror film It, based on the classic Stephen King novel, opened in theaters on September 8, 2017 and in support of the much-anticipated movie's release, I had the chance to interview the film's Golden Globe and Emmy-nominated composer, Benjamin Wallfisch. Wallfisch has worked on the music for more than 60 films, including A Cure for Wellness and Hidden Figures. Wallfisch's score for It captures the evil in the town of Derry, Maine, embodied in the killer clown, Pennywise.
How did you get involved with composing the music for It?
Benjamin Wallfisch: "I was very lucky to build a relationship with the studio over the last few years. We did Lights Out together as well as Annabelle: Creation, and we all really enjoy working together. So, I got a phone call from the president of music over at New Line asking if I would be interested in the movie and I said of course. She sent over some examples of my work to the director Andy Muschietti and we met a few weeks later and just sort of hit it off with a shared passion for the book and a love of the classic '80s scores. A little while later they called me and asked me to score the movie."
So you were already familiar with the book?
Benjamin Wallfisch: "Absolutely. I read the book when it first came out. I was one of those Stephen King nerds growing up in the '80s and, yeah, it scared me to death. I connected with the Losers' Club and the heart of the story which is young people finding strength in number and accepting who they are without trying to fit in. That's something that I think resonates with people and it's something that has been translated so powerfully with this film. The chemistry between the young cast is extraordinary. It's without question the best chemistry as an ensemble cast I have ever seen."
You created an assortment of musical themes for the film. Can you talk about composing the music for the kids and their scenes of meeting each other and having fun trying to enjoy their summer, as well as the theme for the demonic clown Pennywise who's hunting them?
Benjamin Wallfisch: "The thing about Pennywise is that he infiltrates everything even when he's not present. There's this sense of his inevitability in Derry, Maine where the story takes place. 'It' affects all the adults in town and every time you see a grownup on the screen – true to King's vision – it's not a good thing and what they are doing is not a good thing, and that's all Pennywise. So coming up with a theme for Pennywise was all about coming up with finding and creating music that could infect all the other melodies because there are several themes in the film but the Pennywise score, which you hear very quietly when he introduces himself to Georgie in the iconic scene in the beginning, it's just a very quiet and whispered childlike tune using very high strings. That's him pretending to be a sweet clown, and then of course at the end you hear the music in all of its savage evil completely transformed.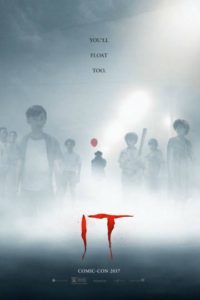 Pennywise has a second tune, actually, because of how Bill Skarsgard plays him. There's this weird 17th century children's play song which we use when Pennywise is thinking about attacking or attacking. It was actually Andy's idea, our director, and as soon as we put that on up against Pennywise's eyes as he was about to think about how to bring a child down to float with him, it just sat perfectly – especially with Bill's performance.
I should also mention about the coming-of-age and budding love story between Bev and Bill that was really important to me to bring to the score to. There's a lot of emotional heart in the writing, and also at its heart the film is an incredible adventure. I mean, yes, it's extremely scary but driving all of that is this passionate adventure between young people who are being inspired by Bill to find Georgie. And for me, along with the young love story, that was a really great way into the voice of the score."
Music enhances movies and usually adds another emotional level and has a direct impact on the audience. This is true especially in the horror genre where music can add much more tension and suspense and in some cases, such as with Jaws and the original Halloween, give the monster a presence even when it can't be seen. How pivotal do you believe music is in keeping the sense of dread and suspense alive?
Benjamin Wallfisch: "Well, music has this very inherent power which goes back to the beginnings of humanity, I think, where it's a universal language. There's this innate need in humanity to create and receive a musical experience. An orchestra is this incredibly potent, emotional delivery system. When you put a string orchestra in front of a picture and they play a melody which is emotionally in tune to what you are seeing on the screen, it will absolutely immediately affect you significantly more than without that music. Now in my particular way of doing things, I'm a bit of an anarchist. I like to think, 'Okay, what can we do that just blows it up a bit?'
Also with this score, tension and release is the key thing in any horror score. What's interesting about this movie is there are tons of scares but they're actually much deeper than jump scares. There are moments when it takes you a while to absorb what you just saw. In this movie, more than any other I've seen recently, you are absolutely on this journey with the Losers' Club and willing them to succeed. I think with this score my main job was to tell the story of these kids and their motivations and what's driving them to do what they are doing and defeating this evil as a group. I think for me that's the thing I caught onto most, you know the message that if you need to confront something unimaginably bad, come together as a group and do it as a group. The power of bringing together 70 musicians with that single unifying purpose is really palatable."
Have you ever been afraid of clowns?
Benjamin Wallfisch: "You know, weirdly I wasn't. I don't know if that's a missing gene or something but to be honest as a kid going to the circus I always loved it growing up in London. You know with the animals and the acrobats and the clowns, it was fun. However, having said that now that I look back at how clowns are portrayed in the U.S. there is something much more evil about that. I think clowns are much more innocuous in the U.K. so I'm sure if I had grown up here I would be just as terrified as most people."
Also of Interest: It Movie Review