Po the Panda is back, Dory searches for her family, and Scrat's acorn causes a catastrophe in animated movies heading to theaters in 2016. Studios are also offering up films about storks, Trolls, birds with anger issues, and an animated look at the world of cats and dogs when they're left alone by their human parents.
2016 Animated Movies
The Angry Birds Movie (May 20, 2016) featuring the voices of Josh Gad, Jason Sudeikis, Danny McBride, Peter Dinklage, Bill Hader, Maya Rudolph, Kate McKinnon, Keegan-Michael Key, Tony Hale, Ike Barinholtz, Hannibal Buress, Jillian Bell, Danielle Brooks, and Romeo Santos
The Plot: In the 3D animated comedy, The Angry Birds Movie, we'll finally find out why the birds are so angry. The movie takes us to an island populated entirely by happy, flightless birds – or almost entirely. In this paradise, Red (Jason Sudeikis), a bird with a temper problem, speedy Chuck (Josh Gad), and the volatile Bomb (Danny McBride) have always been outsiders. But when the island is visited by mysterious green piggies, it's up to these unlikely outcasts to figure out what the pigs are up to.
The Canterville Ghost (October 31, 2016) featuring the voices of Freddie Highmore, Hugh Laurie, Miranda Hart, Toby Jones, Imelda Staunton, and Stephen Fry
The Plot: Based on the classic short story by Oscar Wilde. Sir Simon de Canterville has been haunting Canterville Chase successfully for hundreds of years. Everything changes when an American family moves in, forcing Sir Simon to confront his own tragic past…
Finding Dory (June 17, 2016) featuring the voices of Ellen DeGeneres, Albert Brooks, Ed O'Neill, Kaitlin Olson, Ty Burrell, Eugene Levy, and Diane Keaton
The Plot: Disney•Pixar's Finding Dory reunites everyone's favorite forgetful blue tang, Dory, with her friends Nemo and Marlin on a search for answers about her past. What can she remember? Who are her parents? And where did she learn to speak Whale?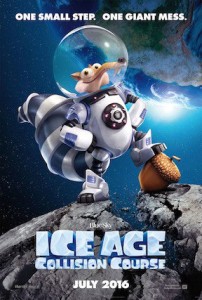 Ice Age: Collision Course (July 22, 2016) featuring the voices of Ray Romano, Denis Leary, John Leguizamo, Queen Latifah, Seann William Scott, Josh Peck, Simon Pegg, Keke Palmer, Wanda Sykes, Jennifer Lopez, Stephanie Beatriz, Adam DeVine, Jesse Tyler Ferguson, Max Greenfield, Jessie J, Nick Offerman, Melissa Rauch, Michael Straha, and Neil deGrasse Tyson
The Plot: Scrat's epic pursuit of the elusive acorn catapults him into the universe where he accidentally sets off a series of cosmic events that transform and threaten the Ice Age World. To save themselves, Sid, Manny, Diego, and the rest of the herd must leave their home and embark on a quest full of comedy and adventure, traveling to exotic new lands and encountering a host of colorful new characters.
Kubo and the Two Strings (August 19, 2016) featuring the voices of Art Parkinson, Matthew McConaughey, Charlize Theron, Rooney Mara, Ralph Fiennes, George Takei, Cary-Hiroyuki Tagawa, and Brenda Vaccaro
The Plot: Clever, kindhearted Kubo (voiced by Art Parkinson of Game of Thrones) ekes out a humble living, telling stories to the people of his seaside town including Hosato (George Takei), Hashi (Cary-Hiroyuki Tagawa) and Kamekichi (Brenda Vaccaro). But his relatively quiet existence is shattered when he accidentally summons a spirit from his past which storms down from the heavens to enforce an age-old vendetta. Now on the run, Kubo joins forces with Monkey (Charlize Theron) and Beetle (Matthew McConaughey), and sets out on a thrilling quest to save his family and solve the mystery of his fallen father, the greatest samurai warrior the world has ever known. With the help of his shamisen – a magical musical instrument – Kubo must battle gods and monsters, including the vengeful Moon King (Ralph Fiennes) and the evil twin Sisters (Rooney Mara) to unlock the secret of his legacy, reunite his family and fulfill his heroic destiny.
Kung Fu Panda 3 (January 29, 2016) featuring the voices of Jack Black, Angelina Jolie, Dustin Hoffman, Jackie Chan, Seth Rogen, Lucy Liu, David Cross, James Hong, Randall Duk Kim, Bryan Cranston, J. K. Simmons, and Kate Hudson
The Plot: When Po's long-lost panda father suddenly reappears, the reunited duo travels to a secret panda paradise to meet scores of hilarious new panda characters. But when the supernatural villain Kai begins to sweep across China defeating all the kung fu masters, Po must do the impossible—learn to train a village full of his fun-loving, clumsy brethren to become the ultimate band of Kung Fu Pandas!
Moana (November 23, 2016) featuring the voices of Auli'i Cravalho, Dwayne Johnson, and Alan Tudyk
The Plot: Three thousand years ago, the greatest sailors in the world voyaged across the vast South Pacific, discovering the many islands of Oceania. But then, for a millennium, their voyages stopped – and no one today knows why. From Walt Disney Animation Studios comes Moana, a sweeping, CG-animated adventure about a spirited teenager who sails out on a daring mission to prove herself a master wayfinder and fulfill her ancestors' unfinished quest. During her journey, Moana (Auli'i Cravalho) meets the once-mighty demi-god Maui (Dwayne Johnson), and together, they traverse the open ocean on an action-packed voyage, encountering enormous fiery creatures and impossible odds.
Continued on Page 2 – >