Norm of the North (January 15, 2016) featuring the voices of Rob Schneider, Heather Graham, Ken Jeong, Gabriel Iglesias, Loretta Devine, Michael McElhatton, Colm Meaney and Bill Nighy
The Plot: A polar bear of many words, Norm's greatest gripe is simple: there is no room for tourists in the Arctic. But when a maniacal developer threatens to build luxury condos in his own backyard, Norm does what all normal polar bears would do…he heads to New York City to stop it. With a cast of ragtag lemmings at his side, Norm takes on the big apple, big business and a big identity crisis to save the day.
Ratchet and Clank (April 29, 2016) featuring the voices of Sylvester Stallone, Bella Thorn, Rosario Dawson, Paul Giamatti, and John Goodman
The Plot: Ratchet and Clank tells the story of two unlikely heroes as they struggle to stop a vile alien named Chairman Drek from destroying every planet in the Solana Galaxy. When the two stumble upon a dangerous weapon capable of destroying entire planets, they must join forces with a team of colorful heroes called The Galactic Rangers in order to save the galaxy. Along the way they'll learn about heroism, friendship, and the importance of discovering one's own identity.
Sausage Party (August 12, 2016) featuring the voices of Kristen Wiig, Paul Rudd, Salma Hayek, James Franco, David Krumholtz, Seth Rogen, Edward Norton, Bill Hader, Jonah Hill, and Michael Cera
The Plot: Sausage Party is a raunchy animated movie about one sausage's quest to discover the truth about his existence. After falling out of a shopping cart, our hero sausage and his new friends embark on a perilous journey through the supermarket to get back to their aisles before the 4th of July sale.
The Secret Life of Pets (July 8, 2016) featuring the voices of Kevin Hart, Ellie Kemper, Albert Brooks, Louis C.K., Eric Stonestreet, Lake Bell, Jenny Slate, Bobby Moynihan, and Hannibal Buress
The Plot: For their fifth fully-animated feature-film collaboration, Illumination Entertainment and Universal Pictures present The Secret Life of Pets, a comedy about the lives our pets lead after we leave for work or school each day.
Sing (December 21, 2016) featuring the voices of Matthew McConaughey, Reese Witherspoon, Seth MacFarlane, Scarlett Johansson, John C. Reilly, Taron Egerton, Tori Kelly, Nick Kroll, Jennifer Saunders, Peter Serafinowicz, Leslie Jones, Jay Pharoah, Nick Offerman, Beck Bennett
The Plot: Set in a world like ours but entirely inhabited by animals, Sing stars Buster Moon (Matthew McConaughey), a dapper Koala who presides over a once-grand theater that has fallen on hard times. Buster is an eternal optimist—okay, maybe a bit of a scoundrel—who loves his theater above all and will do anything to preserve it. Now facing the crumbling of his life's ambition, he has one final chance to restore his fading jewel to its former glory by producing the world's greatest singing competition.
Five lead contestants emerge: A mouse (Seth MacFarlane) who croons as smoothly as he cons, a timid teenage elephant (Tori Kelly) with an enormous case of stage fright, an overtaxed mother (Reese Witherspoon) run ragged tending a litter of 25 piglets, a young gangster gorilla (Taron Egerton) looking to break free of his family's felonies, and a punk-rock porcupine (Scarlett Johansson) struggling to shed her arrogant boyfriend and go solo. Each animal arrives under Buster's marquee believing that this is their shot to change the course of their life.
Storks (September 23, 2016) featuring the voices of Andy Samberg, Kelsey Grammer, Keegan-Michael Key, and Jordan Peele
The Plot: Storks deliver babies…or at least they used to. Now they deliver packages for global internet giant Cornerstore.com. Junior, the company's top delivery stork, is about to be promoted when he accidentally activates the Baby Making Machine, producing an adorable and wholly unauthorized baby girl. Desperate to deliver this bundle of trouble before the boss gets wise, Junior and his friend Tulip, the only human on Stork Mountain, race to make their first-ever baby drop – in a wild and revealing journey that could make more than one family whole and restore the storks' true mission in the world.
Trolls (November 4, 2016) featuring the voices of Anna Kendrick and Justin Timberlake
The Plot: The film for the first time tells the story behind the beloved Trolls and their gravity defying and colorful manes. Setting out on an epic adventure that takes Poppy and Branch far beyond the only world they have ever known, their quest will test their strength and reveal their true colors – with no shortage of musical mash-ups along the way!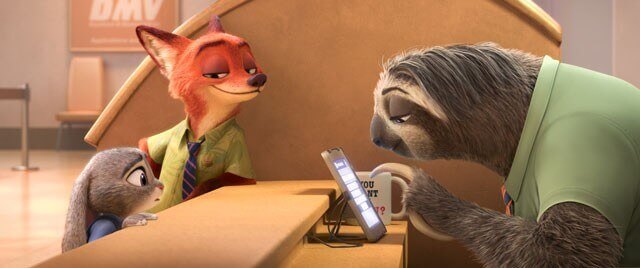 Zootopia (2016) featuring the voices of Ginnifer Goodwin, Jason Bateman, and Shakira
The Plot: The modern mammal metropolis of Zootopia is a city like no other. Comprised of habitat neighborhoods like ritzy Sahara Square and frigid Tundratown, it's a melting pot where animals from every environment live together—a place where no matter what you are, from the biggest elephant to the smallest shrew, you can be anything. But when optimistic Officer Judy Hopps (Ginnifer Goodwin) arrives, she discovers that being the first bunny on a police force of big, tough animals isn't so easy. Determined to prove herself, she jumps at the opportunity to crack a case, even if it means partnering with a fast-talking, scam-artist fox, Nick Wilde (Jason Bateman), to solve the mystery.
Return to Page 1 – >
2016 Preview: