Action movie fans have a lot to look forward to in 2018, including a new Mission: Impossible, another round of Sylvester Stallone as Rocky Balboa, the much-anticipated sequel to Sicario, and the true story of the first troops sent into Afghanistan following 9/11.
2018's action movie offerings also include the reboot of the Tomb Raider franchise, two star-studded action comedies, and a female version of the Ocean's films.
The following list of the 2018's action films is in alphabetical order and includes cast info and plots, when available. This 2018 Action Movies Preview doesn't include sci-fi, horror, or comic book-inspired action films as they have their own lists. (See the bottom of this page for additional 2018 movie previews.)
12 Strong starring Chris Hemsworth, Michael Shannon, Michael Peña, Trevante Rhodes, Geoff Stults, Thad Luckinbill, Austin Stowell, Ben O'Toole, Austin Hebert, Kenneth Miller, Kenny Sheard, Jack Kesy, Navid Negahban, Elsa Pataky, William Fichtner, and Rob Riggle
The Plot: 12 Strong is set in the harrowing days following 9/11 when a U.S. Special Forces team, led by their new Captain, Mitch Nelson (Hemsworth), is chosen to be the first U.S. troops sent into Afghanistan for an extremely dangerous mission. There, in the rugged mountains, they must convince Northern Alliance General Dostum (Negahban) to join forces with them to fight their common adversary: the Taliban and their Al Qaeda allies.
In addition to overcoming mutual distrust and a vast cultural divide, the Americans—accustomed to state-of-the-art warfare—must adopt the rudimentary tactics of the Afghan horse soldiers. But despite their uneasy bond, the new allies face overwhelming odds: outnumbered and outgunned by a ruthless enemy that does not take prisoners.
Acts of Violence starring Cole Hauser, Bruce Willis, Shawn Ashmore, Ashton Holmes, Melissa Bolona, Sophia Bush, and Mike Epps
The Plot: Three Midwestern brothers, a crime lord, and an incorruptible cop are on a deadly collision course when the youngest brother's fiancée is kidnapped by human traffickers. To save her, the MacGregor boys call on their military training – and the strength of family – to fight the most important battle of their lives.
Alpha starring Kodi Smit-McPhee and Jóhannes Haukur Jóhannesson
The Plot: An epic adventure set in the last Ice Age. Europe, 20,000 years ago. While on his first hunt with his tribe's most elite group, a young man is injured and left for dead. Awakening to find himself broken and alone — he must learn to survive and navigate the harsh and unforgiving wilderness. Reluctantly taming a lone wolf abandoned by its pack, the pair learn to rely on each other and become unlikely allies, enduring countless dangers and overwhelming odds in order to find their way home before the deadly winter arrives.
Creed II starring Sylvester Stallone, Michael B. Jordan, Tessa Thompson, and Dolph Lundgren
The Plot: The official synopsis has not been released, however it's believed the Creed sequel will find Adonis and Drago's son battling it out in the ring.
Death Wish starring Bruce Willis, Vincent D'Onofrio, Elisabeth Shue, Camila Morrone, Dean Norris, and Kimberly Elise
The Plot: Dr. Paul Kersey (Willis) is a surgeon who only sees the aftermath of Chicago violence when it is rushed into his ER – until his wife (Shue) and college-age daughter (Morrone) are viciously attacked in their suburban home. With the police overloaded with crimes, Paul, burning for revenge, hunts his family's assailants to deliver justice. As the anonymous slayings of criminals grabs the media's attention, the city wonders if this deadly vigilante is a guardian angel or a grim reaper.
Den of Thieves
starring Gerard Butler, Curtis '50 Cent' Jackson, Pablo Schreiber, O'Shea Jackson Jr., Evan Jones, Cooper Anderson, Maurice Compte, Kaiwai Lyman-Mersereau, Mo McRae, Meadow Williams, and Brian Van Holt
The Plot: A Los Angeles crime saga in the vein of Heat, Den of Thieves follows the intersecting and often personally connected lives of an elite unit of the LA County Sheriff's Dept. and the state's most successful bank robbery crew as the outlaws plan a seemingly impossible heist on the Federal Reserve Bank of downtown Los Angeles.
Game Night starring Jason Bateman, Rachel McAdams, Billy Magnussen, Sharon Horgan, Lamorne Morris, Kylie Bunbury, Jesse Plemons, Danny Huston, Michael C. Hall, and Kyle Chandler
The Plot: Jason Bateman and Rachel McAdams star as Max and Annie, whose weekly couples game night gets kicked up a notch when Max's charismatic brother, Brooks (Chandler), arranges a murder mystery party, complete with fake thugs and faux federal agents. So when Brooks gets kidnapped, it's all part of the game…right? But as the six uber-competitive gamers set out to solve the case and win, they begin to discover that neither this "game"—nor Brooks—are what they seem to be.
Over the course of one chaotic night, the friends find themselves increasingly in over their heads as each twist leads to another unexpected turn. With no rules, no points, and no idea who all the players are, this could turn out to be the most fun they've ever had…or game over.
Gringo starring David Oyelowo, Charlize Theron, Joel Edgerton, Thandie Newton, Sharlto Copley, Harry Treadaway, and Amanda Seyfried
The Plot: Mild-mannered pharmaceutical company executive Harold Soyinka (Oyelowo) takes a business trip from Chicago to Mexico with his cutthroat bosses Richard (Edgerton) and Elaine (Theron). At the company's Mexican lab, Richard orders manager Sanchez (Hernán Mendoza) to stop selling the bioengineered marijuana product Cannabax to a brutal, Beatles-loving cartel kingpin known as The Black Panther. Meanwhile, straight-arrow Harold learns he'll be out of a job as soon as Richard and Elaine sell their newly cleaned-up company to a conglomerate. And when he turns to his wife Bonnie (Newton) back home for comfort, she confesses via Skype that she's having an affair.
Targeted by the ruthless Black Panther, who hopes to gain access to the Cannabax formula, Harold disappears before his bosses return to Chicago. A few hours later they receive a call informing them he's been kidnapped, and his captors are demanding a $5 million ransom. Rather than pay, Richard dispatches his mercenary-turned-humanitarian brother Mitch (Copley) to extract Harold. But even with some temporary assistance from warmhearted American tourist Sunny (Seyfried) and her drug-mule boyfriend Miles (Treadaway), Harold's prospects for survival grow dimmer by the minute. Pursued by an army of attackers, Harold crosses the line from mild-mannered citizen to wanted criminal. But is he out of his depth? Or two steps ahead? An action-comedy roller-coaster ride brimming with black humor, white-knuckle car chases and double-dealing, Gringo takes the concept of adventure travel to a whole new level.
Kickboxer: Retaliation starring Jean-Claude Van Damme, Christopher Lambert, Alain Moussi, and Sara Malakul Lane
The Plot: Kickboxer: Retaliation continues where Kickboxer: Vengeance left off. It has now been 12 months since Kurt Sloan left Thailand vowing never to return. We pickup the story in a crowded sports arena with cheering fans where Kurt is now in a new battle – A title bout for the MMA World Championship title. When Kurt returns back to the locker room he is met by a familiar face along with, what we are led to believe to be two US marshals who charge Kurt with a crime and is extradited back to Thailand in an illegal manner. At some point during the journey, Kurt is sedated and later wakes up in a dingy cell at an infamous prison in Bangkok, Thailand.
Kurt soon meets the masterminds behind his abduction and is told he needs to fight a new formidable foe named Mongkut, who is a beast of a man, standing at 6'8″ and weighing in around 400lbs of solid muscle. This is a spectacle they know will bring in millions. Kurt is offered 2 million dollars to fight or face a life term behind bars, but Kurt is steadfast and just wants to go home…He will not put a price on human life for the pleasure of others. A bounty is placed on Kurt's head, prompting other prisoners to take shots to help coerce him to fight, however, Kurt can certainly hold his own and is not phased at all by any of this , however, eventually, under duress, he is forced to fight.
Kurt does not fully comprehend the challenge he has ahead of him until he encounters the pure size and strength of the man named Mongkut. Through much pain and pure determination, Kurt is put through some of the most enduring training he has ever experienced to prepare him for the fight for his life.
Mission: Impossible 6 starring Tom Cruise, Simon Pegg, Vanessa Kirby, Henry Cavill, Rebecca Ferguson, Michelle Monaghan, Alec Baldwin, Angela Bassett, Ving Rhames, and Sean Harris
The Plot: Paramount's keeping the sixth Mission Impossible film's plot a secret.
Ocean's 8 starring Sandra Bullock, Cate Blanchett, Rihanna, Mindy Kaling, Awkwafina, Helena Bonham Carter, Anne Hathaway, and Sarah Paulson
The Plot: Debbie Ocean attempts to pull off the heist of the century at New York City's star-studded annual Met Gala. Her first stop is to assemble the perfect crew: Lou (Blanchett), Nine Ball (Rihanna), Amita (Kaling), Constance (Awkwafina), Rose (Bonham Carter), Daphne Kluger (Hathaway), and Tammy (Paulson).
Proud Mary starring Taraji P. Henson, Billy Brown, Jahi Di'Allo Winston, and Danny Glover
The Plot: Taraji P. Henson is Mary, a hit woman working for an organized crime family in Boston, whose life is completely turned around when she meets a young boy whose path she crosses when a professional hit goes bad.
Samson starring Jackson Rathbone, Billy Zane, Rutger Hauer, Lindsay Wagner, Caitlin Leahy, and Taylor James
The Plot: Samson, empowered by God with supernatural strength, endangers his destiny with impulsive decisions that lead to betrayal by a wicked prince and a beautiful temptress. When Samson calls on his God once more, he turns imprisonment and blindness into final victory.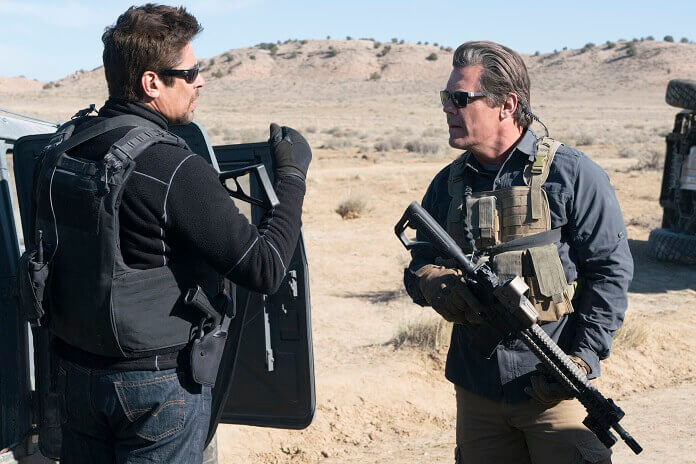 Sicario 2: Soldado starring Josh Brolin, Benicio Del Toro, Donovan, Isabela Moner, Manuel Garcia-Rulfo, and Catherine Keener.
The Plot: In Sicario 2: Soldado, the drug war on the US-Mexico border has escalated as the cartels have begun trafficking terrorists across the US border. To fight the war, federal agent Matt Graver (Brolin) reteams with the mercurial Alejandro (Del Toro).
The Spy Who Dumped Me starring Sam Heughan, Justin Theroux, Mila Kunis, Kate McKinnon, and Gillian Anderson
The Plot: The Spy Who Dumped Me tells the story of Audrey (Kunis) and Morgan (McKinnon), two best friends who unwittingly become entangled in an international conspiracy when one of the women discovers the boyfriend who dumped her was actually a spy.
Tomb Raider starring Alicia Vikander, Dominic West, Walton Goggins, Daniel Wu, and Kristin Scott Thomas
The Plot: Lara Croft is the fiercely independent daughter of an eccentric adventurer who vanished when she was scarcely a teen. Now a young woman of 21 without any real focus or purpose, Lara navigates the chaotic streets of trendy East London as a bike courier, barely making the rent, and takes college courses, rarely making it to class. Determined to forge her own path, she refuses to take the reins of her father's global empire just as staunchly as she rejects the idea that he's truly gone. Advised to face the facts and move forward after seven years without him, even Lara can't understand what drives her to finally solve the puzzle of his mysterious death.
Going explicitly against his final wishes, she leaves everything she knows behind in search of her dad's last-known destination: a fabled tomb on a mythical island that might be somewhere off the coast of Japan. But her mission will not be an easy one; just reaching the island will be extremely treacherous. Suddenly, the stakes couldn't be higher for Lara, who—against the odds and armed with only her sharp mind, blind faith and inherently stubborn spirit—must learn to push herself beyond her limits as she journeys into the unknown. If she survives this perilous adventure, it could be the making of her, earning her the name tomb raider.
Also of Interest: