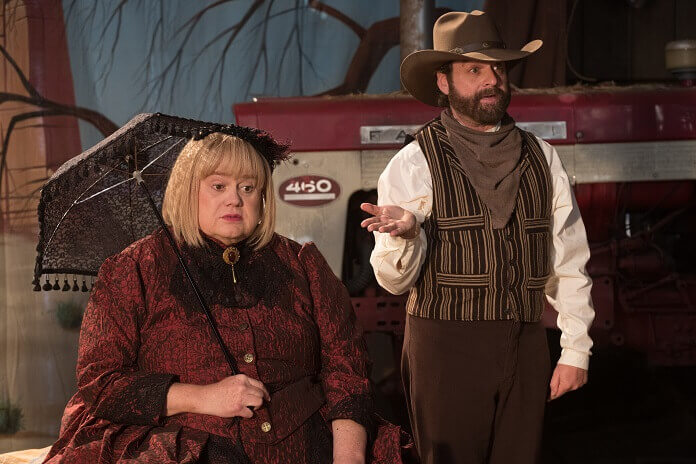 Fans of FX's critically acclaimed Baskets have reason to rejoice. The critically acclaimed comedy will be returning for a fourth season as just announced by Eric Schrier and Nick Grad, Presidents of Original Programming for FX Networks and FX Productions.
The network confirmed the fourth season renewal and announced the new season will premiere in 2019.
Baskets stars Zach Galifianakis as Chip and Dale Baskets, Louie Anderson as Christine Baskets, and Martha Kelly as Martha. In 2017, Galifianakis earned an Outstanding Lead Actor in a Comedy Series Emmy nomination and Anderson picked up his second nomination in the Outstanding Supporting Actor in a Comedy Series category. Anderson won the Emmy in that category in 2016.
In addition to his starring role, Zach Galifianakis serves as an executive producer. Jonathan Krisel, Marc Gurvitz, Andrea Pett-Joseph, and Anna Dokoza also serve as executive producers on the series. Jonathan Krisel directed the third season.
"Baskets continues to deliver thanks to the dream creative team led by Jonathan Krisel and Zach Galifianakis, and we couldn't be happier to order a fourth season to air next year," stated Eric Schrier. "Each season brings us closer to the Baskets family and their pursuit of life, love and clowning glory. Our thanks to the producers and the cast for making Baskets such a joy to watch."
The Season 3 Plot: Nothing brings a family together like a family business – or at least that was the plan. Welcome to the Baskets Family Rodeo, where Christine is the President and CEO despite never having seen a rodeo before. Chip has his first full-time gig since Arby's, but can barely transfer a phone call, let alone recruit much-needed clowns. And even though Dale is the only one in the family who has run a business, he can't get anyone to listen to him – his family, the employees, or the horses. Good thing Martha is always nearby to lend a hand (when she's not pursuing Basque shepherds).
In the emotional season finale, the Baskets family gathered to celebrate New Year's Eve with "Ken" (recurring guest star Alex Morris), who had a question for "Christine" (Louie Anderson).