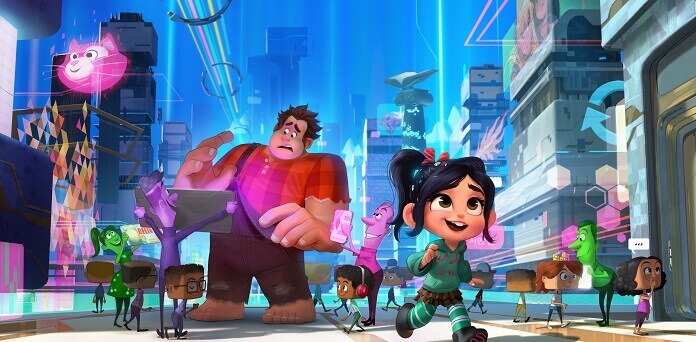 Disney's much anticipated Wreck-It Ralph sequel, Ralph Breaks the Internet, helped power the 2018 Thanksgiving holiday to a record-breaking box office. The holiday weekend snagged $314 million domestically, trouncing the old Thanksgiving holiday record of $295 million set in 2013. The animated family-friendly sequel scored the second biggest five-day Thanksgiving weekend, behind only Disney's 2013 blockbuster, Frozen.
The Rocky spinoff Creed 2 also hit theaters over the fall holiday, helping to boost the Thanksgiving holiday to new box office heights. Creed 2 posted the biggest live-action opening Thanksgiving numbers in box history, ringing up a record breaking $55.8 million over its first five days in release.
Both Creed 2 and Ralph Breaks the Internet were hits with audiences and critics. Rotten Tomatoes is currently registering an 82% fresh rating for Creed 2 and Ralph Breaks the Internet is sitting at 86% fresh. CinemaScore reports audiences gave Creed 2 and Ralph Breaks the Internet A and A- average scores, respectively.
The holiday weekend's other big release, Lionsgate's Robin Hood starring Taron Egerton, absolutely tanked over its first weekend in theaters. Audiences apparently don't want/need another Robin Hood film, shunning the movie over the holiday weekend. The production had a $100+ million budget and only brought in $14 million domestically, with critics absolutely trashing the action film. Rotten Tomatoes shows just 14% of the site's critics approved of the new take on the classic story. Browsing the review snippets reveals critics thought Robin Hood was unintentionally funny, dull, impossible to follow, and one of the year's worst films.
Most of the major studios will be taking next weekend off from opening new films. Screen Gems is launching the horror film The Possession of Hannah Grace in 1,900 theaters, but otherwise it'll be pretty much a repeat of the Thanksgiving offerings making up the box office top 10 chart.
Box Office Top 10: November 21-25, 2018