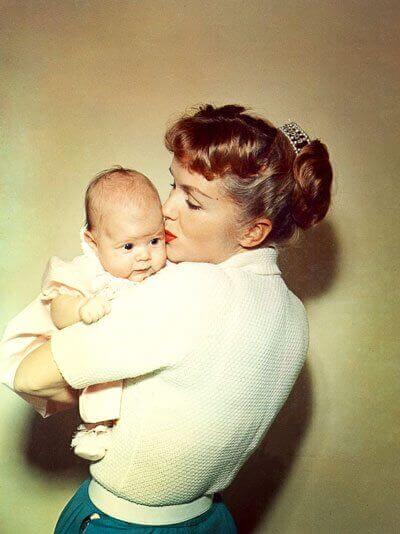 HBO has moved up the premiere date of
Bright Lights: Starring Debbie Reynolds and Carrie Fisher
from a March 2017 date to January 7, 2017 at 8pm ET/PT. The documentary showcases the loving relationship between one of Hollywood's most beloved classic actresses, Debbie Reynolds, and her equally beloved actress/writer/producer daughter,
Carrie Fisher
. The premiere date was moved from March to January following the December 27, 2016 death of Carrie Fisher followed one day later by the death of her mother, Debbie Reynolds.
Carrie Fisher experienced a medical emergency on a plane ride from London to Los Angeles on December 23, 2016. She had just completed a book tour in London for The Princess Diarist and on the flight returning home, Fisher stopped breathing. CPR was administered and she was taken to UCLA Medical Hospital where she passed away four days later at the age of 60. It's reported her daughter, Billie Lourd, and emotional support dog, Gary, were by her side.
Debbie Reynolds followed her daughter in death just one day later. Reynolds was in the process of helping to plan her daughter's funeral when her son, Todd, reported she suffered a stroke. Reynolds was taken to Cedars-Sinai hospital and passed away at the age of 84. Todd Fisher said his mother talked about wanting to be with Carrie.
This is a beautiful love story to witness in my 58 years. I miss them both so much. Love is everlasting pic.twitter.com/AeIVGaGl9k

— Todd Fisher (@tafish) December 29, 2016
Bright Lights: Starring Carrie Fisher and Debbie Reynolds was directed by Alexis Bloom and Fisher Stevens. The documentary screened at the New York Film Festival, the Telluride Film Festival, and the 2016 Cannes Film Festival.
Details on Bright Lights: The story of a family's complicated love, this documentary is an intimate portrait of Hollywood royalty in all its eccentricity. Carrie Fisher and her mother, Debbie Reynolds, live in the same Beverly Hills compound. The 83-year-old grand dame still has a Las Vegas act, but performing is taking its toll. Carrie's response is both hilarious and heart-rending. Bright Lights features vintage family films that bring iconic old-world Hollywood to life, as well as extensive vérité footage.