Claude Rains was not capable of giving a bad performance – nor even a mediocre one. Born in London, England on November 10, 1889, he was doomed to follow in his father's footsteps. Dad was Frederick Rains, a great stage actor. Being around the theatre so much, young Claude made his stage debut at age 11. When he was around 23, he made a trip to New York to get involved in the theatre. He only stayed one year at that time because he needed to return to England to defend his country when World War I broke out in 1914.
While back in London, he was befriended by Herbert Beerbohm Tree, the founder of The Royal Academy of Dramatic Arts. Rains refined his acting talents and became one of the leading actors of the British stage. He also began teaching acting and had taught Laurence Olivier and John Gielgud, both of whom became acting greats in future years.
By 1927, Rains was ready to return to New York, and he did just that. He managed to star in 20 Broadway roles before he was discovered by a talent scout for Universal Pictures. The studio signed him to a contract in 1932 because of his deep, mellifluous voice.
Upon his arrival in Hollywood, Rains was assigned to star in their new horror picture, The Invisible Man (1933) with the beautiful 22-year-old Gloria Stuart (Titanic). Director James Whale knew Rains' character would not appear on screen, so he needed a man with a beautiful baritone voice who could run chills up and down your spine. Based on the science-fiction novel of H.G. Wells and chillingly photographed by cinematographer Arthur Edson, The Invisible Man was a smash hit. Rains was on his way to a hugely successful Hollywood career.
Universal wasn't very imaginative when casting Rains in future productions. They were stuck in their "horror" phase, and they cast Rains in some more potboilers from 1934 to 1936. When his Universal contract was up, Rains signed with that other studio in the San Fernando Valley: Warner Bros. in Burbank. Rains now had access to some of the top leading ladies of the era who were under contract at Warner Bros. as well.
An auspicious start to his Warners contract was the 1936 version of Anthony Adverse. Set in 18th century Italy, Anita Louise plays a beautiful young woman who is married to Don Luis, a cruel older man (Rains). She is in love with the handsome Denis (dashing Louis Hayward) and is carrying his son (later to be grown up Fredric March). Don Luis soon dispatches her lover in a sword fight and bursts out in a spine-chilling cackle over Denis' crumpled body.
Rains set audiences teeth on edge, and he once again created a memorable character. Also in the cast were Olivia de Havilland, Edmund Gwenn, and the evil Gail Sondergaard, who won a Best Supporting Oscar® for her role.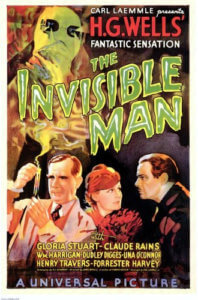 He rolled through the rest of the 1930s in various roles that showed off his abilities to do light comedy or heavy drama. He starred with the handsome and dashing Errol Flynn in the rousing The Adventures of Robin Hood (1938), in which he played the treacherous Prince John. He wanted to usurp the throne from his brother, King Richard the Lion-Heart (Ian Hunter). Nobody could be more vicious than Rains when he used his bulging eyes and stentorian voice to advantage.
Rains ended his 1930s decade with two outstanding pictures. One was the political film Mr Smith Goes to Washington, in which he plays an ethically-challenged senator. The second film to be released in 1939 was Juarez, his first picture with reigning Warners diva and Queen of the lot, the formidable Miss Bette Davis. It turns out Rains was Bette's favorite co-star and she adored him. They were equals as far as acting goes. It was like two dynamos whirring together. She played Carlotta of Mexico and he played Napoleon III. Neither of them were shrinking violets. A funny note is that John Garfield played his Mexican character Porfirio Diaz with his lower east side New York thick accent intact, making absolutely no attempt to drop his "deeze" and "doze" pronunciations.
Rains and Davis made four pictures together during their tenure at Warners. The second one was the tear-jerker Now, Voyager in 1942. Davis was the mousey Charlotte Vale, a spinster looking for love. She finds it with Paul Henreid. The two lovers have a famous scene in which Henreid lights two cigarettes at once and hands her one. For some reason, it symbolized the great attraction and sex between them and became a sensation. Rains plays the sympathetic Dr. Jaquith who consults with Charlotte about all her emotional problems.
The third film they made together, and we think is the best of them all, was Mr. Skeffington (1944). In this drama, Rains plays the title character, Bette's blind husband. Bette's character of Fanny is a spoiled, scatterbrained woman who is adored by all the town's men when in her youth. As her beauty fades, she becomes more and more rattled and unsure of her hold on men. She wrinkles and her hair falls out. Only Rains' Mr. Skeffington still thinks of Fanny as she was when they were young, because he can't see her anymore. Rains gives a touching and caring performance to Bette's hysterical Fanny. Well, her fanny wasn't hysterical, but her character Fanny was.
The final film the two tempestuous actors made together was Deception (1946). Davis was again hooked up romantically with Paul Henreid, a man who supposedly died during the war. She becomes involved with an evil composer, played magnificently by Rains. He and Davis were perfectly matched artistically, and he was as over the top as she was. The music was great (Korngold) and Bette gets to shoot her lover once again. There was reason for gun control even back in the 1940s. However, had there been stricter gun laws then, Bette Davis would not have had a career. She loved to shoot her lovers.
Claude Rains is perhaps best known for his role of Capt. Louis Renault in the wartime smash hit, Casablanca (1942). He plays a somewhat shady character who holds the key to refugees getting exit papers to leave Morocco. Humphrey Bogart plays Rick, the owner of a café where all of society comes. And the beautiful Ingrid Bergman plays his ex-lover from Paris. Paul Henreid shows up as Bergman's husband, a staunch freedom fighter. But Rains, among some very colorful characters, is the stand-out actor in a part that is funny, mysterious, and sometimes mean-spirited. He was excellent, as usual.
The year 1946 brought audiences the wonderful Alfred Hitchcock thriller Notorious. In it, Rains plays the deliciously vile Alexander Sebastian, a man who is evil through and through – and as charming as can be. This spy thriller coupled the dashing Cary Grant and the equally as beautiful Ingrid Bergman (again!) as romantic spies. Grant wants Bergman to spy on her father's Nazi friends in Rio De Janeiro. Rains' work is superb.
Rains was, of course, a scene stealer. He created characters that were more fleshed out than they were in the script. For his excellent acting against formidable co-stars, Rains was nominated for the Best Supporting Actor Oscar four times. The films were Mr. Smith Goes to Washington (1939), Casablanca (1942), Mr. Skeffington (1944), and Notorious (1946). All were deserving performances. But guess what? Hollywood never voted him an Oscar, and he never won!
Despite Rains' short stature (5' 6 ½"), he was quite the lothario. Apparently a lady-killer, he had six wives (one daughter named Jessica Rains). Only Bluebeard the Pirate out-did Rains with seven wives. But Rains didn't murder his wives. (Although it would not have been out of character for him to do so).
As the years went by, and there were not many roles for the aging Rains, he moved toward television. He made several television movies and appeared in some dramatic shows. He continued to make movies such as Rope of Sand (1949), The White Tower (1950), Lisbon (1956), and This Earth is Mine (1959) with the reigning heart-throb of the era, Rock Hudson. Also, Dorothy McGuire and Jean Simmons provided the feminine side of the story. He kept busy making films until the greatest film of the era came his way to revive him and his career.
Lawrence of Arabia (1962) as directed by David Lean, starred the stunningly blonde Peter O'Toole and the darkly handsome Egyptian actor Omar Sharif. It was the adventurous and romantic tale of the Englishman who tamed Saudi Arabia. Rains had a significant part in the film, and it added to his allure. Even as an older man, he still commanded the screen in every scene in which he appeared. The film was a tremendous world-wide hit and won scores of Oscars.
In addition to his continued appearances on television and an occasional foray on Broadway for a play or two, Rains appeared in two final films. He played a mentoring attorney to Richard Chamberlain's young lawyer covering a murder case in Twilight of Honor (1963), and followed that with a role as King Herod in the spectacular production of The Greatest Story Ever Told, with Swedish actor Max von Sydow playing Jesus in an all-star production. It was to be Rains' final film.
Claude Rains died of an intestinal hemorrhage May 30, 1967 at his home in Laconia, New Hampshire. He was 77 years old.