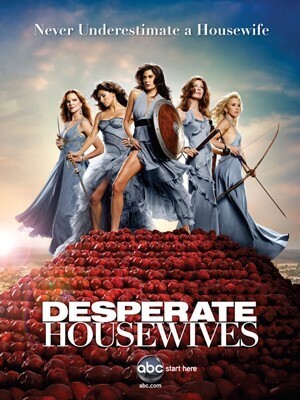 ABC officially announced that this coming season of
Desperate Housewives
will be its last. The series' final season – its eighth – will tie up loose storylines as viewers say goodbye to the lovely ladies of Wisteria Lane.
According to ABC, this final season will "roll out in a way that is accessible even to viewers who may have lapsed in their viewing, and be all the richer and more rewarding to the series' loyal fans." Exactly what that means, we'll just have to wait and see.
ABC also revealed a few of the key plotlines that will be showcased on
Desperate Housewives
' last season: "For Season Eight, Carlos' murder of Gaby's evil stepfather and the cover up by Susan, Gaby, Bree and Lynette has far reaching effects. Feelings of guilt begin to overcome everyone in different ways. Susan starts to withdraw from her friends and family, and Gaby works to reach out to Carlos while his guilt weighs heavily upon him. As Lynette and Tom are grappling with their disintegrating marriage and impending separation, Lynette is having trouble making the right choices ever since she participated in the cover-up. And Bree must be especially careful around her new love, Detective Chuck Vance. Meanwhile a new sexy neighbor moves to town, Ben Faulkner, and he's Renee's first order of business."
Confirmed cast members for the final season include Teri Hatcher as Susan Mayer, Felicity Huffman as Lynette Scavo, Marcia Cross as Bree Hodge, Eva Longoria as Gabrielle Solis, Vanessa Williams as Renee Perry, Ricardo Antonio Chavira as Carlos Solis, Doug Savant as Tom Scavo, Jonathan Cake as Det. Chuck Vance, Charles Mesure as Ben Faulkner and Madison de la Garza as Juanita Solis, with Brenda Strong as Mary Alice Young and James Denton as Mike Delfino.
Source: ABC – August 7, 2011