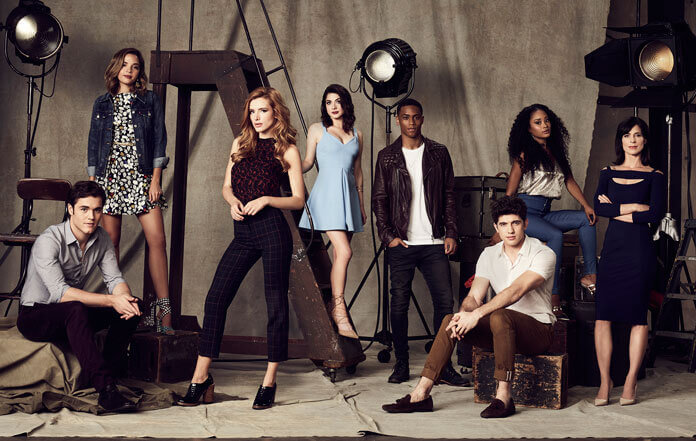 Freeform announced Famous in Love starring Bella Thorne has earned a second season. The series currently stands as the network's #1 original series among women ages 18 to 34. Based on Rebecca Serle's book and developed into a series by Serle and I. Marlene King (Pretty Little Liars), season one featured Charlie DePew, Georgie Flores, Carter Jenkins, Niki Koss, Keith Powers, Pepi Sonuga, and Perrey Reeves. King and and Melissa Carter are the showrunners and executive produce along with Serle, Miguel Arteta, and Dan Farah.
"We're so proud to be continuing our relationship with Marlene King and this incredibly talented cast," stated Karey Burke, executive vice president of Programming and Development. "Famous in Love has resonated with nearly 30 million fans across the U.S. and we couldn't be happier to deliver another season of this addictive series."
"It's great to know we are just getting started on this wild and fun Hollywood ride called Famous in Love. I'm thrilled to have the opportunity to dive deeper into the world and characters we fell in love with last season," said I. Marlene King.
The Season 1 Plot: Famous in Love stars Bella Thorne as Paige, an ordinary college student who gets her big break after auditioning for the starring role in a Hollywood blockbuster. She must now navigate her new star-studded life — and undeniable chemistry with her two co-leads — while uncovering the truth about what happened to a missing, famous popstar.
Carter Jenkins is Rainer, the son of Hollywood royalty, who is one of Paige's costars in the blockbuster movie. Charlie DePew plays Jake, Paige's best friend who becomes jealous when Paige starts hanging out with Rainer. Keith Powers is Jordan, a Hollywood bad boy who stars with Rainer and Paige in the movie. He and Rainer have a complicated history, which is further heightened by the fact that both share chemistry with Paige. Niki Koss stars as Alexis, one of Rainer's old friends, who competes with Paige for the same role, and like most people on the show, has a secret. Georgie Flores is Cassandra, Paige's roommate and close friend, who is straightforward and a good friend. Perrey Reeves stars as Nina, Rainer's smart and cunning mother, who is half of one of Hollywood's most powerful couples. Confident and manipulative, she does whatever it takes to make sure things go her son's way. Pepi Sonuga plays Tangey, a beautiful pop star who mysteriously disappeared from the public eye, and previously involved with both Rainer and Jordan.