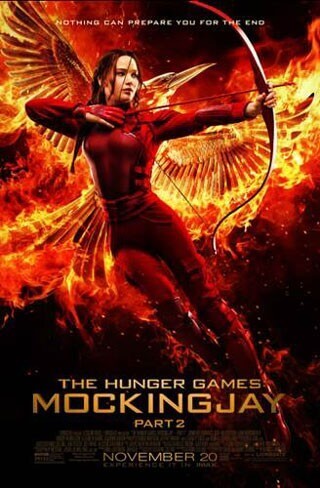 The final film of the Hunger Games series, The Hunger Games: Mockingjay – Part 2, is set to arrive in theaters on November 20, 2015, with tickets now on sale through online agencies including MovieTickets and Fandango. But, there's a twist for Hunger Games fans who can't get enough of the films. In addition to the regular tickets on sale, Regal Cinemas is offering an unlimited pass to see The Hunger Games: Mockingjay – Part 2 as often as you want throughout its entire theatrical run in Regal theaters. Only 1,000 passes are available at $100 each and can be purchased through Regal's official site.
Fans who purchase tickets to Mockingjay Part 2 within the first 24 hours they go on sale through Fandango, MovieTickets, AMC, or Cinemark will receive a digital download of The Hunger Games: Mockingjay – Part 1. Fandango users will also receive access to a new clip from Mockingjay Part 2 and a commemorative ticket.
The Plot:
With the nation of Panem in a full scale war, Katniss (Jennifer Lawrence) confronts President Snow (Donald Sutherland) in the final showdown. Teamed with a group of her closest friends – including Gale (Liam Hemsworth), Finnick (Sam Claflin) and Peeta (Josh Hutcherson) – Katniss goes off on a mission with the unit from District 13 as they risk their lives to liberate the citizens of Panem, and stage an assassination attempt on President Snow who has become increasingly obsessed with destroying her. The mortal traps, enemies, and moral choices that await Katniss will challenge her more than any arena she faced in The Hunger Games.
Follow Us On: