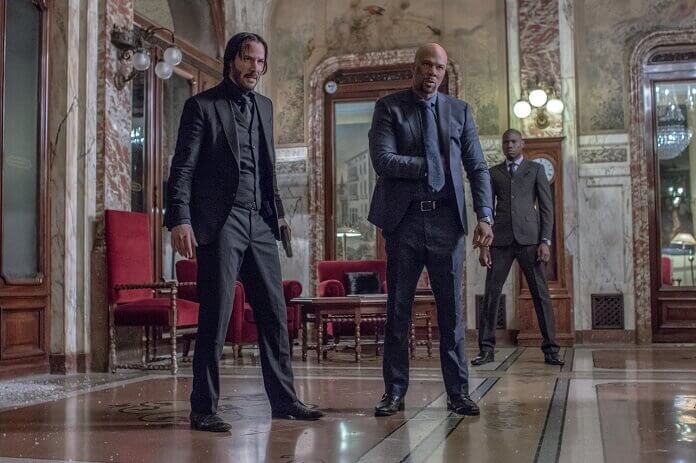 Starz and Lionsgate are developing a dramatic series based on the popular John Wick film franchise. The Continental takes place within the universe of the film's John Wick (played by Keanu Reeves), with the action focusing on the Continental Hotel which is central to the assassins' world in the film series.
"This series is truly unlike anything else on TV," said Starz President & CEO Chris Albrecht. "The Continental promises to include the thunderous fight sequences and intensely staged shootouts between professional assassins and their targets that fans have come to expect in the John Wick movie franchise as well as introducing some new, darkly compelling characters who inhabit this underground world."
Keanu Reeves will be involved with the series as an executive producer, and it's possible he'll show up in an episode. Chris Collins (Sons of Anarchy, The Wire, The Man in the High Castle) is on board as the series' writer and showrunner. Collins, Basil Iwanyk (the John Wick film franchise, The Town, Sicario), Chad Stahelski (John Wick co-director and John Wick: Chapter 2 director), John Wick franchise screenwriter Derek Kolstad, and David Leitch (John Wick co-director, Deadpool 2) are also on board as executive producers. In addition, Stahelski is confired to direct the premiere episode.
The Plot: Chris Collins expands the universe in the series by focusing on the Continental Hotel and those who find refuge under its roof. Set in a hyper-real version of Los Angeles, the series maintains the urgency of the action along with the dry humor from the John Wick movies. Drawing upon the collaborative efforts of Lionsgate's film, television and Starz platforms, The Continental continues the growth of a franchise that has already generated two hit films that have grossed nearly $300 million at the worldwide box office and a successful virtual reality mobile game.